---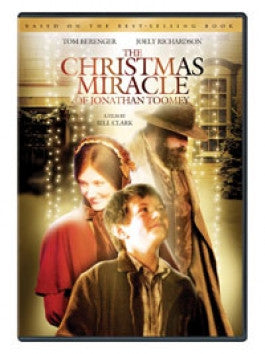 Sale
The Christmas Miracle of Jonathan Toomey DVD
Watch Trailer
Additional Information
Director: Bill Clark
Producer: Thomas Mattinson
Languages: English
Dove Approved: Dove Family Approved
Run Time: 91 minutes
Region Code: 1

See More
Sale price $5.00 Regular price $12.95 You save 61%
Estimated arrival between and for USA.

---
You might also like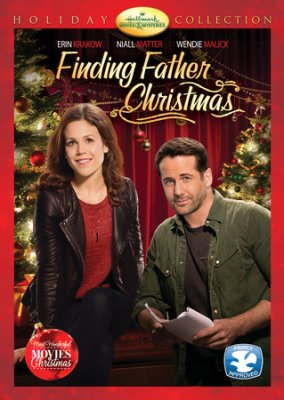 Sale price $11.99
Regular price
$14.99
Sale
—
Sold Out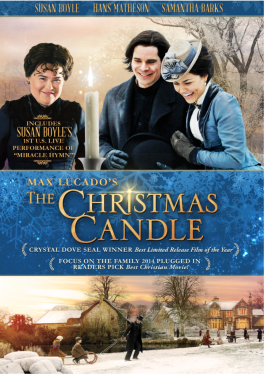 Sale price $8.99
Regular price
$12.99
Sale
—
Sold Out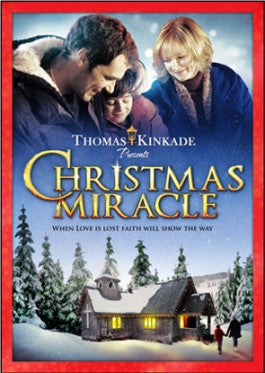 Sale price $5.00
Regular price
$8.99
Sale
—
Sold Out
The Christmas Miracle of Jonathan Toomey Synopsis
Adapted from the book of the same name from 1995, The Christmas Miracle of Jonathan Toomey is an incredible 2007 British movie starring Joely Richardson, Tom Berenger, and Saoirse Ronan. It tells the story of Jonathan Toomey, containing messages of redemption, love, and most vitally, hope! A young boy finds himself completely devastated when he loses a nativity set that was the common bond between him and his recently deceased father. His mother, wanting to make him happy again, is able to convince a nearby hermit of a woodcarver to make a new replacement for the boy to have. The deal also comes with a stipulation, the woodcarver has to allow the boy to watch him carve it. As the boy watches the woodcarver work, the relationship continues to expand to new levels as he continues to push the woodcarver and his abilities. The Christmas Miracle of Jonathan Toomey is a story of redemption and coming to terms with each other as these three characters must learn to overcome their own personal histories and struggles and learn to love each other. All of them have experienced devastating heartbreak in their lives and all of them struggle to deal with the situations that have put them where they are. They begin to wonder if they can ever recover from their painful pasts and experiences, But as the three of them continue to bond, they begin to let go of their pasts and difficult situations. Will they together learn to move on and heal? Or will they continue to remain down, defeated, and dejected due to the difficult events of the past? This 2007 feature-length film has a runtime of 91 minutes and is a powerful Christmas film that makes for a must-see family event. If you and your family have read the book before or enjoy watching family Christmas movies together, this is definitely one that you will enjoy watching together.
This film contains some incredible acting roles, stunning computer generated visuals and a fantastic story of hope, redemption, and acceptance. Based on one of America's most awarded and loved children's books, this is a film adaptation that is a must see for families of all ages.
Based on the Book
In 1995, Susan Wojciechowski, children's author, published a children's picture book illustrated by P.J. Lynch. This book was chiefly the story of a woodcutter who was able to let go of his crotchety nature and find new life in a boy who was constantly coming around and spending time with him. The woodcutter lives a gloomy life and never seems to find any joy or hope in life. But when this one boy comes around, who has also had a tragic background, they together find healing and new hope in their friendship with each other. The Christmas Miracle of Jonathan Toomey is a wonderful children's book that has garnered several awards and has received incredibly positive feedback for being a wonderful story about finding new life and hope.
The Story of the Movie
The book was such a success and was so well received by the public that they went on to make a film out of the story, continuing on the success of the book by adapting it for the screen. People really enjoyed the story of the book and they were ready to be captivated anew by a film version. This film features many different wonderful aspects that together combine to make a wonderful and heartwarming Christmas movie. The Christmas Miracle of Jonathan Toomey tells the story of a young boy who is growing up in a big home, happy, but alone. His father has recently departed for war and so he finds himself alone and greatly missing his father. He longs for the days when a letter from his dad arrives. These are what help get him through, the constant communication with his father. But when this communication suddenly ends, and he receives the news that his father has perished at war, his whole world is turned upside down. When he finds out that his dad is gone, he has no idea how he's going to go on. He and his mother are both completely broken from the news. One of the few remaining links between him and his father is a nativity set that was hand carved. This nativity set holds very special meaning for him and when it turns up missing, it seems as another connection between him and his father is suddenly gone.
His mother, determined to help and make this Christmas season better, commissions a nearby hermit-like woodcutter by the name of Jonathan Toomey to help make a new nativity scene for her son. However, she requires that he allow her son to watch him carve the nativity set. And so, Toomey accepts the job (after great convincing) and begins work carving the nativity figurines for her son. However, Toomey quickly learns that this boy asks a lot of questions and it's going to be a very difficult struggle to continue making these with a curious boy who asks a lot of questions. In The Christmas Miracle of Jonathan Toomey, we learn that Jonathan also has a lot of baggage and difficult experiences that relate back to the wife and daughter he once had. Relations are initially incredibly strained between Jonathan, the boy, and his mom. But as they begin to spend more time together and they come to find out about each other's dark pasts, they grow to understand one another.
The Christmas Miracle of Jonathan Toomey is a powerful film as it features heartwarming and tender moments that truly embody the Christmas spirit and what this season is all about. If you're looking for a film to share with your family this Christmas season, this is the film! With its incredible story and its history as a wonderful children's picture book, The Christmas Miracle of Jonathan Toomey makes for a fantastic film for you to watch as a family this Christmas season.