---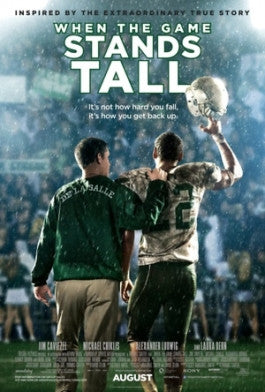 Sale
When The Game Stands Tall DVD
Watch Trailer
Additional Information
Cast: Jim Caviezel, Michael Chiklis, Alexander Ludwig, Laura Dern, Bob Ladouceur, Starlette Miariaunii
Director: Thomas Carter
Producer: David Zelon
Languages: English
Release Date: 6/5/02
Run Time: 115 min

See More
Sale price $15.62 Regular price $24.99 You save 37%
Estimated arrival between and for USA.

---
You might also like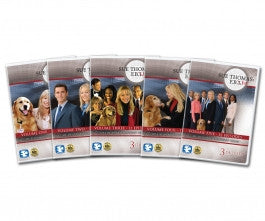 Sale price $95.99
Regular price
$119.99
Sale
—
Sold Out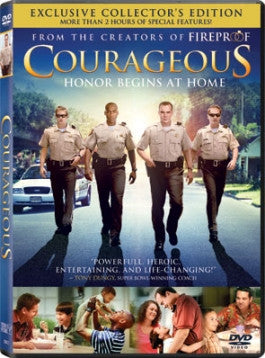 Sale price $5.99
Regular price
$24.99
Sale
—
Sold Out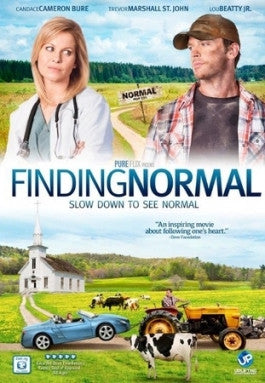 Sale price $8.99
Regular price
$14.99
Sale
—
Sold Out
When The Game Stands Tall Movie
When the Game Stands Tall tells the true story of the De La Salle Spartans high school football team and their incredible winning streak that outdid any streak in any American sport. With a 151-game winning streak, the Spartans are a powerful team, but the coaches worry that the streak may not be able to sustain itself with their new team. Full of miscommunication, anger between the players, and a general lack of discipline, coach Bob Ladouceur worries that the streak may come to a close very soon. When the Spartans begin to lose their focus on what truly matters in the sport, they begin to suffer.
A horrific moment comes at the next football game when the Spartans lose their first game, ending their incredible streak. Full of anger and depression, the team must then learn how to shake off the loss and try again. With their crippling defeat, the team lost all momentum and hope, and as they continue to lose games, Coach Ladouceur knows something needs to be done, and quickly! With the help of assistant coach Terry Eidson, they work through the issues and work together to help overcome a lot of the team's faults and failures in order to bring together a wonderful (and winning) team once again.
The Real Life De La Salle High School
This film tells the true story of the De La Salle High School football team. Rather than creating a fictional team for this film, they chose to tell the true story of the De La Salle football team and their incredible winning streak for 1992 to 2004. For 12 straight years, they won every game they played, leading to a 151 game winning streak under coach Bob Ladouceur. This streak was brought to a saddening end in 2004 against Bellevue High school. This amazing streak would be talked about for a long time to come and still stands today as the longest winning streak in any American sport. Their record essentially doubled the previous winning streak of 72 straight wins.
The Story
The film begins as the De La Salle football team wins their 2003-2004 season. At this time, Bob Ladouceur finds himself as a very popular and wanted coach. Many different teams, even on a college level wanted to talk to him and interview him for a coaching position with their college teams. Bob finds himself in a difficult position. This would mean a better job, more money, and an advancement in his career, but it would mean leaving the team that he had helped to build and had helped break records with. When discussing the offers with his wife, she reveals to him her desire to spend more time at home. She says that he spends too much time with his career and the football team and not enough time at home with his family.
Ladouceur is not the only person on the team facing problems at home. Several other members of the team are experiencing problems with their families at home. Some of them are feeling pressure by their parents to exceed their standards and play perfect games on the field. One character particular, Chris Ryan, meets with verbal abuse from his father when the team loses their very first game in years. Other members come from broken homes and together they are a very broken team. Full of issues at home and off the field, they find themselves struggling to play football at the level they used to.
Things get even worse when coach Bob Ladouceur has a heart attack one day. While this does help to bring the team together and they quickly rally to his side, this doesn't fix the problem that they are now short a head coach. Together, they must work to overcome these difficulties and face playing football again after their horrible defeat. Between struggles in their home lives, the heart attack of coach Ladouceur, and an unexpected and horrifically tragic death, the team rallies together to play football and learn how to win again. More importantly, they begin to learn that winning is not the most important thing when playing on a team.
As they spend more time together, they come to understand that their faith is much more important than winning or losing football games. As they begin to change their focus from their defeat and winning football games to God, they begin to look at the game in a new light. As they begin to win games again, they must work together to once again become a powerful and winning team. But most importantly, they continue to live out their faith and strive to know God more and more through their experiences together as a team.
Meet the Cast
When the Game Stands Tall was distributed by Sony Pictures Entertainment and was directed by Thomas Carter. Written by Scott Marshall Smith, it features Jim Caviezel, Alexander Ludwig, and Michael Chiklis. Jim Caviezel has worked in numerous films and is most well known for his incredible performance as Jesus in Mel Gibson's The Passion of the Christ. In this film he plays main character and head coach Bob Ladouceur. Playing assistant coach Terry Eidson, Michael Chiklis is a well known actor known for his roles in various superhero movies, especially Fantastic Four. This film also stars several other notable actors including Alexander Ludwig, Clancy Brown, and Laura Dern.
Conclusion
If you are a fan of sports movies like Facing the Giants, The Blind Side, or the more recent hit Woodlawn, you are sure to enjoy When the Game Stands Tall. This is an enjoyable movie with a lot of heart and spirit. You will follow the team as they experience unbelievable heartbreak and incredible victory. As the film progresses, you will learn more about each member of the team and come to understand what made the team exactly the way it is. This is a powerful film about teamwork and perseverance that is sure to be a hit in your family.