---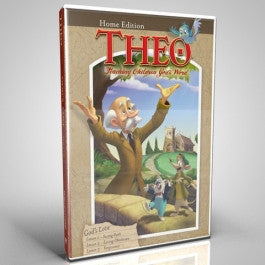 Sale
Theo Vol 1: Gods Love DVD
Additional Information
Languages: Spanish, Portuguese, Hindi, Mandarin, Korean, and Japanese
Dove Approved: Dove Family Approved
Run Time: 110 min
Sale price $9.99 Regular price $14.99 You save 33%
Estimated arrival between and for USA.

---
You might also like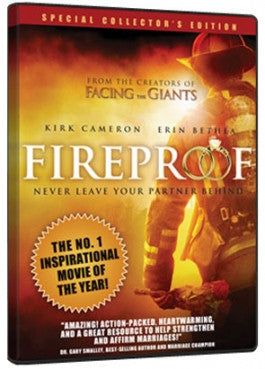 Sale price $5.99
Regular price
$14.99
Sale
—
Sold Out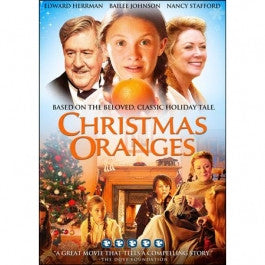 Sale price $5.99
Regular price
$19.98
Sale
—
Sold Out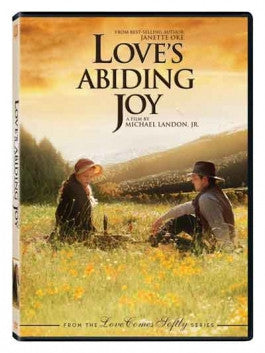 Sale price $5.99
Regular price
$9.98
Sale
—
Sold Out
Theo Volume 1 - God's Love
Theo Vol 1: God's Love is a fun collection of three Bible stories for children, each detailing a different aspect of God's great love for his people. Each lesson focuses on a topic that is entertaining as well as a teaching opportunity for young children. Theo Vol 1: God's Love contains three ten minute lessons for children, all focused on the importance of love.
Lesson 1: Saving Faith
In this episode, children are introduced to Theo. He is a king English gentleman who is very wise in his knowledge of the Bible. Theo is a theologian and teaches children about faith in this particular episode. He talks about the numerous things that we can believe in, but illustrates the importance that they are not all worthy of faith. In order to illustrate what the life of a dedicated believer looks like, Theo talks about Abraham. The Lord had favor with Abraham, and he was greatly blessed because of his faith. Theo details many important lessons of faith throughout the life of Abraham. Come along on this first adventure with Theo and learn about what it means to have faith!
Lesson 2: Loving Obedience
This second installment features Theo once more, along with two field mice, Luther and Belfry. They have befriended the old theologian and desperately want to please him. Unfortunately, they are usually tangled up in mischief wherever they go. Theo decides to teach them the lesson of obedience, using the life of Jonah as an illustration. He discusses the consequences of disobedience and the great reward God has in store for us if we follow his commands. This important lesson for children is presented in a fun and entertaining manner sure to appeal to children of all ages.
Lesson 3: Forgiveness
In the third and final lesson, Luther and Belfry learn that forgiveness is not an easy thing. Theo tries to help his furry little friends understand the importance of forgiveness and how to put it into practice in their daily lives. He uses the parable of the unforgiving servant to illustrate forgiveness. Theo stresses the point that we have been forgiven by God, though we don't deserve it, because he loves us. This means that we, in turn, must show love to others by forgiving them even when they don't deserve it. The two mice learn that forgiveness is something that Christians are called to do, and this lesson will stick with children and help them implement it into their lives.
Theo Vol 1: God's Love contains three lessons for children that will help them understand how to actively practice showing God's love. This collection contains a sixteen page parents' guide, scripture references, family activities, discussion questions, and nightly devotionals for children to enjoy with their parents. This volume is sure to impress parents and children as it imprints Biblical morals upon the hearts of children.
About Theo
The Theo stories began as a sincere desire to help teach children Biblical principles and assist parents in training their children. The stories and lessons of Theo all center around a theologian who is very wise in matters of the Bible. This animated series guides children and adults through a careful study of systematic theology, capturing the minds and hearts of young viewers with humor and delightful animation.
Throughout each of the stories, you'll get to know Theo, a quiet theologian who lives in a cozy corner of a quaint English village. Here he meets two friends, Luther and Belfry, who are field mice. These films are fun and humorous, but also delve deep into important Biblical principles. Theo covers topics such as the doctrines of salvation, the character and nature of God, the Bible, and godly living. Not only do they teach important Biblical principles, but they also instill a desire to learn more in the hearts of children.
Theo was created to teach children of all ages, and also to aid parents in training their children through Biblical principles. These Gospel-centered lessons can be used for Sunday school, devotions, missions, evangelism, and even homeschooling. The Theo: Home Edition series is specifically designed for parents to interact with their kids on a spiritual level. Made to help parents teach their children, the Theo series is a great teaching tool that kids of all ages will immensely enjoy.
Whitestone Media, the creator of Theo Vol 1: God's Love has worked extremely hard to bring these lessons to life and to make them readily available on all platforms. Not only do they have numerous DVDs, but they also have episodes available for digital download. There is also a Theo app that allows children to play games and learn lessons on mobile devices. Their website contains numerous parent guides to help parents interact with their children and reinforce the values taught in the lessons.
Made in the United States of America, the Theo series strives to reach much farther than that. Episodes are available in numerous different languages, including Spanish, Portuguese, Hindi, Mandarin, Korean, and Japanese. Their online store features an international version of the Theo: Home Edition to help international parents teach their children Biblical principles in their language.
Whitestone Media has dedicated themselves to producing quality content for children that will inspire them to learn more about the Bible. Their mission is to teach "big" theology to little kids in a manner that will be appealing and entertaining for them. They thrive on teaching kids about God's Word and his principles in a way that has never been done before. Their goal is to impact men, women, and children all around the world. Theo Vol 1: God's Love has had a great impact on children and families, and Whitestone Media continues to produce content for children.
Theo Vol 1: God's Love is not rated by the Motion Picture Association of America, but has been rated by the Dove Foundation as Family Approved. It is always recommended that parents preview all content to determine what is suitable for their children.