---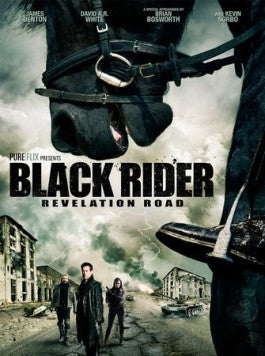 Sale
The Black Rider DVD
Watch Trailer
Additional Information
Cast: James Denton, David A.R. White, Kevin Sorbo
Director: Gabriel Sabloff
Producer: PureFlix.com
Languages: English
Release Date: 10/6/10

See More
Sale price $10.99 Regular price $14.99 You save 27%
Estimated arrival between and for USA.

---
You might also like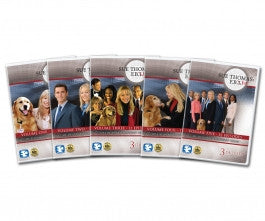 Sale price $95.99
Regular price
$119.99
Sale
—
Sold Out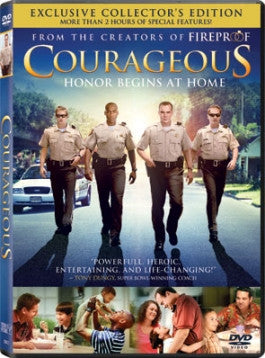 Sale price $5.99
Regular price
$24.99
Sale
—
Sold Out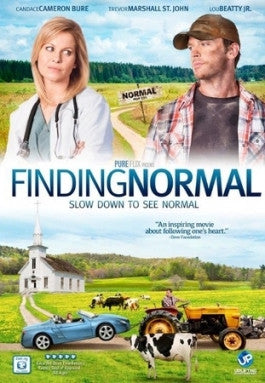 Sale price $8.99
Regular price
$14.99
Sale
—
Sold Out
Revelation Road: The Black Rider
The third film in the Revelation Road series, the story continues with Josh McManus (played by David A.R. White, PureFlix President) as he finds himself in a post-Rapture world. Now that the Rapture has passed, all he finds in the world is a corrupt wasteland full of bandits and scavengers desperate to do whatever it takes to survive in this new, post-apocalyptic world. The film follows Josh McManus, who is a quiet drifter who has so far seen a lot in his travels in the previous two movies. He has a knack for fighting, which he finds incredibly useful in this new world, however it also means he finds himself in a variety of situations where he needs to use his fighting skills. In The Black Rider: Revelation Road, he finds himself inside of a dangerous town on the border, just before the edge of the Wild Lands. The mayor of this violent and corrupt town, played by James Denton, meets with Josh McManus and has a special task for him. After this meeting with the mayor, Josh is sent on a very important mission to find a man known as the "Shepherd", played by actor Robert Gossett.
The Black Rider: Revelation Road continues as McManus begins to question whether this man is truly a shepherd or prophet of God or he's nothing more than a deceiver, a wolf in sheep's clothing trying to take advantage of the confusion in this scary and unsafe new world. As McManus gets to know him better, he questions this man's motives and begins to wonder if he might truly be nothing more than a cult leader. Along the way, McManus meets the beautiful Sofia, a young survivor in this new world fighting for her own survival. As the journey continues in The Black Rider: Revelation Road, Josh must fight for his survival, question motives and outsmart thieves and robbers to save his own life.
The Black Rider: Revelation Road continues the amazing legacy of the first two films and creates a stunning and intense new drama starring David A.R. White, Kevin Sorbo, and Bruce Marchiano.
The Original Revelation Road
The first film in the Revelation Road series is called Revelation Road: The Beginning of the End. This film stars Josh McManus (played by David A.R. White), who is a traveling salesman with a rough and difficult past. He finds himself in the wrong place at just the wrong time and finds himself in more trouble than he could have possibly imagined. His unfortunate luck mixed with a bad series of events finds him at odds with a local biker gang who goes by the name "The Barbarians". Their leader is rough and tough man by the name of Hawg. Josh fears for his life and worries that this may be the end for him. His fighting skills won't get him out of this mess. But then it happens. A bright flash appears way up in the sky, and devastating earthquakes shake the whole world. But what does this mean? Some theorize it's the rapture which means that they have just entered the end times. But is this really the case? How will Josh face this new apocalyptic world he now finds himself in? Josh begins to understand that this battle he finds himself in is so much more than just a physical war. It's a spiritual battle and he doesn't know how to escape it. It's in this time that Josh must decide who he will turn to for support. Will he try to fight this battle on his own strength? Or will he turn to God to help him through this challenging new life? Find out as you follow the story of the first film in the Revelation Road series. This is a prequel to The Black Rider: Revelation Road.
Revelation Road 2: Sea of Glass and Fire: In this second film in the series, which also pre-dates The Black Rider Revelation Road, continues the story of Josh McManus, a man unsure of how to fight his way through survival. As Josh realizes that the rapture has come and gone and they live in a new world, he decides to make the journey home to find his wife and daughter and see if they're alright. Hawg, the intimidating outlaw that Josh faced in the first film is in hot pursuit of Josh, and he begins to worry for his own safety in this film as well. Hawg pursues Josh with his loyal biker gang. And now that the rapture has taken place, the law no longer applies. The world transforms in one day to a free for all full of thieves, gangs, and rampant destruction all over the world. The highways are no longer safe and the world is now a survival of the fittest. Along the way, Josh meets the local Sheriff, his new sidekick Beth, who's ready for a fight, and the mysterious biker Cat, played by David A.R. White's wife Andrea Logan White. Together, they must work to fight for their survival and begin to find some sense of civility in this new world of chaos and destruction.
Conclusion
The Black Rider: Revelation Road continues this powerful epic of Josh McManus and his quest to find true faith. After the events of the rapture, the world has been thrown into total disorder and disarray and there seems to be no escaping this new world. Civility, law, and order are entirely gone and this new world will put Josh to his ultimate limits, both physically and spiritually. Will he be able to survive the incredible challenges and turn to God for his strength, or will he simply rely on his own strength and try to make it on his own? This powerful film is a gripping look at the end times and what it may someday look like. While a gripping and enthralling movie, it also has many elements of encouraging faith, reminding us to stand for what we believe in and trust in God to get us through any situation