---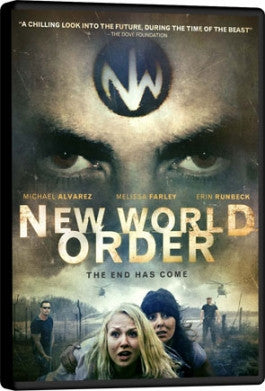 Sale
New World Order DVD
Watch Trailer
Additional Information
Languages: English
Dove Approved: Dove Approved Ages 12+
Release Date: 12/31/65
Run Time: 86 minutes
Screen Format: WS
Region Code: A

See More
Sale price $5.00 Regular price $19.99 You save 75%
Estimated arrival between and for USA.

---
You might also like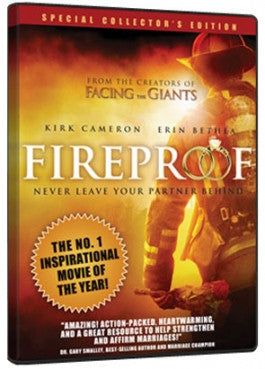 Sale price $5.99
Regular price
$14.99
Sale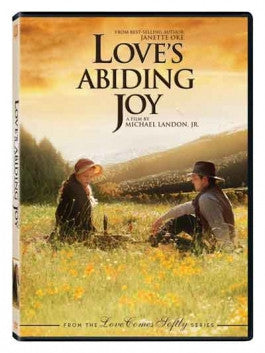 Sale price $5.99
Regular price
$9.98
Sale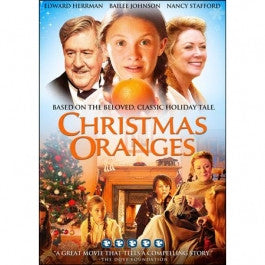 Sale price $5.99
Regular price
$19.98
Sale
—
Sold Out
New World Order
Three years have passed since the "New World Order" has come to power, and a law has just been passed by the Supreme Chancellor (Michael Alvarez) requiring all individuals to register themselves with the order, and receive the mark. The mark is mandatory. Based on the biblical, prophetic book of Revelation, and set in the apocalyptic era, New World Order tells the story of two young women, Demi Holloway (Melissa Farley) and Christen Brooks (Erin Runbeck), as they struggle to decide which is more important, their faith or their lives.
When news arrives that the mark, and a pledge of allegiance to Lord Aldo De Luca (master of the Supreme Chancellor), are mandatory for all citizens wishing to buy food and live as citizens of the New World Order under the Supreme Chancellor's rule, Demi Holloway's parents (Rob Edwards and Karen Lewsadergive) in and receive it. Demi and her friend Christen, however, refuse to bow to the dictator's orders, even when it is revealed that the penalty for refusing the mark is death. They soon run into a group of other Christians who, under the leadership of a young man named Jason (Daniel Spaulding), have formed a resistance movement to combat the Supreme Chancellor and his overlord Aldo De Luca. It soon becomes apparent, however, that there is more to Jason than was first apparent, and as the events unfold Demi and Christen are forced to make a choice between eternal life with Jesus and their earthly lives.
Violence With A Message
The violence side of this movie may be a bit intense for younger viewers, but the fierce scenes serve a purpose--to illustrate in a tangible way what a world under an Anti-Christ's rule could look like. In many ways New World Order simply asks the viewer one question, "What would you be willing to endure for Jesus?" and then seeks to illustrate what types of persecution one could have to endure for his sake. New World Order serves as a wake up call for many Christians, forcing them to confront the faith they possess in their Savior and asking them to consider if they would be willing to endure death for the one who died for them. It begs the viewer to meditate on their own walk of faith, and reassess the relationship they have with their Lord. For many, it also serves as a challenge to run hard after Jesus when life is easy, so when trouble our persecution comes they will not "quickly fall away" like the seeds on rocky soil (Matthew 13:21).
An Opportunity For Discussion
Films are great tools for families and educators to start discussions around dinner tables or school desks. We all know everyone has their own opinions on films, whether or not they voice it loudly from the couch as the movie plays, but how often do we turn these opinions toward meaningful times of instruction and discipleship? All films are wonderful opportunities to dialogue with other individuals about philosophy, history, or nerdy technological behind-the-scenes stuff, but films that base their plotlines off of scripture, such as New World Order, offer an opportunity for deeper, longer-lasting dialogue. You can discuss how closely plots follow the Word of God; why it is important to know what Scripture says yourself, instead of taking Hollywood's word for it; how films can positively and negatively influence your faith; and how Christian filmmakers can use the industry and platform to proclaim the Word for Christ for good and evil. As you watch New World Order consider pulling out your Bibles for a time of meaningful discussion with your family and friends and see how a simple movie night can turn into a time of meaningful discipleship and faith-building discussion. Don't forget the popcorn!
Opportunity To Remember God's Promises
Let's face it, watching the news, television, or movies can sometimes be depressing, and watching apocalyptic films can often be the worst of the lot. While films like New World Order can force us to reevaluate our faith walk and provide opportunities for meaningful discussion with others, they can also be depressing if we approach them from a purely "the world is ending and all the Christians are being persecuted" standpoint. If, however, we approach them with a heart full of God's promises they can be wonderful tools to cementing God's faithfulness in our hearts. Jesus says that those who are persecuted will be blessed. Instead of becoming discouraged or afraid by the events presented in films like New World Order use them as opportunities to remind yourself that God is faithful and our reward is great in heaven. Remember to rejoice!
As you follow Demi, Christen, Jason, and the others through their struggle between flesh and faith remind yourself of God's promises and protection. Use the film New World Order as a launch pad for discussion with those around you and meditation in your own heart. Let it be a time of encouragement and discipleship rather than fear and apprehension. As you watch this film remember God's promises, remember to rejoice, and remember the popcorn!
New World Order has not been rated by the Motion Picture Association of America, and may contain violence and other themes not suitable for young children. The Dove Foundation awarded this movie its "faith based" seal with a caution for violence. As always, it is recommended that parents preview all content to determine what is considered suitable for their children.