---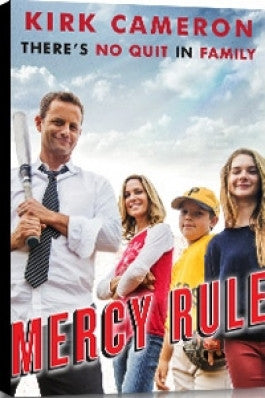 Sale
Kirk Cameron's Mercy Rule DVD
Watch Trailer
Additional Information
Cast: Kirk Cameron, Chelsea Noble, Tim Hawkins
Director: Darren Doane
Producer: John Sacco, Philip Sacco
Languages: English
Dove Approved: Dove Family Approved
Run Time: 117 min
Screen Format: WS
Subtitles: English
Closed Captioning: Yes
Region Code: 0

See More
Sale price $15.72 Regular price $19.99 You save 21%
Estimated arrival between and for USA.

---
You might also like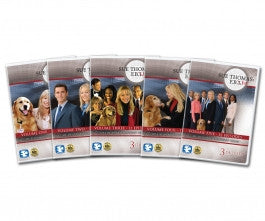 Sale price $95.99
Regular price
$119.99
Sale
—
Sold Out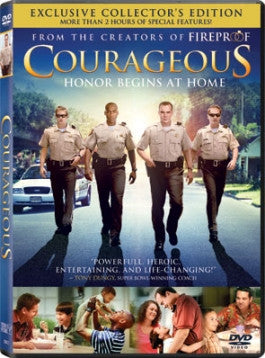 Sale price $5.99
Regular price
$24.99
Sale
—
Sold Out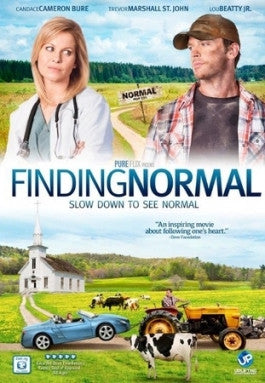 Sale price $8.99
Regular price
$14.99
Sale
—
Sold Out
Kirk Cameron's Mercy Rule DVD
Like in baseball, in life there may come a time when the big game is in jeopardy and you need someone to depend on. In the middle of a difficult season in his team, Cody realizes he's not the greatest pitcher or even the greatest teammate. Simultaneously John, Cody's father, is losing his family business due to a corrupt powerbroker. Both of them assume that their one option is to resist and confront their problems all by themselves. When they learn to count on teammates, friends and also their family and faith they find that their fight can be won.
Mercy Rule DVD: relying on God and loved ones
The film Mercy Rule is one of the films produced by Kirk Cameron's own studio called CamFam Studios. One of the main reasons why Cameron decided to make the movie is because his family had a difficult time finding films that all of them could watch together. That was the kind of family-friendly film that Kirk had envisioned to make. Including storylines for all ages, the baseball feature is of enjoyment for kids and the story touches adults in a much deeper level.
In Mercy Rule DVD, Kirk Cameron plays John, a man who owns his family's business and is at a risk of losing it to a suspicious powerbroker. His son, Cody is struggling with his baseball team since he wants to be the team's star pitcher. Both of them are going through a difficult patch but they have to choose to face them alone or relying on God and their loved ones.
It has been known that Fireproof, the film by the Kendrick Brothers which Cameron starred in, has transformed marriages and with Mercy Rule families have been strengthened. With the booklet that comes with the DVD it lets families dive deeper in the topics shown in the film. It includes several quotes from the movie and focuses on topics like responsibility, envy, building legacies, and to give up whining.
Cameron made this movie possible because he wanted to help restore and rescue families. He was a part of it because it served him as a reminder of what's really essential in life when it is so easy to become distracted and forget what really matters. One of the most important scenes in Mercy Rule DVD is when John (Kirk Cameron) and Maddie (Chelsea Cameron) are discussing what the term "everything" really means. That when people mention that they have lost or could be able to lose everything if they're referring to material things. And how people can become free of that. Kirk Cameron's Mercy Rule DVD reminds people that concentrating on family and faith, displaying courage and looking after those around you are the essential things in life. That when they make those things a priority, blessings will come.
Kirk Cameron and the choice to make Mercy Rule
Kirk and his family are always on the lookout for great movies to watch in their movie nights but for them it was hard finding the right movie with inspiring storylines that would encourage their faith in God and strengthen them as a family. He decided in that moment to make Mercy Rule in their own backyard with a local little league baseball team. For him the movie is one where the family truly learns about sacrifice, patience mercy and the trust we should have in God. He wanted to include some sort of sport to the film and decided to add baseball. To him the way the baseball game is played serves as a good metaphor for life. The importance of having a coach, that leader that guides the team. Also that when a wrong play is played, to keep moving on and continue the game.
Since he gave his life to the Lord, Cameron did not want to attach himself to big movie Hollywood standards. Therefore he chooses to create movies like Mercy Rule DVD that display and express his own beliefs and faith. He wants to create movies that have topics that resound in people's lives and hearts. Those that make an impact. Make films that he believes in and can give his all to. Films that are always going to present people something worthwhile and good.
In terms of distribution for the film Mercy Rule, Kirk Cameron contacted hundreds of people through the social media site Facebook. He asked how did they want to see the movie for example in a theater then DVD distribution, digital download, or straight to DVD and digital download. The majority of the people answered that the wanted the film to go direct to DVD and direct download to be able to enjoy it right away.
Cameron wants to bring movies like Mercy Rule to families that look for those values that society needs so much of today. To bring people to Jesus and help them develop in their walk with Christ and understand the Gospel to a much deeper level.
Kirk Cameron's first encounter with fame was on the television sitcom "Growing Pains" but he wasn't really pursuing that dream Hollywood career. Now he sees he has a major responsibility to utilize his fame in a correct manner and he has hope that other Christian actors do the same. To him when he is given this important platform there comes a major responsibility. With that platform he is very conscious that they have to be mindful of what they say and which way they say it. To be graceful and even though it is hard task it's something to always work on.åÊ
Mercy Rule DVD info
Kirk Cameron's Mercy Rule was released in February 2014 and its duration is 1 hour and 59 minutes. Directing the film is Darren Doane (Kirk Cameron's Saving Christmas). Starring in Mercy Rule is Kirk Cameron (Fireproof, Growing Pains), Chelsea Cameron (Growing Pains), Nicole Neilson, Jared Miller and Bass Rutten (Here Comes the Boom). The DVD includes a pamphlet with discussion questions for the family and a study guide.