---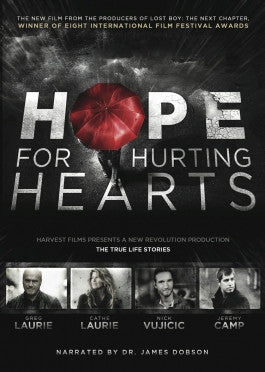 Sale
Hope for Hurting Hearts DVD
Watch Trailer
Additional Information
Cast: Greg Laurie, Cathe Laurie, Nick Vujicic, Dr. James Dobson, Jeremy Camp
Producer: Dwight Thompson Jr, John Collins, Paul Eaton, Gary Zelasko
Languages: English
Release Date: 9/23/09
Run Time: 75 minutes
Region Code: 1

See More
Sale price $3.99 Regular price $19.99 You save 80%
Estimated arrival between and for USA.

---
You might also like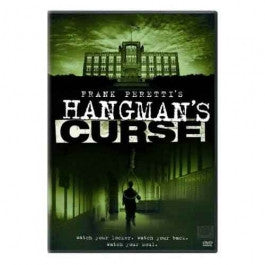 Sale price $3.99
Regular price
$14.98
Sale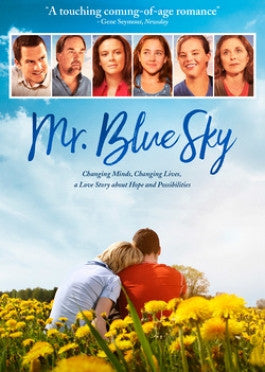 Sale price $3.99
Regular price
$19.95
Sale
—
Sold Out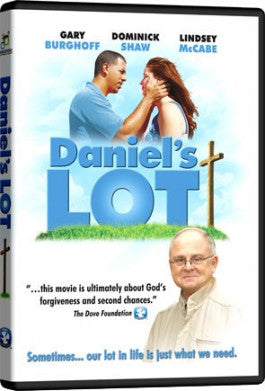 Sale price $3.99
Regular price
$14.95
Sale
—
Sold Out
Hope For Hurting Hearts
In every life there is that moment. That moment when pain, or grief, or heartache comes out of nowhere and knocks you down. And then it knocks you down again. In that moment, the pain can be stifling, unbearable even. If, however, we can lock hold of one truth, the moments of pain and suffering can be transformed. That truth is God loves us. Narrated by Dr. James Dobson, Hope For Hurting Hearts shares the true stories of Greg and Cathe Laurie, Jeremy Camp, and Nic Vujicic as they stood in moments of unbearable pain and made a choice to trust, follow, and glorify God.
Changing The Question
Pain, suffering, and heartache are not new issues, nor are they new topics for Biblical based films, but Hope For Hurting Hearts changes the discussion. Instead of trying to answer or soften the age old question of "Why" Why did this happen?, Why now?, Why him? This film changes the question to "To whom will you turn?" or "To what will you turn?" Changing the question, however, is more than just a change of answer. It is a change of perspective, a paradigm shifting way of looking at suffering, grief, and pain. When you stop asking "Why?" and start asking what you are going to do about it, grief and heartache take a whole new level of uncertainty and pain. In the film Hope For Hurting Hearts Dr. James Dobson, Greg and Cathe Laurie, Jeremy Camp, and Nic Vujicic share their stories of heartache and healing, while trying to shed Biblical light and encouragement on the question of "To whom will you turn?" Though many sources of relief may call you, there is only one source which can heal your heart, renew your spirit, and give you a new purpose and song to sing: his name is Jesus. Through Hope For Hurting Hearts real people share their very real journeys and provide encouragement to turn to God.
Greg & Cathe Laurie
Greg Laurie, the senior pastor of Harvest Christian Fellowship in Riverside, California, and his wife Cathe had sacrificed a lot to serve the Lord in ministry. Wealth, success, a "good life," but when they lost their oldest son Christopher in a car accident in 2008, not long after the birth of his child, the sacrifice seemed to be too high. What these two pastors learned as they worked through grief is that sometimes the things we say to make people feel better, only intensify the pain. In the midst of their suffering, however, Greg and Cathe Laurie learned what true love and compassion look like. They learned what the church is meant to be: a̴Ì_group of brothers and sisters laughing and crying together. In the film Hope For Hurting Hearts Greg and Cathe Laurie share their journey from devastation to healing, and the lessons and love God showered on them along the way.
Jeremy Camp
To many, award-winning Christian singer-songwriter Jeremy Camp seems to have had a fairly smooth life. He gets to write praise music for a living, and has a beautiful wife and three wonderful kids. Behind the outward picture, however, is a man who has experienced deep pain. A man who has every right to ask why. In 2000 Jeremy Camp married his first wife, Melissa, shortly after she was diagnosed with cancer, and died less than six months later. In the midst of his grief, however, Jeremy Camp was determined to hold on to the truth of the gospel and the God he knew still loved him. His journey is reflected in his music, a struggle between heartache and healing. In the film Hope For Hurting Hearts Jeremy Camp shares his pain, his struggle, and his journey with God to find healing, and the overwhelming presence of God which he felt in that time.
Nick Vujicic
For many, pain hits us at some point in our lives, but rarely does it begin the moment we take our first breath. For Nic Vujicic this was different. Unexpectedly and unexplainably Nic was born without any limbs: no arms or legs. Imagine a life where you cannot run, walk, or dance. Where you cannot hold a pencil, hug your family, or carry the groceries in from the car. This was the life that the Australian born Nic Vujicic was facing. Though he struggled with bullying and depression in his early life, God has turned his difficulties into a ministry, Life Without Limbs, through which he can glorify God. Learn Nic's story of finding purpose in despair through the film Hope For Hurting Hearts.
Dr. James Dobson
Author of more than thirty books, founder of family-oriented Christian organization Focus on the Family, and the radio show "Family Talk" Dr. James Dobson has changed many lives through his work. Dealing with topics on marriage, family, raising children, education, and evangelical issues in church, life, and government Dr. James Dobson is well equipped to lead the discussion on hurt and healing in the film Hope For Hurting Hearts.
Conclusion
The film Hope For Hurting Hearts is more than a "band-aid" for the pain. It is a heartfelt outpouring of love and compassion from people who have felt the pain. It is a Biblical look at God's love and compassion. It is a film that will encourage you and help you find the answer to the question "To whom shall I turn." And, perhaps, in the midst of finding that question, God will show you the answer to the cry of your heart: why?"
Hope For Hurting Hearts has not been rated by the Motion Picture Association of America and may include topics and issues not suitable for younger viewers. This film received the "Faith Friendly" award for ages twelve and up from the Dove. As always, it is recommended that parents preview all content to determine what is suitable for their children, but the film Hope For Hurting Hearts is generally considered appropriate for most older audiences.
̴Ì_