---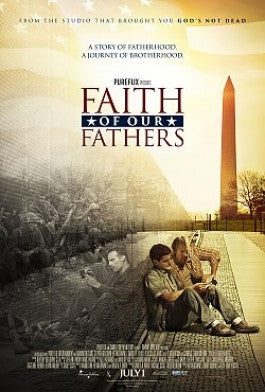 Sale
Faith Of Our Fathers DVD 2015 Edition
Additional Information
Director: Carey Scott
Producer: Kevin Downes, Bobby Downes, Michael Scott, David A.R. White
Languages: English
Release Date: 10/12/11
Run Time: 95 minutes
Closed Captioning: No

See More
Sale price $13.73 Regular price $14.99 You save 8%
Estimated arrival between and for USA.

---
You might also like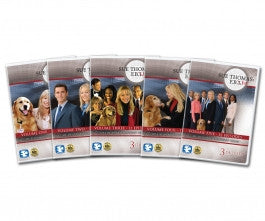 Sale price $95.99
Regular price
$119.99
Sale
—
Sold Out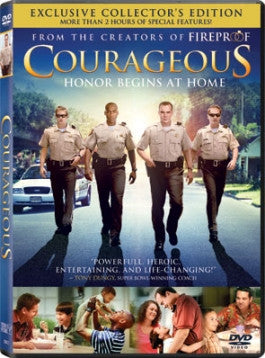 Sale price $5.99
Regular price
$24.99
Sale
—
Sold Out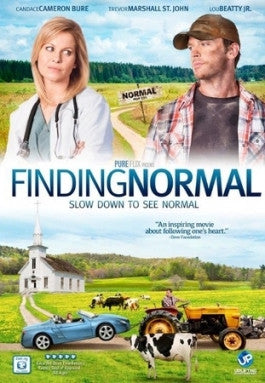 Sale price $8.99
Regular price
$14.99
Sale
—
Sold Out
Faith Of Our Fathers
Over fifty years ago with a war tearing apart the country and parts of the world two young men-- both fathers-- reported for duty. They would never return. Twenty-five years later their sons, Wayne and John Paul, embark on a quest to discover the fathers they never knew. From Pure Flix Entertainment comes a story about sacrifice and a father's love-- Faith Of Our Fathers. Starring Kevin Downes (Courageous, Mom's Night Out), David A.R. White (God's Not Dead, Revelation Road), Stephen Baldwin (God's Club), Sean McGowan, and Scott Whyte, Faith Of Our Fathers will have viewers of all ages laughing, weeping, growing, and healing along with two fathers and two sons, separated only by time.
Synopsis
Meet John Paul George (Kevin Downes). A nice, friendly, stable, young man who is about to marry the love of his life, Cynthia (Candace Cameron Bure). His life takes an unexpected turn, however, when he discovers a box of Dad's stuff tucked away in the garage after his mother's unexpected death. Now John Paul never knew his Dad, he died in the Vietnam war when John Paul was just a kid. In fact, he pretty much knows absolutely nothing about Dad because Mom never talked about him. So you can imagine when John Paul uncovers this box full of everything related to his Dad he starts wondering about the man who he called Father. So, when John Paul-- one of the main characters in Faith Of Our Fathers-- and Cynthia discover an old letter talking about Eddie Adams it is only natural that John Paul rings him up. The reception over the phone is... well we will just call it unwelcome. That's when John Paul does something unnatural. He hops on a plane and flies south to discover who Eddie actually is. Cynthia thinks he is crazy. It turns out that the hostile Eddie of the phone is actually Eddie's son Wayne Adams. It also turns out, as viewers will see in Faith Of Our Fathers that Wayne is just as unwelcoming in person as he is on the phone. Think shotgun unwelcome. The ever diplomatic John Paul, however, somehow coaxes the truth out of the hostile, growling Wayne. Yes, Wayne does have his father's letters. Yes they do talk about Stephen George (John Paul's father). And yes, John Paul can see them... for a price (think $500 a letter). Wayne (the other not so charming main character of Faith Of Our Fathers) has one condition though. John Paul has to visit The Wall-- the Vietnam Veteran's War Memorial in Washington D.C.-- with him. So, the two unlikely companions-- Mr. Nice Guy and Mr. Grump-- start off on a journey that will change their lives forever. As the story continues, Wayne starts opening up the letters, and revealing who Eddie and Stephen were. Through a series of flashbacks, the viewers of Faith Of Our Fathers come to know Eddie Adams and Stephen George. They discover Stephen was a great husband, a loving Dad, and a man of unshakable faith. His desire to save every man in his unit is distinguishable. He is especially drawn to a man named Eddie Adams. Also a young father, Eddie is different in one way. He does not believe in God. Not one tiny bit. As the war unfolds through their letters, John Paul and Wayne come to understand their fathers struggles, hopes, dreams, and most importantly their faith. They also discover something even more important-- a father's love crosses the boundaries of time, and that God's love is the same. Filled with comic moments like any road trip, but also many poignant heart wrenching moments, Faith Of Our Fathers honors the legacy of service men and women, while also honoring the legacy of faith our fathers leave for us.
Powerful Themes
Faith Of Our Fathers is filled with powerful themes that will touch your heart and inspire your mind. Not the least of these, is sacrifice. Throughout the film, John Paul and Wayne come to realize the great sacrifice their fathers committed for their country and for their children. They come to realize the struggles, fear, and pain of war through the eyes of their beloved fathers. Through the eyes of Stephen and Eddie, viewers will come to also see the unsurpassed sacrifice of Jesus Christ. Another powerful theme of this movie is love. That love does not waver or falter when faced by fear. That love forgives, and love that would sacrifice anything for its children. Like Stephen lead Eddie to understand the unfathomable love of God, so John Paul helps Eddie's son Wayne understand the same love. Both stories are not cliche, but are powerful and speak to the heart of every viewer. Perhaps the most powerful lesson about love found in Faith Of Our Fathers is that it is not confined by location or time. Love crosses boundaries and heals wounds-- as John Paul and Wayne discover on their life changing journey to see their fathers names on The Wall.
Conclusion
Faith is a journey, and life is a journey. This could not be better displayed than in the film Faith Of Our Fathers. Viewers of all ages will grow and be healed in their own unique way as they watch John Paul and Wayne come to know the fathers they never knew. While drawing closer to the Father they always had.
Faith Of Our Fathers was rated PG-13 by the Motion Picture Association of America for brief war violence. This film received a four out of five review from Focus On The Family's Plugged In, and the faith friendly award for ages twelve and up from the Dove Foundation. As always, it is recommended that parents preview all content to determine what is suitable for their children.