---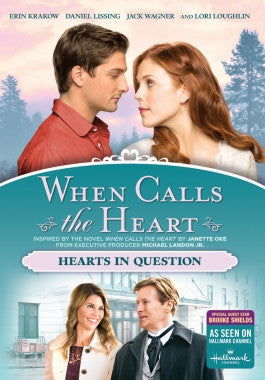 Sale
When Calls the Heart: Hearts in Question Season 3 Vol 5 DVD
Additional Information
Cast: Erin Krakow, Daniel Lissing, Lori Loughlin
Languages: English
Release Date: 10/10/12
Run Time: 90 Minutes
Screen Format: WS
Closed Captioning: No

See More
Sale price $3.99 Regular price $19.99 You save 80%
Estimated arrival between and for USA.

---
You might also like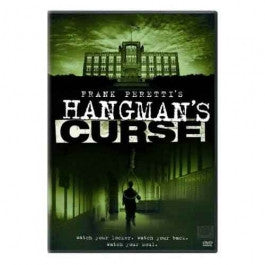 Sale price $3.99
Regular price
$14.98
Sale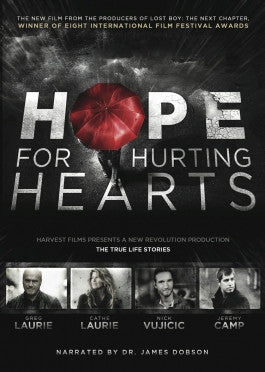 Sale price $3.99
Regular price
$19.99
Sale
—
Sold Out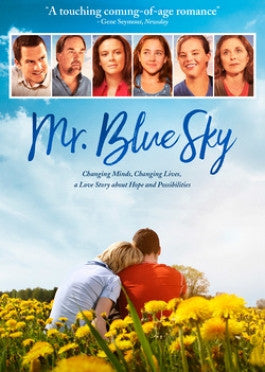 Sale price $3.99
Regular price
$19.95
Sale
—
Sold Out
When Calls the Heart: Hearts in Question
An air of conflict falls upon Hope Valley when Jack's determined mother, Charlotte (special guest star Brooke Shields), shows up unexpectedly, and stays with Elizabeth... While Charlotte "helpfully" critiques Elizabeth as a housekeeper, pie-baker, and teacher, Rosemary has become a bit of a taskmaster herself for those helping with her forthcoming wedding to Lee. Meanwhile, Gowen suspects problems in the bank's bookkeeping, and as he and Nora prepare to leave town, Bill and Jack must deal with a violent storm, an upcoming flood, and the collapse of the Silverton mine!
When Calls the Heart: Hearts in Question is an exciting movie in season three! This volume finds Hope Valley in an uproar, with Lee and Rosemary's upcoming wedding causing turmoil. Meanwhile, Jack receives an unexpected visitor that causes him to think deeply about his relationship with Elizabeth. The characters are faced with important lessons about what it means to truly love someone and to set aside your differences. When Calls the Heart: Hearts in Question is another dramatic movie in the wildly popular television series.
Synopsis
When Calls the Heart: Hearts in Question opens on Hope Valley as they begin preparing for the biggest wedding they have ever experienced; Rosemary and Lee's. The couple has many exciting plans, and Rosemary has gone above and beyond in order to have the grandest wedding ever. Lee would prefer something simpler, but concedes to let his fiance plan everything because she is so excited over the event.
One evening, as Jack is settling in for the night, there is a knock at the door. There is a fierce storm raging outside, and it is very dark. He opens his door only to find a mysterious cloaked figure. Jack inquires as to what this person needs, and the rider removes her hat, shocking Jack. Before him stands his mother, Charlotte, whom he has not seen in many years. He invites her in and they start talking. The next morning, Elizabeth comes to visit Jack and finds him with a strange woman that she has never seen before. When Calls the Heart: Hearts in Question watches as Charlotte introduces herself to Elizabeth, and they formally exchange greetings.
Elizabeth, wanting to know more about Jack's mother, quickly invites the two of them over for dinner later that night, so they may get to know one another better. Excited to spend time with the woman whom Jack thinks so highly of, Charlotte quickly agrees, though Jack is somewhat reluctant. He and his mother are very different and are not very close to one another. He desperately hopes that the dinner will go well and that there will not be any conflict. Elizabeth kindly invites Charlotte to stay with her, and Jack excuses himself from the dinner, as he does not want things to be awkward.
When Calls the Heart: Hearts in Question then follows the character of Nora as she faces Henry Gowen for the first time since he gave her an ultimatum. He informed her that she had to pick a side between him and Bill, or things were off between them. Henry apologizes to her for his behavior and suggests that they try and find a new beginning elsewhere. They both have had troubles in Hope Valley and desire to have a fresh start. Nora considers this offer, and must decide where her heart truly lies.
The next day, Frank Hogan is meeting with Lee and Rosemary in order to give them some pre-marital counseling. The couple seems to be doing well and seems to get along famously. They recognize their differences and love each other for them. However, when Frank brings up the topic of children and starting a family, things start to become difficult. Lee desperately wants to have a big family with lots of children, whereas Rosemary does not want any children at all. Frank is unsure how they progressed so far in their relationship without first considering this or even talking about the prospect, and is forced to figure out how best to reconcile their differences.
Meanwhile, When Calls the Heart: Hearts in Question finds Elizabeth and Charlotte having a bit of a tough time getting used to each other. The two are extremely different, as Elizabeth grew up in a life of privilege, and Charlotte never experienced such things. Though Elizabeth works extremely hard and no longer lives the life of the privileged, Charlotte still has a difficult time accepting this. She questions whether Elizabeth is truly right for Jack, and later decides to talk to Jack about this. Because she is his mother, she cares deeply about him. However, she has not really been present in his life and Jack does not think that she has any right to barge in and start spouting her opinions about Elizabeth. He becomes rather upset when Charlotte tells him that he must decide quickly what he really feels for Elizabeth. In her mind, the two have dallied around the subject of marriage far too long and need to either break apart or make a commitment. Jack is content in his relationship with Elizabeth, but suddenly feels insecure when his mother makes these comments.
Henry Gowen faces an issue with Mr. Jenkins, and the legitimacy of all his operations is brought into question. Sensing the danger that could expose his crimes and his immoral practices, Henry approaches Nora and gives her the final ultimatum. They can either flee town and find a new start together, or he will leave without her. Nora decides to go with Henry and the two embark on their journey. However, a terrible storm is raging on and When Calls the Heart: Hearts in Question watches as their car veers off the road, leaving viewers wondering if they are alright.
Jack, with his mother's words in his head, decides to take Elizabeth for a romantic walk. He shows her the property that he purchased and hopes to build a house on sometime. As they talk about this, he does his best to make his intentions known. Elizabeth is warmed to the core as she realizes that Jack is talking about the future, and this future includes her. The two share a romantic kiss and they discover just how important their relationship is.
When Calls the Heart: Hearts in Question finds all the people of Hope Valley dealing with different relationships. Many of them have differences and struggles, but the thing they all learn is that true love can overcome these differences. Reconciliation is the road to the future, and they must let go of their pride and expectations in order to find true love and happiness.