---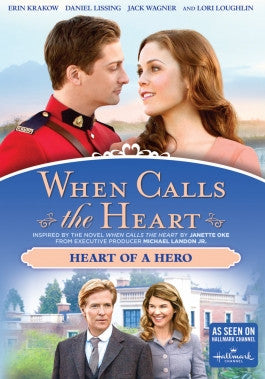 Sale
When Calls the Heart: Heart of a Hero Season 3 Vol 3 DVD
Additional Information
Cast: Daniel Lissing, Erin Krakow
Director: Neill Fearnley
Languages: English
Release Date: 6/6/12
Run Time: 89 minutes
Screen Format: WS
Region Code: 1

See More
Sale price $5.00 Regular price $19.99 You save 75%
Estimated arrival between and for USA.

---
You might also like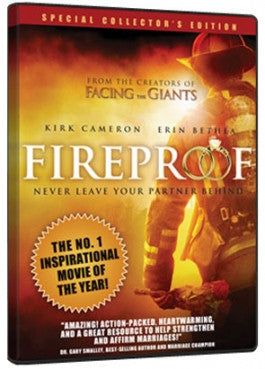 Sale price $5.99
Regular price
$14.99
Sale
—
Sold Out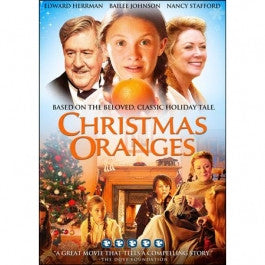 Sale price $5.99
Regular price
$19.98
Sale
—
Sold Out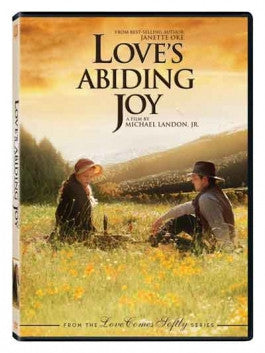 Sale price $5.99
Regular price
$9.98
Sale
—
Sold Out
When Calls the Heart: Heart of a Hero Season 3 Vol 3 DVD
The journey continues in season 3 movie 3 of When Calls the Heart! When Calls the Heart: Heart of a Hero continues the story of Jack and Elizabeth, Abigail, Frank Hogan, and the rest of the townsfolk from Hope Valley. In this exciting continuation of the series, Elizabeth begins to write a book about her experiences living in Hope Valley, and Abigail begins to get to know the real Pastor Frank Hogan better. Long time fans of When Calls the Heart, or Hearties as they are affectionately known, love the show for its exciting stories and encouraging messages. The film focuses mostly on the romance between Jack and Elizabeth, the main two characters in this colorful cast. While they have their struggles from time to time, Jack and Elizabeth have become a beloved couple in the series, well-liked for their wonderful chemistry and good hearts toward each other.
When Calls the Heart takes place in the small Canadian town of Hope Valley, formerly known as Coal Valley. Formerly a mining town until a devastating accident, Hope Valley is now a renewed town full of wonderful characters and stories. Similar in style to other timeless and classic television dramas like Little House on the Prairie, Dr. Quinn: Medicine Woman, or even Anne of Green Gables, this is a television drama with family-friendly stories, incredible drama, and most of all, true romance. When Calls the Heart: Heart of a Hero continues where the previous episode left off, with the revelation about Pastor Frank Hogan and some new experiences for Jack and Elizabeth. In this new adventure, they journey together, learning about friendship, heartache, and hope along the way.
The Story
When Calls the Heart: Heart of a Hero continues where the previous episode left off, presenting another wonderful addition to season 3 of the timeless Hallmark show. In episode three of the season, we follow the townsfolk in the aftermath of the difficult revelation concerning Pastor Hogan. After it was revealed that he had a criminal background, people were in shock and disbelief, not quite sure how to handle this news. Should he be removed as pastor or has he changed for the better? When this episode begins, the town has once again almost returned to normal. But as we know by now, nothing is ever completely normal in the quaint little town of Avonlea. Willing to give him a fresh start and a new chance, however, Abigail begins spending more time with Frank Hogan, with the hopes of learning more about the real Frank.
Meanwhile, Elizabeth begins to spend more of her free time working on a book, telling the story of her many adventures on the frontier. She continues her job teaching at the school just outside of town, and one day the class listens with excitement as Elizabeth announces there is an upcoming spelling competition. This excites the entire class and before you know it, they're all planning out various strategies on how to win this new competition. Anna on one hand, plans on getting her mother to help her study. Cody plans to get help from Ms. Abigail, but Anna rudely remarks that it's not the same. She explains to Cody that Ms. Abigail could never love him like a real mother. This cuts Cody deeply, sending him into depression and deep thought.
The camera also cuts to a small clearing in a woods, showing us a more dark and nefarious side of the town. We see the small gang grouped together strategizing. They become discouraged by the ineffectiveness of their smear campaign. They had tried to get Hope Valley to shun Frank Hogan once the allegations about his criminal background came out. However, they chose to forgive him for his past and welcome him back with open arms. With a crumbling plan to blow the safe and steal their greatly-coveted gold, they begin to work out a new plan.
At the nearby saloon, one of the upstairs rooms is being turned into a makeshift hospital. Jack helps Lee into the bed and tends to his wounds, wrapping bandages around his foot. When a cable broke at the mill, production came to a screeching halt when Lee was seriously injured. Jack does what he can to apply first aid and fix Lee up, but the injury is more sever. The doctor from Union City is summoned to town to help. In Lee's place, Wade Barrett takes over as the new foreman.
Jack continues to keep up the patrols in town, and Bill heads to the Benson homestead to find the family of his recently and unexpectedly murdered friend. What Bill finds when talking to Lucy Benson, the only child of the Benson family, is that her mother has recently died. After learning about how her father was murdered by the evil Jake Garrison, Jack promises to Lucy that he will pay for what he has done to destroy her family.
And finally, Abigail prepares for her evening with Frank Hogan. With Elizabeth's help she finds the perfect dress and does everything she can to calm her nerves. Although she has forgiven him, Frank's checkered past is still a major cause for concern with Abigail. She worries about what this means for their future and if Frank has really changed from the man he used to be. When Calls the Heart: Heart of a Hero contains all of this and more with thrilling drama, romance, and an epic conclusion.
Conclusion
This classic television drama airing on the Hallmark Channel has quickly captivated fans with is romantic stories and heartfelt adventures. With its wide fanbase and powerful stories, When Calls the Heart has quickly become a beloved franchise, a classic almost as soon as it was released. If you are a long time fan of the show or just now finally getting into it, When Calls the Heart: Heart of a Hero is an excellent addition to your collection. With its family-friendly entertainment and positive messages, When Calls the Heart is a wonderful television drama for the entire family.