---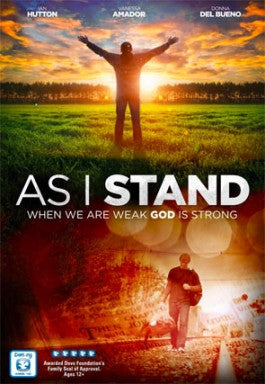 Sale
As I Stand DVD
Watch Trailer
Additional Information
Cast: Ian Hutton, Vanessa Amador, Donna Del Bueno
Dove Approved: Dove Family Approved
Release Date: 2/4/09
Run Time: 104 min
Subtitles: English
Closed Captioning: Yes
Region Code: 1

See More
Sale price $5.99 Regular price $9.99 You save 40%
Estimated arrival between and for USA.

---
You might also like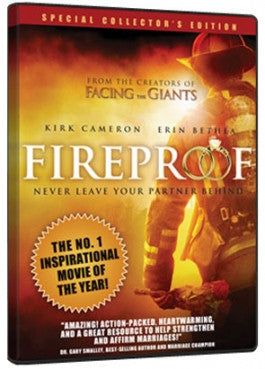 Sale price $5.99
Regular price
$14.99
Sale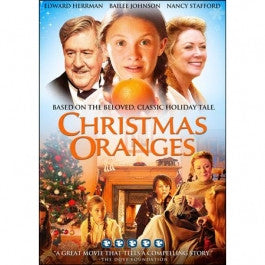 Sale price $5.99
Regular price
$19.98
Sale
—
Sold Out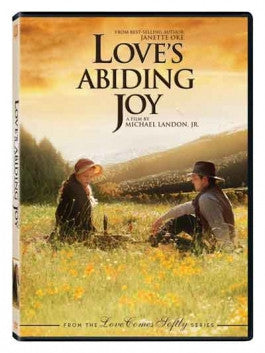 Sale price $5.99
Regular price
$9.98
Sale
As I Stand
Devin Wheeler and Matthew Daniels had two individual wonderful lives. When a single event changed their worlds forever, one ran to his faith for strength and the other away. When a series of events brings their lives together, they are both confronted with a single question-- would they love God for nothing? From Pure Flix Entertainment comes a story of loss, faith, and hope-- As I Stand. Starring Ian Hutton, Vanessa Amador, and Adam Griffith.
Two Stories
On Friday March twenty-third Devin Wheeler (played by Ian Hutton) helplessly stood by as he watched his entire family loose their lives. Without a home or family Devin had only one thing left-- his faith. Searching for peace and a new purpose Devin clung to his faith, confident God would provide beauty and meaning from his loss. Then one day Devin from As I Stand found an answer. It came in the form of a simple wallet lost on the sidewalk. Honest as ever Devin tracked down the rightful owner and returned the lost property. The wallet, it turned out, belonged to Abigail Daniels (played by Donna Del Bueno), a wife and mother whose house was falling to pieces and whose two grown children were falling into hopelessness. After Devin's paths unexpectedly crossed the Daniels' paths a few times they both found answers to their prayers. For Devin the answered prayer took the form of a place to live-- the Daniels' spare room. For the Daniels family it was someone willing to fix up their house in exchange for only room and board. At first it seemed that those were the only prayers to be answered in As I Stand, but Devin's faith soon had the Daniels' asking questions. Abigail, struggling to stay on her feet, was desperate to save her children. John Daniels (played by Thomas Hitchcock), Abigail's husband, was struggling to keep a roof over their heads. Amanda Daniels (played by Vanessa Amador)-- the couple's daughter-- was falling into bitterness and despair over her life, and beginning to distrust everyone around her. Matthew Daniels (Adam Griffith) confined to a wheelchair after a tragic accident was giving up hope in life altogether. As Devin quietly works for his room and board in the film As I Stand he quietly begins changing the Daniels' lives. Will they ultimately find the answers they seek, however, or will the tragedies they have endured prove stronger than their faith?
Would You Love God For Nothing?
A heartwarming and inspiring story, the film As I Stand also holds a powerful question for viewers of all ages. The question is one that Devin and the Daniels must each wrestle with-- would they be willing to love God for nothing? When Devin looses his family he loses almost everything, struggling to rebuild a shattered life, Devin comes face to face with this question. As he struggles with life, he also struggles to honestly answer the question. He dives deep into the life of Job, seeking answers, and wisdom. Faced with different losses, the other individuals in As I Stand must also ask themselves the same question. Ultimately it is a question about faith, love, and priorities. Viewers will be faced with the difficult question "would you love God for nothing?" in the film As I Stand, and as they watch the lives and struggles of Devin, Matthew, and the others they will be asked to reflect on their own values and heart for God.
Unexpected Answers
The film As I Stand is full of situations where God answers prayers in unexpected ways. From a returned wallet to a home and job. From a stranger to someone who can keep a roof over their heads. From an accident to a purpose. The film As I Stand serves as a reminder to viewers of all ages that sometimes God answers our prayers, our cries for help, and our desire for a purpose in unexpected ways and at unexpected times. As I Stand is a reminder to never give up hope, or to think your prayer has not been answered, because sometimes God answers prayers in ways we do not understand. As viewers watch As I Stand they will be challenged to look back on their own lives and see the ways God has provided answers in unexpected ways, they will be encouraged to stand in hope knowing God's timing is different than ours, and inspired to wait with eager expectation to see how God will unexpectedly provide-- whether it be a home, purpose, or answers.
Everything Happens For A Reason
Another lesson viewers can learn from the film As I Stand is that everything happens for a reason. As Devin, Matthew, and the Daniels family struggle with their own tragic stories, the struggle to see the purpose behind the pain. Yet, as the story unfolds so does their understanding that sometimes painful things happen so that God can start a new work in our lives. The film As I Stand is a reminder to all viewers that God has a purpose behind every event in our lives, nothing is without an ultimate plan in mind.
Conclusion
As I Stand is a story of finding meaning in the tragedy, a purpose in the pain, and joy in a new life. It is a reminder to viewers of all ages that there is always hope, that God has a plan in mind, and that sometimes answers come in unexpected forms. Filled with encouraging lessons, thought provoking questions, and a wonderful story of redemption, As I Stand is a film viewers of all ages will laugh with, cry, and grow from.
As I Stand has not been rated by the Motion Picture Association of America and may include topics and issues not suitable for younger viewers. This film received the "Family Approved" award for all ages from the Dove Foundation. As always, it is recommended that parents preview all content to determine what is suitable for their children, but the film As I Stand is generally considered appropriate for most audiences.