---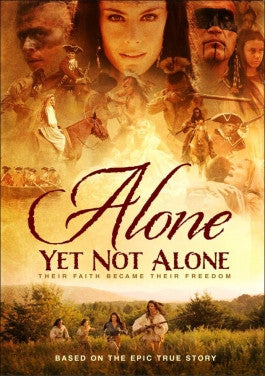 Sale
Alone Yet Not Alone DVD
Watch Trailer
Additional Information
Director: Ray Bengston
Languages: English
Release Date: 7/6/11
Sale price $12.48 Regular price $19.99 You save 38%
Estimated arrival between and for USA.

---
You might also like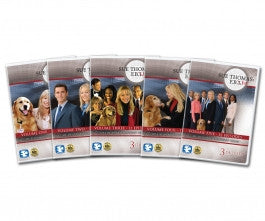 Sale price $95.99
Regular price
$119.99
Sale
—
Sold Out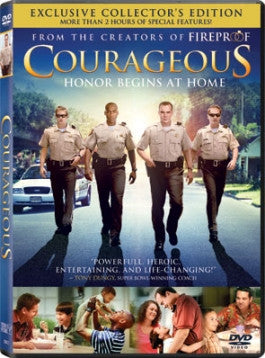 Sale price $5.99
Regular price
$24.99
Sale
—
Sold Out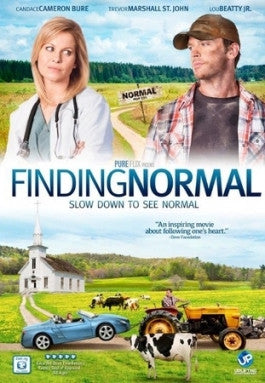 Sale price $8.99
Regular price
$14.99
Sale
—
Sold Out
Alone, Yet Not Alone - An Inspiring Christian Historical Drama.
Alone, Yet Not Alone is a 2013 Christian movie based on the book of the same name by Tracy Leininger Craven. It tells the true story of the Leininger family, a family that was forced to leave Germany due to religious persecution. They chose to come to America in the hopes of having a fresh start. Although they didn't have much and they had to labor long and hard hours in order to fight for their survival, they worked diligently, working toward their goal of having a home that they could celebrate their freedom of religion. Taking place in the mid-1700s, this is a thrilling drama full of inspiration and action.
Things eventually begin to calm down for the Leiningers. They were able to build a home and after all their hard labor and many setbacks, they were able to settle down in their new home. Here, they enjoyed their freedom and were happy to read the Bible together as a family. They were finally free from persecution! But just as the Leiningers begin to make a home for themselves in America, an unthinkable travesty occurs - Delaware warriors arrive, kidnap the two younger daughters, and attempt to indoctrinate them with their native beliefs. It is in the midst of these incredible trials that the Leininger daughters had to remember what they had learned and how to hold fast to God's truth amidst their indoctrination and persecution. It was at this time that they realized, they were Alone, Yet Not Alone.
Based on the Book - Alone, Yet Not Alone
The Alone, Yet Not Alone movie was originally inspired by the book of the same name: Alone, Yet Not Alone: Their Faith Became Their Freedom. This incredible novel was written back in 2012 by author Terry Leininger Craven. In her novel, she attempts to relive history by giving all the details on this book, spotlighting the difficulties and struggles that the Leiningers endured upon their arrival in America. Craven hopes to bring a better understanding of this incredibly powerful story to her readers by giving a close examination of the Leiningers. If you enjoy historical novels, the Alone, Yet Not Alone book would be an excellent read for you. It did quickly inspire a screenplay, and it was the next year that Alone, Yet Not Alone the movie would be produced.
The True Story behind Alone, Yet Not Alone
As mentioned, the most exciting aspect of Alone, Yet Not Alone is the fact that it's based on a true story. Everything you see in the film is meant to be as close to the historical account as possible. Telling the story of the Leiningers, the movie shows them making an exodus from Germany to the new country of America in 1755. They were forced to leave Germany due to religious persecution and because of this, they hoped to find a better life for themselves in America. When they arrive, they are met with a new series of challenges. With very little money and very little to their name, they must build a settlement and establish a home for themselves in their new American life.
During this time, they begin to read the Bible together as a family. The daughters are touched by their father's inspiring message that God will never leave them or forsake them. They will never be alone as long as they have God, for He will always be with them and will watch over them. This provides the daughters with a peaceful feeling of comfort. They finally believe that they have found a new home in America, and they're ready to happily continue their life in this new home.
The story of Alone, Yet Not Alone continues when their mother and brother leave on a trip, native Americans attack them and drive them out of their home. The two youngest daughters, Barbara and Regina are forced out into the woods where they are captured by one of the Delaware warriors and brought back to their camp. From here, the Leiningers life takes an unexpected and unfortunate turn. They are taken captive by the Native Americans and forced to learn everything about their culture. They try to force the daughters to worship their gods, and it is at this time that Barbara and Regina must remember the words of their father about how God was the only true God and they had to hold onto Him for guidance and protection at all times.
While at first Barbara tries to escape, she eventually submits and decides to accept her new life of captivity. Although she doesn't like it and wants out more than anything, she also understands that this is all part of God's plan for her. Separated from her family and eventually her sister, she is forced to dye her hair and skin to blend in and a man in the tribe eventually wants to marry her. She is able to use this opportunity to not only stick to her faith, but also witness to the man who wants to become her husband. Because of their father's teachings and their faith in God, they were able to survive and share the gospel with their kidnappers in Alone, Yet Not Alone.
Parental Review
It's worth noting that this movie is rated PG-13 by the MPAA for violence. While it does contain a fair amount of violence, it is still done in a respectful way and nothing is unnecessary or over the top. The filmmakers still attempted to keep this film appropriate for a large audience by removing all sexual themes and language. It was given a Dove Foundation rating of 5/5 and was given a seal of "faith-friendly" for ages 12+.
Conclusion
If you enjoy historical dramas, particularly ones inspired by true events, you will definitely not want to pass up on Alone, Yet Not Alone. Taking place in the mid-1700s, this incredible retelling of the Leininger's story is one that will captivate and intrigue you. The film begins as a pleasant journey, but quickly turns into an incredible tale of overcoming hardships once the Leininger daughters are kidnapped. You will witness their struggle and their fight to stay committed to their beliefs and to their one God. Based on a true story and the historical book that started it all, Alone, Yet Not Alone is a compelling must-see film.