---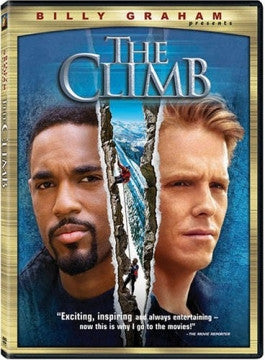 Sale
The Climb DVD - A Billy Graham Movie
Sale price $12.89 Regular price $19.98 You save 35%
Estimated arrival between and for USA.

---
You might also like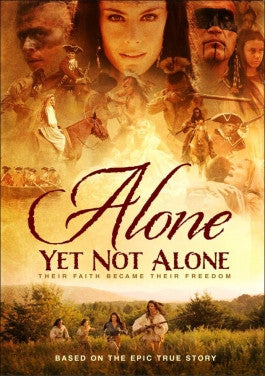 Sale price $12.48
Regular price
$19.99
Sale
—
Sold Out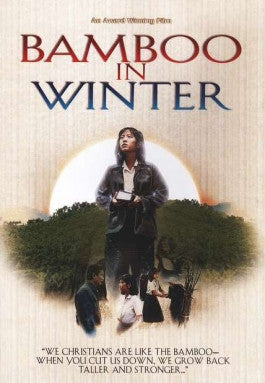 Sale price $8.99
Regular price
$9.99
Sale
—
Sold Out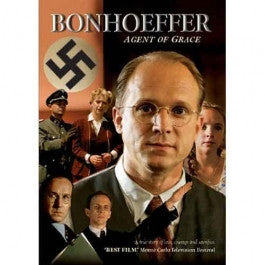 Sale price $6.99
Regular price
$19.99
Sale
—
Sold Out
The Climb - A Billy Graham movie about life on the edge
Mountain climbers Michael and Derrick are as different as night and day. One is careful, calculating, and cautious. The other is reckless, hotheaded, and a bit dangerous. One is a believer, the other is the complete opposite. They do, however, have one thing in common. . . climbing. So when a chance arises to climb the mountain of their dreams they jump at the chance. Can they make it to the summit before their different personalities result in a fatal flaw? From the Billy Graham Evangelistic Association comes a story of faith an unlikely friendship The Climb. Starring Ned Vaughn (Apollo 13), Jason George, and Dabney Coleman (Where The Red Fern Grows).
The Story
Mountain climbers Michael (played by Ned Vaughn) and Derrick (played by Jason George) never climb together. In fact, it would be a miracle if they did anything together. Michael is cool, calculated, and careful climbing mountains. If he had a motto it would be "play by the rules." Derrick, on the other hand, likes to live life a bit on the edge. . . well, more like hanging off of the edge. A hotheaded, thrill loving climber Derrick thinks if you cannot possibly die doing it, you are doing it wrong. The only thing they have in common? They both climb mountains. And, they have both dreamt of climbing the Chicanagua peak in the Chilean Andes Mountains for longer than they can remember. There are just two problems facing these climbers from the film The Climb. One, they have no one to climb the treacherous mountain with, and two they have no money to get themselves on top of a mountain in South America. Things do not look promising for the separate, mountain climbing dreamers. That is until one fateful day.
When they find an injured climber on top of a mountain the duo team up in the film The Climb to save the man's life. What they do not know, however, is that the injured climber is the son of one of the nation's most powerful business tycoons. When the rescue attempt is finished successfully and the newspapers are all singing the praises of Michael and Derrick the business tycoon figures he better do something to reward the men who saved his son's life. What better way to reward two mountain climbers than letting them climb a mountain? And what better publicity than having two famous mountain climbers climb a mountain in the name of your company? With a sponsor behind them Michael and Derrick are all set to tackle the mountain of their dreams Chicanagua.
There is just one more problem, however. Michael and Derrick are not exactly a team. In fact, they are not even close to being friends. Michael's careful climbing and Christian approach to life rub Derrick the wrong way, and Michael is frankly terrified to place his life in the hands of a reckless climber such as Derrick on one of the most dangerous mountains on earth. Will the unlikely team find a way to sort out their differences or will the peak of Chicanagua remain unconquered?
Loving The Unlovable
The film The Climb is filled with valuable lessons viewers of all ages can learn from. Not the least of these is what real love in action looks like. Often as we live our lives we choose who to be with. We choose who our friends are, where we work, who we marry, the list goes on and on. But equally often in our lives we have no control over who we are with. We cannot choose our family, our co-workers, our siblings, or our climbing partners. Sometimes they are assigned to us, sometimes they just become a part of our lives, and sometimes God puts them there to teach us things. No matter who we are surrounded by, people we chose or people who simply are in our lives, we are called to love them. Love is not a feeling, love is a choice. A choice to serve and honor and graciously accept people because they have been placed in our lives and not because we feel like it. Love is Biblical too. A command from Jesus to love our neighbors. Throughout the film The Climb you will see two people who did not choose each other's company struggle to build a working relationship. Yet the way they go about it is different. As you watch the film The Climb you will be reminded what sacrificial love looks like. You will be reminded that we are called to love the unlovable, and that love is a choice. The film The Climb will encourage you to take a fresh look at your life and see the people God has placed there that you need to choose to love.
Perseverance and Sacrifice
Also woven throughout the film The Climb is an important lesson about perseverance and sacrifice. As Michael and Derrick struggle to make their way to the top of the Chilean mountain they must learn valuable lessons about perseverance and sacrifice. They will learn that sometimes the moments when you feel like giving up are the moments you need to keep going forward the most, and that there can be no great reward without great sacrifice. The Climb is a wonderful reminder to all viewers that perseverance and sacrifice are keys to living a successful life whether you are climbing mountains or not.
Conclusion
Filled with adventure, trials, beautiful mountains, and moments of intensity the film The Climb is sure to entertain viewers of all ages. Filled with a wonderful story of love, sacrifice, friendship and perseverance The Climb is filled with lessons just as life changing as the mountains Michael and Derrick climb.
The Climb has been rated PG by the Motion Picture Association of America for thematic material. This film received the "Family Approved" award for ages twelve and up from the Dove Foundation and has been reviewed by Focus on the Family's "Plugged In". As always, it is recommended that parents preview all content to determine what is suitable for their children, but the film The Climb is generally considered appropriate for most older audiences.