---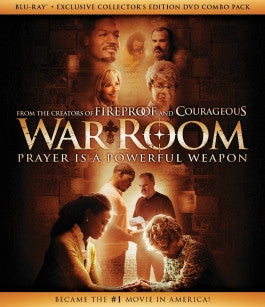 Sale
War Room Bluray/DVD Combo
Additional Information
Cast: Kimberly Helms Stewart
Director: Alex Kendrick
Producer: Alex Kendrick
Languages: English, Spanish
Release Date: 12/21/11
Run Time: 120 minutes
Subtitles: English, Spanish, Tagalog, French, Vietnamese, Chinese, German, Korean, Russian, Italian and Portuguese
Region Code: 1

See More
Sale price $23.19 Regular price $28.99 You save 20%
Estimated arrival between and for USA.

---
You might also like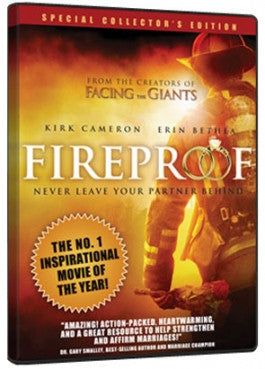 Sale price $5.99
Regular price
$14.99
Sale
—
Sold Out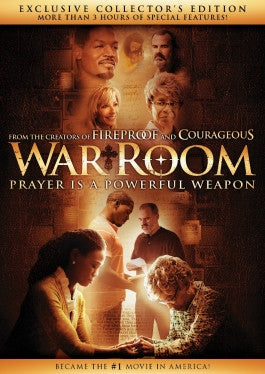 Sale price $5.99
Regular price
$24.99
Sale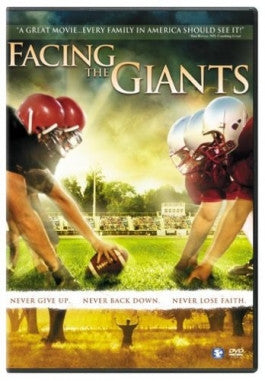 Sale price $5.99
Regular price
$14.99
Sale
—
Sold Out
WAR ROOM Blu-ray DVD Combo Film
War Room Blu-ray DVD Combo is the perfect collection for any fan of the Kendrick Brothers' inspiring film. This combo pack includes the Blu-ray disk as well as the regular DVD. This movie is an inspiring Christian film that focuses on the great power of prayer and the effect that this has on those around us. Each of the characters in this film experiences a great spiritual transformation and are renewed in their faith and in their prayer lives. A unique blend of humor, heartwarming scenes, and relatable characters, War Room is a film that is perfect for the entire family. This movie is filled with powerful scenes and emotional moments that showcase each of the character's individual journeys. Viewers will be moved to tears by the heartbreaking and emotional moments as well as filled with joy and laughter at other scenes. This movie is very impactful and will change the way that viewers think about prayer.
Synopsis
The beginning of War Room finds an old woman, named Clara, standing by her husband's grave. She explains to the viewers that her husband worked in a war room, where he planned battle strategies. Her voice goes on to tell viewers that it is very important to have a strategy and a technique when heading into battle, which alludes to the power of prayer.
War Room Film introduces viewers to the Jordan family. They are a family that is under great stress, as the parents' marriage seems to be falling apart. Tony is a very angry man and spends more time at his job than home with his family. He and Elizabeth are constantly arguing and just do not get along with each other anymore. Tony is a very successful pharmaceutical rep who has been making great money lately. However, he informs Elizabeth that this money is his and his alone, and he will make the financial decisions for the family. This causes even more tension between them. Their young daughter, Danielle, picks up on the tension between her parents and becomes very insecure about her home life.
Elizabeth is a real estate agent and focuses on her job in order to forget the stress that is within their home. She goes to meet Clara in order to talk about selling her house, and strikes up a friendship with the elderly woman. Clara asks Elizabeth if they can get together and talk the next day, and Elizabeth agrees, assuming that this meeting revolves around business. However, Clara starts asking her if she goes to church and what her prayer life is like. Reluctantly, Elizabeth says that she goes to church occasionally and that her prayer life is almost nonexistent. Clara challenges her to reevaluate her faith, as God wants her to either be hot or cold, not lukewarm. War Room watches as Elizabeth considers her words and decides to take action.
Clara volunteers to meet with Elizabeth once a week in order to talk about prayer and teach her how to pray for her husband. She agrees and Clara then shows Elizabeth her war room. This is the place where she goes to pray. Prayer has become her battle strategy and is the way that she handles every situation in life. Elizabeth is deeply challenged by this and decides to try and make herself a war room where she can pray for Tony.
As the two women continue meeting, Elizabeth's heart is slowly turned toward God and she begins to soften. Her prayer life continues to grow and she learns what it means to truly bring everything to God in prayer. However, her newfound faith is put to the test one day when she receives a text from someone informing her that Tony was seen having dinner with another woman when he was supposed to be on a business trip. Elizabeth is overcome with emotions, not sure how to feel about this. She is angry and deeply sad, as well as hurt and confused. War Room finds Elizabeth going to God in prayer first thing, truly praying for the first time. She begs God to save her marriage with Tony and begins to feel the fight seeping out of her. She no longer wants to be at odds with Tony but wants to fix their relationship. Her heart is filled with a newfound strength and resolve as she feels the presence of the Lord.
Tony picks up Elizabeth's phone one day and realizes that she knows about him being with another woman. Anxiously, he waits for her to get angry and explode at him, but she never does. He is confused by this and does not know what to make of her newfound calm and peaceful attitude. He recognizes the changes within her, but does not know what they are caused by. Unfortunately, War Room shows Tony losing his job because he faked his numbers at work in order to make more money. His dishonesty could land him in jail, and he is suddenly overcome with remorse. He asks Elizabeth why she responded with such gentleness and grace to him, and she explains about Clara, her faith, and her war room. He is convicted and asks Elizabeth to show him more about Christ.
Elizabeth and Tony begin praying together that God would show them mercy and that he will not get arrested. They know that he deserves this, but they beg for redemption as his heart has changed. Their marriage begins to be renewed as they grow closer to God and each other. Finally, Tony's boss informs him that he will not be convicted for his actions and the family rejoices. Tony, Elizabeth, and Danielle learn what it means to be a praying family and discover for themselves what it truly means to cast our cares upon the Lord and pray for him to intervene in our lives.
War Room uses the character of Clara to teach the other characters about the power of prayer. This film is powerful and emotional, leaving viewers with a renewed sense of what it means to truly pray. The War Room Blu-ray DVD Combo allows viewers to take home both the Blu-ray and the DVD of this amazing and powerful Christian film.