---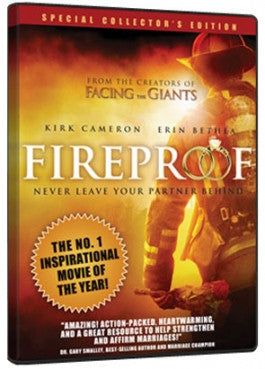 Sale
Fireproof Special Collector's Edition DVD
Watch Trailer
Additional Information
Cast: Kirk Cameron, Erin Bethea
Director: Alex Kendrick
Languages: English, Spanish
Run Time: 118 minutes
Screen Format: WS
Subtitles: English, French, Spanish, Portuguese, Chinese
Closed Captioning: Yes
Region Code: 1

See More
Sale price $5.99 Regular price $14.99 You save 60%
Estimated arrival between and for USA.

---
You might also like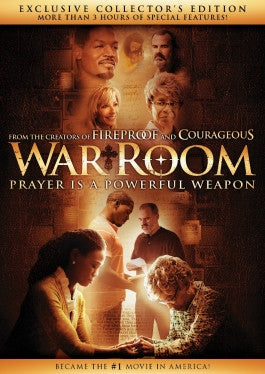 Sale price $5.99
Regular price
$24.99
Sale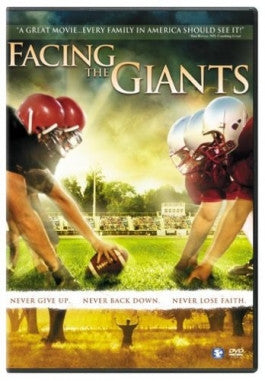 Sale price $5.99
Regular price
$14.99
Sale
—
Sold Out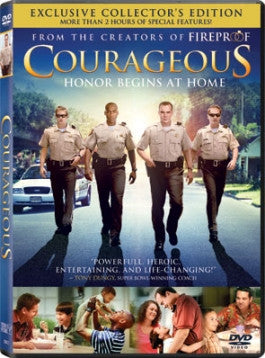 Sale price $5.99
Regular price
$24.99
Sale
—
Sold Out
Fireproof  Special Collector's Edition
At work fireman Capt. Caleb Holt's life could not be going better. He is saving people left and right, and looking pretty good while doing it. His home life, however, seems to be crumbling in to ashes-- and he does not seem to care. From the makers of Facing the Giants and Courageous comes a story of a man struggling to redeem his own marriage, the one he has let burn to the ground-- Fireproof. While both Caleb and Catherine seem to be content with divorce, Caleb's father challenges his son to the forty day "Love Dare." Reluctantly, his son takes up the challenge to win back his wife's heart, but will he need as much courage and strength as he does on the job? Starring Kirk Cameron as Caleb Holt, Erin Bethea as Catherine, and Ken Bevel as Caleb's work buddy Michael, Fireproof takes a look at the fireman's creed-- "Never leave your partner behind."
Synopsis
Capt. Caleb Holt is considered one of the best of the best. . . at least as his fellow firemen are concerned. He rescues people from burning buildings, saves individuals from being run over by speeding trains, basically-- as he says so himself-- everyone thinks he's a hero. Everyone that is except his wife. Catherine, who holds an equally stressful job as a hospital administrator, is done with Caleb's selfish desires and thoughtlessness, and she is tired of constantly feeling unloved. On the flip side, Caleb feels unappreciated and undervalued by his wife. Their constant arguing escalates rapidly, and finally one night Catherine demands a divorce, Caleb agrees. For the couple of Fireproof their years old marriage vows could not be further from their minds. Caleb's father is not about to let his son throw away his marriage without fighting, however, and he challenges Caleb to a forty day "Love Dare"Ì_åÇ? before preceding with the divorce. Caleb reluctantly agrees, more for his father's sake than his marriage's sake. When the handwritten book arrives Caleb cracks it open, "Day 1... say nothing negative to your wife. Day 2... Do something unexpected as an act of kindness.Three... Buy something that tells her you're thinking of her Four... Call to check if she needs anything . . ." On and on it goes-- for forty days. Added to the dare are the pieces of advice and wisdom that come from Caleb's work buddy Michael, who also is not about to let his friend's marriage go down the tube without some effort. The fair maiden of the Fireproof story, Catherine, is not sure how to respond to her husband's sudden change of heart, attitude, and action. Her friend's urge her to ignore it, and besides, there is a pretty handsome new doctor at the hospital... then again Caleb did call her up just to see if she needed anything. While Caleb continues to struggle to follow the new values he is learning from the "Love Dare," Catherine struggles to see how her husband could have really changed, while wrestling with her own selfish desires. As the heat builds, the two learn new lessons about the importance of self sacrifice, trust, forgiveness, and they begin to see the importance of building a marriage that is Fireproof.
Lessons and A Challenge
Fireproof holds many valuable lessons for married and single alike, but the film has a special impact for those who are married. This film takes an honest look about the importance of "fireproofing" your marriage, and holding Godly principles throughout your relationship. It highlights the importance of self sacrifice in any relationship, but especially marriage. Because both husband and wife in Fireproof were selfishly focused on their own wants, desires, grievances, and needs they were unable to see the pain, loneliness, and needs of their spouse. Because they were not willing to take a Christ like attitude and lay aside their own desires, their relationship was rapidly crumbling to the ground. By no means is this lesson applicable only to marriage, however, and in the relationships between the firefighters in Fireproof we see the importance of this character trait. Another lesson found in this film is the importance of honesty and forgiveness. Because neither Catherine nor Caleb were honest with each other, and because neither one was willing to forgive past grievances, their home was struggling to stay upright. Perhaps the most important lesson in Fireproof, two actually, is that God needs to remain in a marriage, and that love takes work. Love cannot stand alone, it is not something that will magically stay without work of both parties. Love is not just a feeling, it is an action, and you must choose to be Fireproof.
Conclusion
Whether single, newly married, or "forever" together the Kendrick brother's Fireproof holds a powerful message for viewers of all ages. Not only is it an enjoyable film (there are moments any viewer will laugh, cry, or hold their breath) it holds an important lesson, and provides an opportunity to honestly evaluate your heart, actions, and relationships. Viewers of Fireproof will not be able to walk away without facing the challenge. . . Will you leave your partner behind?
Fireproof was rated PG by the Motion Picture Association of America for thematic material and some peril. This film received a five out of five review from Focus On The Family's "Plugged In," and the "faith friendly" award for ages twelve and up from the Dove Foundation. Some topics and issues may not be suitable for younger viewers, but the film Fireproof is considered appropriate for most audiences. As always, however, it is recommended that parents preview all content to determine what is suitable for their children.
Making of FIREPROOF: TV Special
Filming a Movie in 30 Days: FIREPROOF Video Blog (exclusive)
Commentary from the Kendrick Brothers
Spanish and Portuguese Language Options
Subtitles in English, French, Spanish, Portuguese, Chinese, Russian, Korean, and Arabic
Rescued Scenes, FIREGOOFS, and Firehouse Pranks
Casting Crowns Music Video for "Slow Fade" (exclusive)
Wayne's Firehouse Commentary (exclusive)
Fun with Mr. Rudolph (exclusive)
And much, much more!
114 minutes
PG