---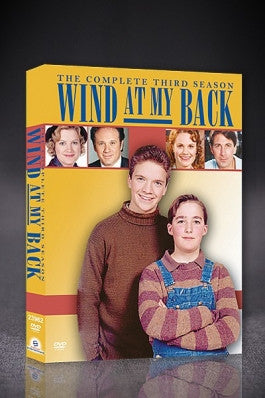 Sale
Wind At My Back The Complete Third Season DVD Set
Watch Trailer
Additional Information
Cast: Kathyrn Greenwood, Dylan Provencher, Tyrone Savage, James Carroll
Producer: Kevin Sullivan
Languages: English
Run Time: 600 mn
Closed Captioning: No

See More
Sale price $41.58 Regular price $64.99 You save 36%
Estimated arrival between and for USA.

---
You might also like
Sale price $32.99
Regular price
$54.98
Sale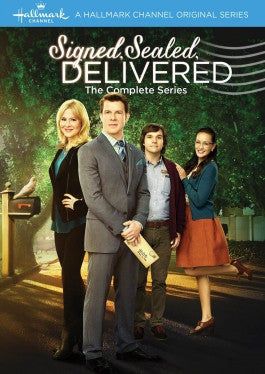 Sale price $24.95
Regular price
$29.99
Sale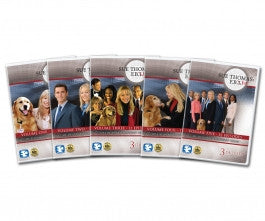 Sale price $95.99
Regular price
$119.99
Sale
—
Sold Out
Wind at My Back the Complete Third Season DVD Set
In this, the midpoint of the Wind at My Back series, the effects of the Great Depression really begin to show in the small town of New Bedford. As the little town of New Bedford is ravaged by the effects of the depression and the recent closing of the Silver Dome Mine, Honey, Max, and the whole Bailey family do what they can to survive through any situation. Follow the Bailey family and their journey through the great depression in the winter of 1993 through 13 stories full of humor, drama, and romance. The story continues in Wind at My Back The Complete Third Season DVD Set.
The Story of Wind at My Back
Wind at My Back is a series that was produced in the 1990s by Kevin Sullivan. It follows the story of the Sullivan family and their difficult journey through the Great Depression. When Honey, the mother, suddenly loses her husband and she is forced to send her three kids away to relatives, she feels everything in her life has been torn apart. But, as she is able to gain back her family and settle down to her new life, she finally begins to find a sense of normal. Just when this begins to happen, though, she meets a man by the name of Max who ends up becoming her husband. Now together, Honey, Max, and their three kids (with another on the way) must work together to survive the Great Depression and grow together as a family.
This Canadian television series ran for 5 seasons and had a very successful run. It eventually began airing in America as well and became a hit television show there as well. It was produced by Kevin Sullivan, who has also become well-known for producing the Road to Avonlea and Anne of Green Gables series. This series similarly tells stories full of drama and romance and gives an insightful look at a family trying to survive through a difficult period of time. This show is also very family appropriate and well worth watching together as a family. With heartfelt stories and characters, you won't ever be disappointed when watching an episode.
Wind at My Back Season 3
Wind at My Back Season 3 takes us on a variety of new adventures and shows us New Bedford struggling to stay afloat through a long and difficult winter. The year is 1933 and the Great Depression is really beginning to take its toll on the land and the people. To add to the difficulties through this rough time, the Silver Dome Mine, a mine that was helpful in employing a large number of people in the town, is closed down and many people are put out of work. With this sudden lack of employment, people are unable to find jobs and in turn, unable to feed their families or provide for their needs.
Meanwhile, Grace tries hard to find love with Del but finds it to be extremely difficult. With Del being a hard person to pin down or relate with, she finds it increasingly difficult to continue a relationship with him. Meanwhile, Hub and Fat begin to learn about growing up and all of the many difficulties that come along with becoming adults. Hub receives his first dose of "The Fever" and is bed-ridden due to his extreme illness. Fat, meanwhile, experiences his own type of growing up when he begins to learn about the "birds and the bees." Honey and Max continue to love each other and Max does everything in his power to continue to provide for Honey and the family. They continue building their happy life together, working together to provide for and support their wonderful family.
Concerns are raised about Bob and Toppy and their seemingly struggling marriage. Shortly after, Max discovers the truth behind why their marriage has become so strained as of late. May receives a Crystal skull that is believed to have very magical powers. A local crime gang forms in town and begins causing trouble for all of the local citizens. Calling themselves the Burlesque Bandits, they begin causing trouble in town and it's soon brought to attention that something is going to need to be done about them. A filmmaker comes to town looking to potentially make a movie. After some convincing, Grace inspires him to make a film right there in New Bedford; with her as the star! The residents also manage to have some fun and enjoyment despite some of their difficult circumstances. Morale is raised when the townspeople gather together to couple up for a five-day dance marathon. Finally, the flu epidemic hits the town hard, seriously affecting the health of many individuals, including Honey.
The main storyline of Wind at My Back Season 3 involves the Silver Dome Mine shutting down, which throws much of the town into panic. With many folks out of work and unable to get a job, they begin to turn against the Bailey family. The town begins to divide into two camps; the camp that believes that the Baileys are innocent and it's the bank that shut down the mine, and the camp that believes May and the whole Bailey clan is at fault for what has happened to their town. Many people still view May in a very negative light, thinking she is higher and mightier than the rest of the town.
Conclusion
The incredible journey of the Bailey family continues on into season 3 in this Wind at My Back the Complete Third Season DVD Set. With wonderful new guest stars, including Greg Spottiswood, Carl Marotte, Ron Lea, Neil Crone, and Bob Bockstael, season 3 is truly a wonderful follow up to the first two seasons. Continuing the story of the Bailey family and seeing them now as a complete family with Honey, Max, and their three children, the story continues to develop into something amazing. Wind at My Back is an excellent television drama, perfect for the whole family.
Special Features:
Behind-the-Scenes Featurette
Game Promo
Run Time: 600 min
Released: 2008
Genre: Family
Rating: PG
Languages: English