---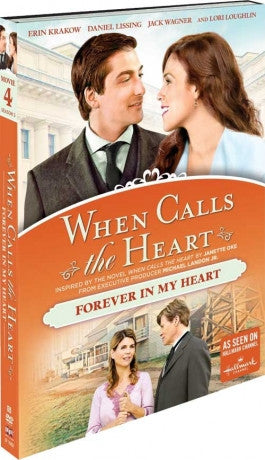 Sale
When Calls the Heart: Forever in My Heart Season 3 Vol 4 DVD
Sale price $8.33 Regular price $14.99 You save 44%
Estimated arrival between and for USA.

---
You might also like
Sale price $32.99
Regular price
$54.98
Sale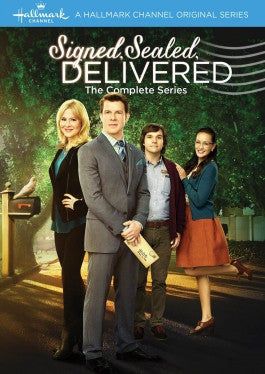 Sale price $24.95
Regular price
$29.99
Sale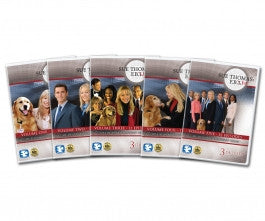 Sale price $95.99
Regular price
$119.99
Sale
—
Sold Out
When Calls the Heart: Forever in My Heart DVD
The saga of Jack and Elizabeth continues with When Calls the Heart: Forever in My Heart. Return to the pleasant little town of Hope Valley as Jack attempts to help a young couple who is having trouble settling their differences. Meanwhile, Elizabeth does everything she can to help encourage and inspire her students, particularly focusing on Becky, Cody's sister. Becky has recently returned to Hope Valley in a wheelchair, and Elizabeth tries to encourage her in any way she can. Cody and Becky's long-lost (and very rich) aunt returns to town with the intention of taking Cody and Becky away from Abigail's care and raising them on her own.
Meanwhile, Rosemary is cast in an upcoming film when she is discovered by a famous producer. This leaves Lee's romantic plans in jeopardy as he plans on asking Rosemary out. And finally, Henry is arrested when he tries to sabotage Lee's sawmill. As always, it's an adventure in the town of Hope Valley! Follow along on all the latest exciting adventures from season 3 with Jack, Elizabeth, Abigail, and the town in When Calls the Heart: Forever in My Heart.
The Story
The episode, entitled Forever in My Heart, begins on a rainy and cold day as Jack and Bill arrive at Lee's sawmill to talk about his continuing struggle with keeping things afloat. With more and more accidents happening all the time, Lee is losing jobs and therefore having to cut back on work for his workers. This is causing production to go down and his costs to rise. If something doesn't happen soon, the sawmill and potentially the whole town will be thrown into jeopardy. With still no leads in the case, Lee supplies Jack and Bill with a list of every employee of the mill. Without a suspect in sight and no clues to continue the investigation, Jack is forced to sit down and begin interviewing every single employee one-on-one in the hopes of revealing new information or finding new clues to continue the investigation.
Meanwhile, Cody receives an exciting letter when he finds out that his sister Becky is recovering quickly and is planning on returning to Hope Valley very soon! After an extended stay in the hospital, Cody is ready for Becky to come home and the whole town is excited for her return.
Since settling down in Hope Valley, Rosemary has been discouraged by the lack of a spotlight. Unable to truly shine or display her acting skills, she has been sullen and distraught. However, everything changes for her when she learns that a film director is coming to town to shoot his next feature; right there in Hope Valley. She sees this as her chance to once again return to the spotlight and land a major part in the film. When she learns that he is planning to use locals as extras in the film, she realizes this could be the big break she's been looking for.
At the cafe, things develop when Cody runs down the stair to inform Abigail he is going out to play with the boys. Before he can leave, however, he hears the voice of his sister in the doorway. He looks over to find her wheelchair-bound, something that is initially a shock to poor Cody. Cody is used to seeing his sister happy and healthy and seeing her restricted this way upsets his for a moment. But he begins to recover, and most of all he is just grateful to have his sister home with their new family and new life.
As Jack and Bill continue to discuss who could be behind the sawmill sabotage, they begin to narrow down the possibilities. After interviewing every single employee, they can't seem to find any that would have a personal vendetta or reason to get back at Lee. And so after much determination, they eventually conclude that the motivating factor has to be money. Once they reach this conclusion, they come to find that there is really only one person who could benefit from the money: Henry Gowen. And so they decide to talk to Henry and see what he can tell them about all of this.
Back at the cafe, Elizabeth begins to take an interest in Becky. As she notices Becky drawing sketches, she discovers they're actually quite complex engineering designs for building a bridge. Becky talks to Elizabeth and explains that she learned how to draft from her father. With the hopes of encouraging Becky, Elizabeth tells her that she should enter an architectural bridge design into the regional science fair. Elizabeth continues to spend time with Becky and asks Becky if she would like to try walking. Despite her progress and encouragement from Elizabeth, Becky declines and asks if they can try instead the following day.
Meanwhile, Jack takes a trip out to the settlement and helps give a woman by the name of Edith a hand with repairing her broken-down tent. As he spends more time with her, he begins to wonder if she and her husband might be having difficulties. Despite being the father of her son and the only man she has ever loved, Edith explains that her husband simply didn't take to being a husband very well and is now working at a nearby mine. Although they are having some issues, Jack is determined to help them out and restore their relationship.
Things begin to look up for Cody and Becky as Becky becomes more interested in doing her drawings and participating in the science fair. And when Becky learns that Abigail is going to take them both in and that together they will be a family, they all hug and come to understand that they are meant to be together.
Conclusion
It's always an adventure in the little town of Hope Valley and When Calls the Heart: Forever in My Heart is no exception. Featuring multiple incredible stories, including the saboteur at the sawmill, the return of Becky, and Jack's working to restore a couple's relationship at the settlement, this is an episode full of family, friendships, and heart.