---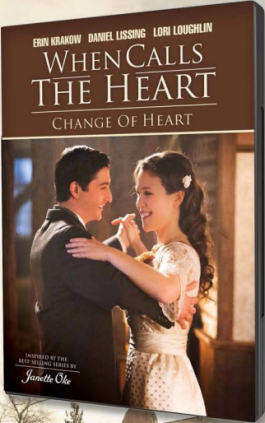 Sale
When Calls the Heart: Change of Heart DVD
Watch Trailer
Additional Information
Director: Anne Wheeler
Producer: Michael Landon Jr.
Languages: English
Dove Approved: Dove Family Approved
Release Date: 10/13/10
Closed Captioning: No

See More
Sale price $6.99 Regular price $19.99 You save 65%
Estimated arrival between and for USA.

---
You might also like
Sale price $32.99
Regular price
$54.98
Sale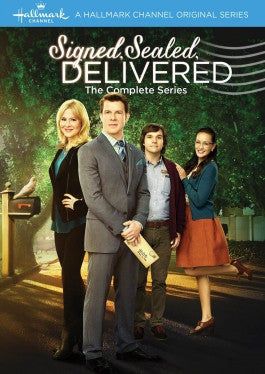 Sale price $24.95
Regular price
$29.99
Sale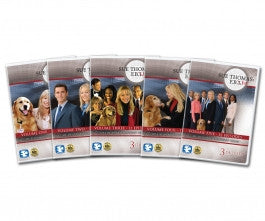 Sale price $95.99
Regular price
$119.99
Sale
—
Sold Out
When Calls the Heart: Change of Heart
When Calls the Heart: Change of Heart is a touching film based upon Janette Oke's beloved stories. This film is a beautiful tale of love, hope, and finding your path in life. The characters of Jack and Elizabeth take a major step in their relationship and also discover some new troubles. When Calls the Heart: Change of Heart is enjoyable and riveting and is sure to touch the hearts of viewers.
It's late afternoon in Coal Valley, and Elizabeth is finishing up teaching her class for the day. As the students complete their lesson and head home for the day, she is surprised by a visit from Jack. He has finally come to terms with his feelings for Elizabeth and is sure of what he is feeling for her. In the first real show of love for her, Jack asks her to dinner. Though he is afraid of being rebuffed, he is more afraid of never expressing his true feelings for Elizabeth. She willingly accepts, and Jack begins planning a very romantic date for the two of them.
Jack enlists help from Abigail in order to plan a proper date for his love. Together, they plan a beautiful romantic candlelit dinner in her new cafe. However, before Jack and Elizabeth can enjoy the fruits of his labor, a stagecoach arrives bringing surprises and new adventures that will cause a stir within Coal Valley.
The first person to step out of the stagecoach is another Mountie, name Patrick O'Reilly. He is a constable just like Jack. Before Jack can ask why he has come to Coal Valley, a woman exits the stagecoach. Immediately, Elizabeth starts screaming with joy and embracing this mysterious woman. She is revealed to be Elizabeth's sister, Julie. Immediately, she becomes extremely wrapped up in the romance that is budding between Jack and her sister. She thinks that they have a perfect fairytale relationship and is eager to learn every detail that she can about their love lives.
The arrival of Constable O'Reilly forces Jack to make an important decision. Before he became settled in Coal Valley, he requested a transfer. His dream of becoming a Mountie in a place other than Coal Valley is suddenly thrust before him and he must make an important decision. Constable O'Reilly has settled down and gotten married and is ready to stay in one place; Coal Valley. He has arrived to replace Jack, who will be sent to transfer to a place that he is unsure he wants to go.
Originally, Jack dreamed of transferring and continuing on as a Mountie, but now he is not sure what he wants to do. Though it seems like his dreams are coming true, his heart is telling him to stay with Elizabeth in Coal Valley and pursue their relationship. A future with Elizabeth feels entirely possible, but if he refuses the transfer there is a very good chance that he will no longer be able to be a Mountie. His heart is troubled as he sorts through his thoughts and has to decide what his future is going to look like.
Meanwhile, Abigail's new cafe is thriving. However, she is troubled by Mr. Gowen, her business partner. He will not stay away from the cafe and has become quite infatuated with beautiful Abigail. While she is appreciative of the business he is helping her run, she cannot help but feel great disdain for the man. To further complicate matters with Mr. Gowen, Jack informs her that a company owned by him may have cut corners in the mining industry. These shortcuts could have easily caused the mine explosion that killed Abigail's husband. Just when she is planning on confronting Mr. Gowen on this issue, he asks her out on a date. She refuses immediately, but later realizes that they must maintain a business relationship, so she agrees to have a strictly professional business lunch in his office. However, she has not dropped the issue about the mining accident and continues to investigate what could have caused the death of her husband.
Julie, Elizabeth's sister, has made herself at home in Coal Valley and even manages to make a shocking discovery. One day, while she is out wandering the woods, she stumbles across an old shack. Curiosity gets the better of her, and she decides to investigate the inside. There, Julie finds a man holding a gun, profusely bleeding from a severe bullet wound. She promises to bring him supplies, and later finds out that he is a man with a great criminal background. He is Nathaniel Tolliver, leader of the infamous Tolliver gang. Nathaniel informs Julie that he never had any choice but to live a life of crime as that's all he knew growing up. Julie, however, does not know that he is part of the Tolliver gang and thinks that he is a reformed criminal looking for a fresh start. When his wounds take a dire turn for the worse, she is forced to bring him into Coal Valley for medical attention.
Jack struggles with his emotions, but finally decides to tell Elizabeth about his transfer orders. She is heartbroken, but doesn't want to show this to him and influence his decision. He informs her that he has decided to refuse a transfer and plans to stay in Coal Valley with her. She refuses to let him give up his future and his career for him and eventually persuades him to accept the orders, though he does not want to.
Jack's leaving could not have come at a worse time, it seems, as Coal Valley is in danger. Wanted posters for Nathaniel Tolliver start cropping up all over town, and the citizens realize that the man they have been taking care of is a dangerous criminal. Can Constable O'Reilly keep the town safe? When Calls the Heart: Change of Heart is a touching story of tough decisions and following one's heart.
When Calls the Heart: Change of Heart is not rated by the Motion Picture Association of America but is considered suitable for all audiences. It is always recommended that parents preview all content to determine what is suitable for their children.