---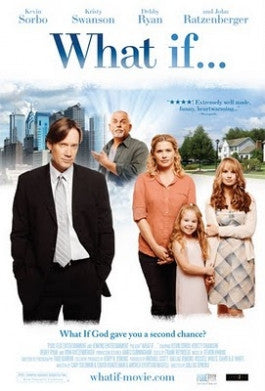 Sale
What If... DVD
Watch Trailer
Additional Information
Screen Format: WS
Region Code: 1
Sale price $8.99 Regular price $9.99 You save 10%
Estimated arrival between and for USA.

---
You might also like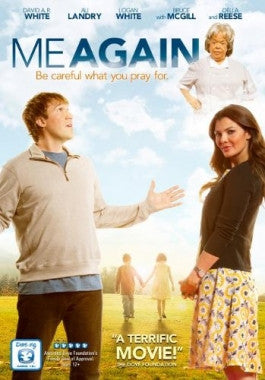 Sale price $5.99
Regular price
$9.99
Sale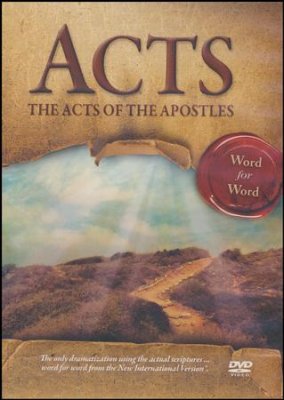 Sale price $8.99
Regular price
$19.99
Sale
—
Sold Out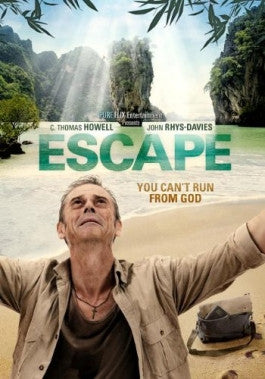 Sale price $7.50
Regular price
$9.99
Sale
—
Sold Out
What If? DVD
What If? is a Christian movie that studies the consequences associated with choosing material gain over something ultimately more fulfilling. This film follows Ben Walker, played by popular Christian actor Kevin Sorbo, as he is faced with the opportunity to change his future. In the past, he made a huge decision that changed the course of his life forever and sent him journeying down a path of material gain and things of this world. What he sacrificed did not seem that big at the time, but as he is given a glimpse into what could have been, he suddenly wonders if he is being truly fulfilled by the life that he is living. What If? is a humorous and insightful film done in the style of "It's a Wonderful Life" that teaches viewers a lesson about what is truly important in life.
Synopsis
What If? begins with a man named Ben Walker. Fifteen years before this film takes place, Ben made a huge decision that forever impacted the course of his future. He was in love with a woman named Wendy, and she was his college sweetheart. They had plans to someday get married, and they were both looking forward to the future. However, Ben was then presented with a huge business opportunity. He was very eager to accept, but was told that it would require him to leave what was his life behind. He did not want to leave everything behind, but he was very tempted by this promising future. This job promised financial security, recognition, and a bright future.
Wendy thought that she and Ben understood that their love came first, but he ultimately decided to leave her for this job opportunity. She was devastated, and the two quickly lost contact. Ben became very caught up and enraptured with all that this job offered him. He became very busy chasing after monetary gain and success, and the faith that he once held dear started to become a thing of the past. What If? shows just how caught up Ben was in this opportunity and how he prioritized things of this world over what really mattered.
Life continued in this way for the fifteen years leading up to where What If? takes place. Ben continued to climb up the ladder of financial success and became increasingly focused on the materialistic pleasure that this world has to offer. At the beginning of the film, he is found engaged to a woman who is just as involved in the career world as he is. She is very financially successful and the two will make a powerful match. Together, their future is very secure and financial comfort is a guarantee.
However, right before his marriage to this woman is to take place, Ben is visited by an angelic mechanic. This "angel" has an important message for Ben that could very well change the course of his life; forever. This angel begins to show him how life could have been. Ben had spent his life pursuing financial success, but what if he had pursued other things? How would his life have been different? Ben is confused and tries to understand what the angel means by this.
Suddenly, What If? changes to an alternate world, one in which Ben is happily married to his college sweetheart, Wendy. Together, they have two daughters. One of these is a very rebellious teen who often challenges the authority that her parents have. Not only does Ben suddenly have the family that he and Wendy once dreamed of, he is also the new pastor at a church. He wakes up in this new world to find that he is just moments away from delivering his first sermon at this church. Ben is confused and disoriented, as he did not believe that the mechanic angel could really give him a glimpse into an alternate future.
Ben realizes just how far he has come from the dreams that he once had. He no longer believes in God and no longer bears the faith that once defined him, so delivering a sermon at the church seems absolutely impossible. A loving wife and two kids is not something that has been on his mind, though he and Wendy once dreamed of having such a family. What If? shows the drastic change that Ben's alternate course of action has taken on his life, and how different he is from what he once dreamed he would be.
As he is immersed in this world, Ben begins to realize that it may hold something very dear. Though this world does not involve tons of money or recognition, the people in it are wholesome and extremely genuine. This world is not filled with liars and sleazy employees who try to work their way up the ladder of success in business. Ben realizes that he may, in fact, feel empty inside, though the world has told him that financial security and power is all he could ever need. What If? clearly contrasts the relationship that Ben has with Wendy versus the relationship that he has with his fiance back in the real world. One is full of expectations and a businesslike attitude, while the other one is filled with a genuine love and a faith that binds the two of them together.
Can Ben possibly change the future that he has made for himself in order to find something much more fulfilling? Or is it too late for him to rediscover God's plan for his life? What If? is a thought provoking and highly entertaining film. Filled with comedy and poignant moments, this DVD focuses on different Christian themes. The character of Ben must discover what God truly has planned for his life, and how to best follow this course of action. The consequences of the decisions that he made fifteen years ago may impact the rest of his life. What If? is a perfect DVD for families to enjoy together, as it is wholesome and appealing.