---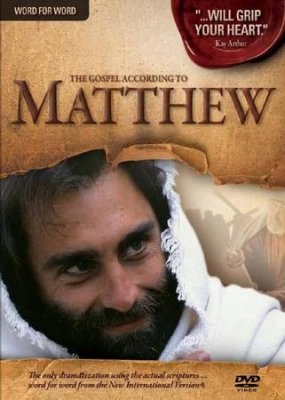 Sale
The Gospel According to Matthew DVD
Watch Trailer
Additional Information
Languages: English, Spanish
Subtitles: English
Closed Captioning: Yes
Sale price $8.99 Regular price $19.99 You save 55%
Estimated arrival between and for USA.

---
You might also like
Sale price $32.99
Regular price
$54.98
Sale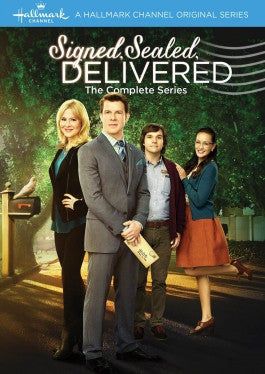 Sale price $24.95
Regular price
$29.99
Sale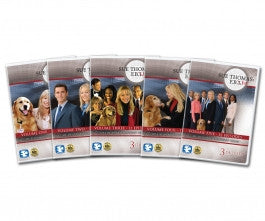 Sale price $95.99
Regular price
$119.99
Sale
—
Sold Out
The Visual Bible: Matthew DVD
The Visual Bible: Matthew is an intriguing and accurate look at the gospel account of Matthew from the New Testament. Emphasizing accuracy above all, this film account is unique as it is a straight word-for-word film dramatization of the NIV gospel account of Matthew. Including every chapter and every word, this is a straight film adaptation of all of the events depicted in the book of Matthew. Follow Matthew as he recounts his side of the story and experiences with Jesus over his incredible 3-year ministry. The focus of this film is chiefly on one thing, and that is the life of Jesus Christ. Following from the beginning of his life to His death on the cross and resurrection, this film attempts to give the viewer a better understanding of what happened in Jesus' life.
Follow in the footsteps of Jesus as you journey alongside Matthew. Hear Jesus teach, hear Him explain his ideas and Truths of the gospel message to thousands as he travels around, spreading the good news of eternal life to all. Watch him perform many great miracles and heal the sick as he brings healing and forgiveness into the very darkest corners. Experience the pain and suffering as He is ripped away from His ministry and sentenced to a horrifically brutal death on the cross. Finally, witness His ultimate victory over the grave as He appears once more to His disciples to leave them with the Great Commission message that will be their sole focus for the rest of their lives. The Visual Bible: Matthew is a powerful and unique perspective on the life of Jesus that is sure to give you new insights into His incredible ministry and life. Striving for accuracy in everything, this is the most accurate and definitive movie version of the gospel of Matthew.
The Book for Matthew
The VIsual Bible begins by showing Jesus as a baby, explaining his miraculous and supernatural birth into the world. It talks about Mary and her virgin birth and how she delivered Jesus while in Bethlehem. Mary had to follow her husband Joseph to Bethlehem so he could pay taxes in his birth town. While they were there, she gave birth to her son Jesus, who would soon save the world from sin and darkness. Unbeknownst to most of the world, this little baby that the young woman Mary held in her arms was actually the Messiah; the King of Kings!
The majority of the book of Matthew focuses on the teachings and miracles of Jesus. After Jesus grew up, he began His ministry at age 30, calling twelve disciples to go with Him into the world. Their goal was to follow Jesus and learn His word. What they didn't know was that after He was gone, they would be called to continue His ministry and spread His teachings into all of the world.
The Visual Bible: Matthew follows everything that Matthew accounts Jesus doing. We see Him teaching, performing incredible miracles, and breaking many rules and status quos. He spoke with those He was not supposed to associate with, He healed on the Sabbath, and generally performed miracles and actions that weren't before allowed or approved of. But Jesus began to teach the people that there was a new system in place and God had a new promise for His people.
The gospel of Matthew shows Jesus teaching His disciples and all who would listen that there is a way to eternal life. We can have eternal communion with God if we follow Jesus. But as Jesus' ministry began to draw to a close, His disciples began to wonder... When was He going to make His big move? The Messiah was supposed to come down, conquer the Romans and save them from their suffering. But so far, all Jesus had preached was peace. Things became really concerning when Jesus was arrested and taken into captivity by Pilate and the Romans.
As it looked like Jesus was getting closer and closer to death, it seemed like everything had all been a big joke. What if Jesus hadn't really come to save them? What if it had all been a lie, a hoax, from the very beginning? When Jesus finally did die, the disciples were disheartened, confused, and perplexed. But, The Visual Bible: Matthew also shows the ending to the gospel of Matthew. Jesus is risen from the dead, He gives His disciples a message to spread the good news to the people of the world, and then He ascends into heaven. Jesus' story is a powerful one and it is well-explained in this powerful and compelling gospel story.
Striving For Accuracy
One of the things that makes The Visual Bible: Matthew a truly unique viewing experience is their willingness to make it accurate to the Biblical account. Rather than making a general adaptation of the book of Matthew or writing a unique screenplay loosely based on the information in Matthew, this is a straight verbatim reenactment of the words in the gospel of Matthew. When Jesus sits down to preach a sermon in the scripture, the filmmakers don't skip over that for the sake of brevity. They sit down and record the sermon as well. Most films go through several phases when adapting from another source to make them more friendly for film. However, they often lose the true message or accuracy by creating a loose adaptation. In this case, they chose to deliver the exact message that God laid out in the gospel of Matthew, with a perfect, word-for-word version of the gospel account
Conclusion
The Visual Bible: Matthew is a powerful, compelling, and accurate movie adaptation of this terrific gospel account. Matthew, the first book in the New Testament is a well-respected and much-loved book that delivers a wonderful message of a Messiah who would set us all free. This film masterfully chronicles Jesus' life in a stunning narrative that is sure to give you a new insight into His life. As you witness His ministry, His miracles, and His death and resurrection, you will come to understand the Messiah in a new light. The Visual Bible: Matthew is a powerful tool to better understand the Messiah, known as Jesus Christ.
---
DVD Features:
Region: Region 1 (USA, Canada)
Languages: English, Spanish
Format: 2 Discs Full Screen
Bonus Material: - biographies music soundtrack