---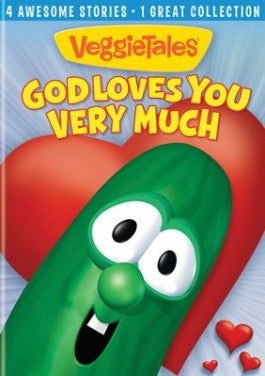 Sale
VeggieTales: God Loves You Very Much DVD
Additional Information
Languages: English
Run Time: 80 min
Region Code: 1
Sale price $6.99 Regular price $12.99 You save 46%
Estimated arrival between and for USA.

---
You might also like
Sale price $32.99
Regular price
$54.98
Sale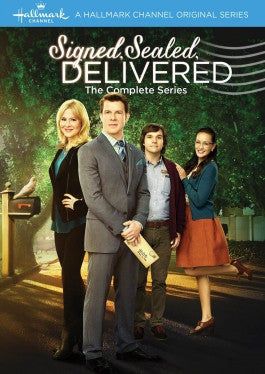 Sale price $24.95
Regular price
$29.99
Sale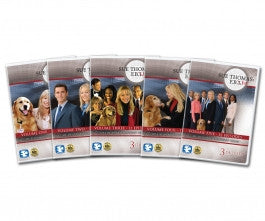 Sale price $95.99
Regular price
$119.99
Sale
—
Sold Out
Veggie Tales: God Loves You Very Much DVD
Veggie Tales: God Loves You Very Much is a delightful collection of classic Veggie Tales stories, as well as a brand new one. Complete with four different films, this movie is a great gift for any avid lover of Veggie Tales. Told with delightful characters and fun animation, this film is appealing to kids while still teaching many valuable lessons. This collection includes a sequel to the smash hit God Made You Special, as well as Gideon: Tuba Warrior, The Ballad of Little Joe, and Rack, Shack, and Benny. Each of these films has a different lesson highlighted throughout. Veggie Tales: God Loves You Very Much is a film you will want to have in your house. It helps parents reinforce Biblical values while providing entertainment for the kids. This four DVD collection has over two hours of content!
Included in the Collection:
Veggie Tales: God Loves You Very Much includes three classic Veggie Tales stories, in addition to a brand new one. This collection is packed with important values and lessons, sure to please both parents and children alike.
Rack, Shack, and Benny: This film covers the topic of peer pressure and encourages viewers to stand up for their beliefs. Based on the story of Shadrach, Meshach, and Abednego, this film follows the lives of three vegetables (Rack, Shack, and Benny) who work in the Nezzer Chocolate Factory. All day long, the employees work hard to make the best chocolate bunnies around and try to please their boss, Mr. Nezzer. In celebration of selling their two millionth chocolate bunny, Mr. Nezzer announces to his employees that they may all eat as many bunnies as they want for the next thirty minutes.
As the other employees greedily partake of this, Shack convinces Rack and Benny to not gorge themselves on chocolate. He recognizes that their parents taught them better than this, and they both agree. When Nezzer comes to soak up his employees' appreciation, he finds that everyone is ill, except for Rack, Shack, and Benny. They are rewarded and made Junior Executives of Mr. Nezzer's Chocolate Factory. The next day, Mr. Nezzer informs them that he has constructed a 90 foot tall chocolate bunny that he intends to order everyone to bow down to.
Rack, Shack, and Benny realize that it would go against their belief in God to bow down to an idol, but they know that there are great consequences for not following Mr. Nezzer's orders. Whoever does not bow down to the idol will be thrown into the fiery furnace. The three vegetables decide that they cannot bow to an idol as they will only serve God. Mr. Nezzer offers them a second chance at bowing down, but they stand firm in their faith.
He immediately orders them to be thrown into the fiery furnace, and Rack, Shack, and Benny are taken there by a guard. As they are thrown into the furnace, a fourth figure appears. Mr. Nezzer is puzzled as there were only three men taken into the furnace. Suddenly, Rack, Shack, and Benny emerge from the flames, unscathed. They were saved by God himself, and Mr. Nezzer is overcome with emotion. He bows down to the one true God and begins a journey of faith. This film is an important lesson of withstanding peer pressure and doing what is right.
Gideon: Tuba Warrior: This film is based on the Bible story of Gideon and his army. It begins with a parade of floats, celebrating the victory of Gideon's army. As this parade is happening, Gideon stops everyone and informs them that he does not deserve the praise being lavished upon him. He explains how reluctant he was to fight this battle, and that he does not deserve the praise. He doubted that his small army would be able to conquer 30,000 excessively hairy pickles; the Midianites. It wasn't until an angel of the Lord appeared that he decided to go through with battle.
Gideon explains how he tried to get out of battle by bringing up his fear of the dark and trying to say that he wasn't a warrior. Finally, he put out a fleece and asked God to make the fleece wet and the ground dry as a sign that he must go into battle. He then asked for the opposite circumstances to happen, and when they did, he accepted his job. Gideon's army was further reduced, but they marched into battle anyway. Because God was watching over them, they were able to conquer the Midianites. This film contains important lessons about trusting in God.
The Ballad of Little Joe: This movie is based on the story of Joseph. Little Joe is adored by his father, but is envied by his many brothers. They are jealous of the lavish attention he receives, so they decide to get rid of him. He is sold into slavery and ends up working in a saloon for Mr. McPotiphar. There, he is framed for a crime he didn't commit by someone who is jealous of him, and he is sent to jail. In jail, Little Joe starts interpreting the dreams of the prisoners, and word gets around to the mayor that he is quite good.
The mayor has him released from jail and he interprets a dream of the mayor's about a coming famine. He is put in charge of distributing supplies for this famine and is reunited with his brothers. They do not know that they are face-to-face with the brother they sold into slavery. Little Joe is faced with the tough decision of forgiveness, but he makes the right choice and chooses to seek reconciliation with his family. They forgive him and all is well. This film teaches the lesson of forgiveness among great hardship.
God Loves You Very Much: This original story is a bright and fun animated feature focusing on the great love of God. Larry paints a picture of just how much God loves us all. He even loves us when "we dirty our clothes, or forget to blow our nose, or don't listen to our Dads!" This fun and flamboyant musical adventure teaches kids that God loves us; no matter what!
Veggie Tales: God Loves You Very Much is not rated by the Motion Picture Association of America, but is considered suitable for all ages. It is recommended that parents preview all content to determine what is suitable for their children.