---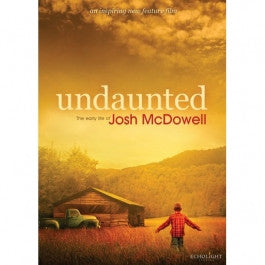 Sale
Sale price $22.73 Regular price $22.95 You save 1%
Estimated arrival between and for USA.

---
You might also like
Sale price $32.99
Regular price
$54.98
Sale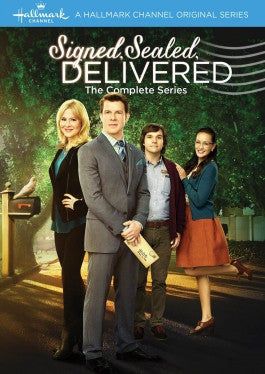 Sale price $24.95
Regular price
$29.99
Sale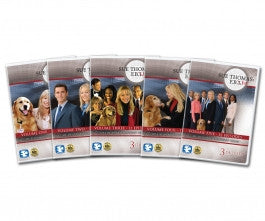 Sale price $95.99
Regular price
$119.99
Sale
—
Sold Out
Undaunted: The Early Life of Josh McDowell DVD
Undaunted: The Early Life of Josh McDowell is a riveting film that follows the journey of Josh McDowell. His story is amazing and filled with the incredible mercy of God. His beginnings were anything but easy, as he was led astray from faith and was thrown into a difficult situation as soon as he was born. His father was an alcoholic who was filled with anger and took this out on Josh quite often.
When he was still quite young, he was molested by someone who lived in the house with him. This act filled him with great shame and fear of what was to come. He felt corrupted, like he was dirty, used, and worthless. His father drank constantly and often took this out on Josh and his mother. Several times, it was up to Josh to restrain his father so that he would not kill his mother.
The anger and hate in his home escalated and filled every piece of his heart with a bitter hatred. Josh was still filled with shame from being molested, and this drove him away from God. He believed that he could never be good enough to satisfy God, and that he was constantly being judged. Finally, the farther he went away from God, the angrier he became. His shame turned to rage and hatred toward God.
Josh became very eager to deny the existence of God, and set out to prove that he didn't exist. While in college, he argued with every Christian he met, determined to make conflict with them. He ridiculed their beliefs and scorned their faith, sure that they were misguided and following a God who didn't even exist.
The desire to disprove God's existence and challenge the faith of Christians everywhere became an obsession for him. Josh set out on an adventure all over the world to scour historical documents for proof that God didn't exist. He collected testimonies from people who were as angry at God as he was and tried to use them as fact that there was no divine Creator.
However, as he went farther along this search to deny God, he was confronted with the truth about his existence. The more people he talked to, the more he saw their genuine passion for Christ. His search through historical documents only turned up hordes of evidence that seemed to point back to God.
Through this journey to disprove God's existence, he was brought closer to God. His heart was softened toward the idea of faith and God grabbed ahold of him. His heart was finally broken enough to accept the truth that he needed forgiveness and healing.
Undaunted: The Early Life of Josh McDowell is one man's incredible journey from bitterness to brokenness. His story is raw and honest, showing that even those most hardened toward God can be redeemed.
Themes in Undaunted
Undaunted is more than just a fascinating story about one man's journey to faith. It also contains themes of redemption, renewal, and hope. Josh McDowell was so filled with shame that he hid from God. He felt as if he was constantly being judged by those around him, especially the Christians. His experience with religion was not good, and this turned him off further from ever seeking out Christianity.
He was filled with anger and hatred toward everyone who believed in God, believing that they were out to condemn him. Josh met many Christians throughout college, and challenged them on their faith. They turned his questions back around him and dared him to seek out the truth. He accepted their challenge and went around the world, seeking the truth.
The truth of God's existence hit him over the head, but he still lived in fear. Josh's heart was afraid that God would rain down judgment upon him for his sins and he would never be able to be forgiven. As he finally accepted that God was real, he started studying his character. There, in his studies, he realized that God's character is loving and forgiving. God's grace came upon him, and he fell on his knees asking for forgiveness.
Josh's faith was made new and he began an incredible journey with God. Undaunted uses this to explore the theme of redemption. Though his life was dedicated to denying the very one who could save him, God was still able to reach him and redeem him. He was consumed with anger and shame, determined to take it out on all the Christians in the world. Josh's life is an example of someone who is steeped in sin and doubt, but was still redeemed. God can reach anyone at any stage in their life, no matter how determined they are to not believe.
Another theme that is present in Undaunted is the theme of forgiveness. Josh's father greatly mistreated him and wrecked his childhood. He filled him with anger and violence that pervaded every area of his life. Though he did all this, Josh decided that he would seek healing in that relationship. He compared his relationship to Christ to his relationship with his father. His father treated him cruelly, as Josh treated God. However, God still sought a relationship with Josh and began an intimate journey with him.
Josh decided that since he had been forgiven, he needed to forgive his father. After praying about it for many months, he returned home to say three words to his father; I love you". This simple statement changed his father's life for the better as he realized that a major change had come over his son.
Undaunted: The Early Life of Josh McDowell holds many lessons about forgiveness and the power of redemption, as well as presenting a captivating story.
Undaunted is not rated by the Motion Picture Association of America. It is considered suitable for most audiences, but does contain elements of violence and intense themes. It is always recommended that parents preview all content to determine what is suitable for their children.