---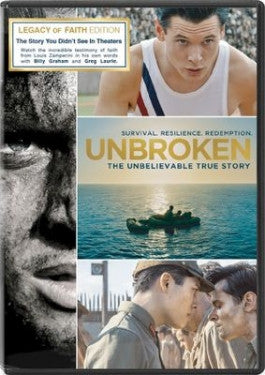 Sale
Unbroken 2-DVD Legacy of Faith Edition
Additional Information
Languages: English
Release Date: 3/23/11
Run Time: 138 min
Region Code: 1
Sale price $18.33 Regular price $19.99 You save 8%
Estimated arrival between and for USA.

---
You might also like
Sale price $32.99
Regular price
$54.98
Sale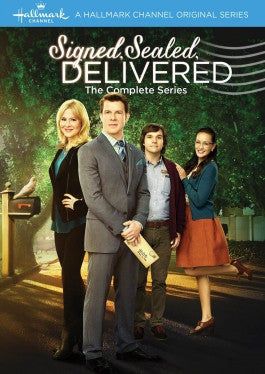 Sale price $24.95
Regular price
$29.99
Sale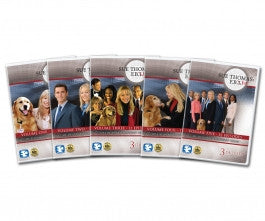 Sale price $95.99
Regular price
$119.99
Sale
—
Sold Out
Unbroken 2-DVD Legacy of Faith Edition
Childhood Rebel. Runner. Olympic Athlete. Air force pilot. Japanese Prisoner of War. From Universal pictures and director Angelina Jolie comes the suspenseful, inspiring film Unbroken, based on the true story of Louie Zamperini (Jack O'Connell). Journey with Louie from his difficult and rebellious childhood in sunny California, to his record breaking high school and Olympic running career. Watch his life story unfold as he enlists for the United States Air Force during World War II, only to be shot down over the Pacific Ocean and spend the next forty-seven days adrift in a lifeboat. See his faith grow as he struggles to survive two years in a Japanese Prisoner of War camp, tortured, beaten, and battered. Be inspired by the courage, strength, perseverance, and faith of Louie Zamperini--the man who was Unbroken.
Louie's Early Life
For Louie Zamperini and his siblings, the son of two Italian immigrants who spoke no English, moving to California was like the death sentence, especially for Louie. He looked different and he sounded different so the other kids decided he was different--and they beat him up. At first the skinny Italian kid had no chance, but after his Father taught him to box the tables were turned. Soon Louie was beating up every kid in the neighborhood (whether or not they hit him first), stealing from the neighbors and stores, and smoking in the back of the school. For his devout Catholic Mother the change was a death sentence. So Louie's brother Pete stepped in, hoping to save him from a life of crime--he made him run. Soon Louie was addicted to the track field, and he was good too. He ran and ran, through high school and college, beating records left and right. Louie had bigger dreams, however, and in 1936 the nineteen year old decided to try out for the United States Olympic team. In the sweltering New York summer sun Louie ran the qualifying race for the 5,000 meters, and he made the team--the youngest man in U.S. history to qualify for that race. While Louie did not win the 5,000 meters in the 1936 Olympics (he finished 8th) his crazy fast final lap caught the eye of Adolf Hitler who would personally meet the young American sprinter--little did Louie know he would soon be fighting in a war against this very man.
Louie After Unbroken
After the war Louie would return home physically unbroken, but mentally in shatters. He would soon marry and have two children, but his years as a POW would haunt him for many years. Only after a 1949 Billy Graham crusade which changed his shattered heart did Louie live out his promise to dedicate the rest of his life to God. He would then work as a Christian evangelist, focusing greatly on forgiveness, something he would live out. Louie would return to Japan several times to find his former guards and offer them his forgiveness, after which several became Christians. Sadly, although Louie would reach out to his most brutal guard Watanabe later in his life the man would refuse to see him. Louie died in 2014, but his life remains an inspiring story of hope, strength, courage, faith and perseverance for thousands of people.
Lessons In Unbroken
Although not expressly a Christian film, Louie Zamperini was a man of great faith, and the film Unbroken has some strong Christian themes and lessons. Throughout his time as a Prisoner of War Louie clings to his faith and memories of his family to help him survive torture and horrific conditions. Ultimately it his faith in God that helps him survive over a month adrift at sea, as well as two years under Japanese control. Courage is also a strong character trait in Louie. He quickly becomes a target for much physical abuse in his Japanese prison as he seeks to protect and guard those around him, often placing himself in painful and dangerous situations. He courageously remains optimistic during much of the time on the lifeboat, encouraging the other men that they will not die. Unbroken is also a story of great perseverance in the face of extreme obstacles. During one scene in the movie Louie is forced to hold a plank over his head after a long day at work, while a guard is ordered to shoot him if he drops it. After thirty-seven long minutes Watanabe becomes angered and charges at Louie beating him again and again. This is only one of many examples where Louie persevered against all physical odds, relying on God to give him strength.
The true story of Louie Zamperini as told in the film Unbroken will inspire all viewers. While the intense scenes of mistreatment and torture in the Japanese Prison Camps can be heart wrenching to watch, the courage and strength of Louie Zamperini shines through. Viewers will be encouraged by the immeasurable odds Louie beat, and inspired by the faith and courage of a World War II hero. As you watch Louie grow from a weak, rebellious young boy, to an Olympian, to an unbreakable courageous young Prisoner of War you will be reminded that God works with, and loves all types of people, and he is with you wherever you go.
Unbroken was rated PG-13 by the Motion Picture Association of America for instances of violence in war, intense moments of brutality, and for some cases of language. It has a total run time of 138 minutes. As always, it is recommended that parents preview all content to determine what is suitable for their children, this film is not recommended for younger viewers, but older children and adults will be inspired by Louis Zamperini's story of courage, strength, and faith in suffering.
The Unbroken Legacy of Faith edition includes 90 plus minutes of extra content:
-Coming Full Circle: Exclusive Interview on CBN with Louie Zamperini
-Laurie & Louie --Pastor Greg Laurie conducts an Interview with Louie Zamperini
~Captured By Grace: Louie and The Billy Graham Evangelical Association and ~Louie & Angelina --Angelina Jolie and Louie discuss matters of faith