---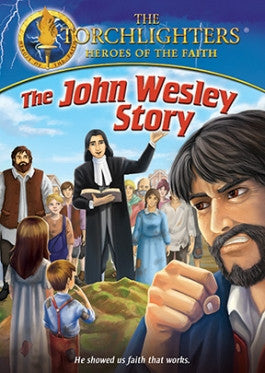 Sale
Torchlighters: The John Wesley Story DVD
Watch Trailer
Additional Information
Languages: English
Release Date: 7/29/10
Run Time: 30
Region Code: 1

See More
Sale price $7.50 Regular price $14.99 You save 50%
Estimated arrival between and for USA.

---
You might also like
Sale price $32.99
Regular price
$54.98
Sale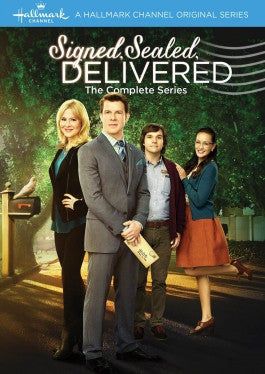 Sale price $24.95
Regular price
$29.99
Sale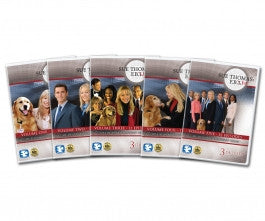 Sale price $95.99
Regular price
$119.99
Sale
—
Sold Out
Torchlighters The John Wesley Story
When a young man was saved from the flames of his family's burning home in 1708, his mother was sure God was going to do great things through him. From Voice of The Martyrs comes another animated Torchlighter film--The John Wesley Story. Though convinced his life would yield great fruit, John Wesley initially tried to fulfill his special purpose through his own strength, yielding only frustration, failure, and disappointment. When a single faith changing event at a Bible meeting alters the course of his life forever, will he have the courage to live out his passion in the fields and houses of England, or will the fierce opposition of the country's leaders silence him forever? Journey with Tochlighters as they discover the life of another great man of faith and the founder of the Methodist movement.
John Wesley
Born into the strong Anglican family of Samuel and Susanna Wesley, John's childhood was one full of spiritual and educational instruction from his mother. Though his early spiritual life was rich, his young earthly life was often filled with poverty and hardship, and, as the fifteenth child, John knew what it was like to "be without," and be content--a wonderful lesson all viewers can learn from the Wesley's example. When he grew up John studied at Oxford University, where, at the organization of his brother Charles, he joined a "Holy Club." This club would began strict spiritual devotion and reading that would last his entire life--yet another lesson viewers can glean from his life. After his ordination, Wesley would set off for the Americas, hoping to convert the Native Americans, but his aspirations were based solely on his own strengths and desires rather than God's and the expedition quickly ended in disaster and heartbreak. (Another lesson for the viewer who is paying attention--when we walk in God's plans things usually turn out great, but when we walk outside of his will there is less peace and success.) Soon after his return to England, John would experience a "spiritual awakening" and his heart would forever be transformed by the power of grace. The transformed Wesley would set out to spread the same joy and peace he found in Salvation with the rest of his countrymen, and the Methodist (as Wesley's movement came to be known) were soon found throughout England. When the Church of England barred its doors to his message of free grace, John would join his friend George Whitefield in the fields and roads to preach the gospel to the layman of England. As you travel through his life in The John Wesley Story come to know John Wesley, a great man of faith, and be encouraged by his example and perseverance.
The Influence of Great Lives of Faith
If you have ever read a book on the life of a great man or woman of faith you will understand the encouragement and challenge you can gain from their example. When you hear what those before you have experienced, endured, and changed you are inspired to live with more faith, courage, and joy, as well as encouraged that you do not labor in vain. With this in mind Voice of The Martyrs has specially created the Torchlighters series for children ages eight to twelve, hoping to inspire younger children with the lives of those who have walked before them. From the stories of men and women of faith children are inspired to walk closer with God, practice faith in small every day acts, give generously, walk humbly, and pray earnestly. They are encouraged by the fact that they are not alone, and they may even be inspired to dedicate their lives to the sake of the gospel. Learning of the lives of great men and women of faith is one of the greatest encouragements and inspirations you can give your child's heart, as well as your own.
Valuable Lessons
The life of John Wesley is filled with valuable life lessons and filled with godly character traits. As well as the lessons already mentioned (contentment, devotion, and submission to God's will) Wesley's life is filled with other traits young and old alike can learn from. Perseverance has marked the life of John Wesley. When persecuted by the Church of England, Wesley did not falter in his efforts to bring the life saving message of salvation by grace to his fellow countrymen. Even when Wesley was walking outside of God's plan for his life, his efforts were filled with perseverance in the face of cold hostile reception in America, and perseverance to continue walking with God when he failed at what he felt he was called to do. Wesley's life was also filled with enthusiasm for God and for people. He was filled with an unceasing passion and energy to live out his faith, and to share it with others. Wesley's life was a life full of contentment, devotion, perseverance, enthusiasm, and submission. As you watch The John Wesley Story you will be struck by the value of these traits, and challenged to cultivate them in your own life.
The John Wesley Story has not been rated by the Motion Picture Association of America, but was awarded the "faith friendly" seal for all ages by Dove Foundation. As always, it is recommend that parents preview all content to determine what is considered suitable for their children, but this film is considered appropriate for most audiences.
If you enjoyed The John Wesley Story, and would like a deeper look into the life of John Wesley you make like the following films: John Wesley The Preacher and Wesley-A Heart Transformed Can Change The World. If you enjoyed learning about the life of a great man of faith, you may enjoy Torchlighters' other films based on the lives of Jim Elliot, Eric Liddell, Amy Carmichael, Augustine, Corrie ten Boom, and many more!