---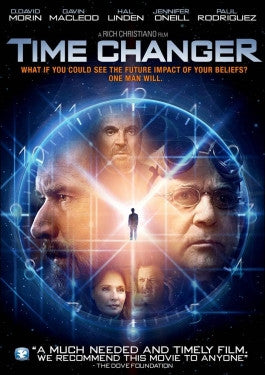 Sale
Time Changer DVD
Watch Trailer
Additional Information
Director: Rich Christiano
Producer: Rich Christiano
Languages: English
Dove Approved: Dove Family Approved
Run Time: 99 minutes
Screen Format: WS
Closed Captioning: Yes

See More
Sale price $9.99 Regular price $19.99 You save 50%
Estimated arrival between and for USA.

---
You might also like
Sale price $32.99
Regular price
$54.98
Sale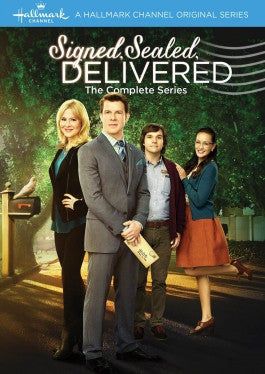 Sale price $24.95
Regular price
$29.99
Sale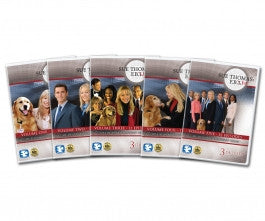 Sale price $95.99
Regular price
$119.99
Sale
—
Sold Out
Time Changer DVD
In 1890 a Bible teacher, Russell Carlisle, has compiled a brand new book. The book will obtain a consensus approval from the panel of Grace Bible Seminary until his co-worker, Dr. Anderson, rises in opposition. Anderson concludes that what Carlisle wrote can affect people in the future. Through a time machine, Russell Carlisle is sent to the future to see the effects of his beliefs. What will happen next in Time Changer DVD?í«ÌÎ_
The story of Time Changer movie
The Time Changer film makes the audience wonder, what would happen if we could go beyond what we‰ۡóÁÌ_åÈve known? If time could have an opening so time traveling to the past or future could be possible. What would we encounter? What advances would we discover?
At the beginning of the Time Changer DVD it‰ۡóÁÌ_åÈs the year 1890. Bible teacher Russell Carlisle encounters and addresses a young boy who stole from his next-door neighbors and declares the action very wrong. Carlisle has written a book titled The Changing Times. It encourages people to have morality and standards but leaves out Christ. The book is on its way to obtain a consensus approval from the Grace Bible Seminary but Dr. Norris Anderson is opposed. If Carlisle doesn‰ۡóÁÌ_åÈt have a consensus in the board the book won‰ۡóÁÌ_åÈt be successful. Russell Carlisle and another colleague look to change the consensus rule but those above him reiterate that the disagreement between him and Anderson should be discussed privately.
In Time Changer, Dr. Anderson is concerned that Russell Carlisle‰ۡóÁÌ_åÈs book would affect future generations, saying that disciplining people with good values and morals without including Christ is misguided. In light of that, Anderson sends Carlisle to the future, approximately over 100 years in the future, using a time machine. Hoping that having a peek at the future will show him where his beliefs lead to.
Carlisle arrives in the 21st century. He finds a newspaper nearby and confirms that he has arrived to the future. The year 2000. í«ÌÎ_He is shaken to his core when he sees how people are living. Young adults not respecting their parents and deceiving them, divorce rates are up demonstrating that half of marriages end up in divorce, films containing foul language and people who while attending church are disinterested in services therefore needing other things to do. While seeing all these saddening events, Carlisle knows that things have changed since he last was in 1890. While in the 21st century Carlisle makes an effort to persuade Eddie Martinez, a laundromat employee, to read the Bible and visit church. While observing all these negative things, Carlisle comprehends that his book has made an impact in the nation and its formed a generation that is self-absorbed and dominated by egotistical interests and selfishness. Regretting all he has written in the book, he wants to return to 1890 to rewrite and make right all the wrongs he had written.í«ÌÎ_ Due to the unfamiliarity to his surroundings, Carlisle acts amazed always which causes some suspicion to others around him. Some confront him as he‰ۡóÁÌ_åÈs getting ready to head back to the past. To them, Carlisle from Time Changer DVD seems crazed as he speaks out about the second coming of Jesus and how it is very near. As he mentions those words he is gone. The people that were there thought that the rupture was upon them and they were left behind.
Fascinated by all he experienced in the future, Carlisle mentions to Anderson that he will revise and modify the book. He hands out a set of marbles to the boy who had stolen the marbles from his neighbors and points out to him that Jesus wants us to always be honest. On the other hand, Dr. Anderson from Time Changer wants to learn when the world will end and tries to send out a Bible to the future. He sets out the Bible to a particular year but seeing it doesn‰ۡóÁÌ_åÈt work he starts lowering the number of the date. Anderson keeps trying but to no avail. To that result, he suggests two options. That humanity can‰ۡóÁÌ_åÈt be aware of when Jesus returns or that the He will come back before the 21st century ends.
The direct message of Time Changer movie
The disagreement regarding Russell Carlisle‰ۡóÁÌ_åÈs book in Time Changer DVD is used by the screenwriter to give the audience a mirror that displays the world‰ۡóÁÌ_åÈs current lifestyle. So that they can meticulously view society‰ۡóÁÌ_åÈs spiritual and social difficulties. Carlisle sees an indifferent church congregation, how there‰ۡóÁÌ_åÈs little attendance by its members, the shortage of prayer and how they advertise their church by displaying sports and other events that are not supposed to be the main focus. Also, he‰ۡóÁÌ_åÈs taken out of school grounds after mentioning the importance of the Bible and how it can be used as a science book. By showing that, they‰ۡóÁÌ_åÈre hopeful that it will make the viewers realize how our cities and nations have lost balance for a very long time now. It‰ۡóÁÌ_åÈs these negative behaviors and demeanor that have astonished Carlisle as he arrived in the 21st century.
í«ÌÎ_
Time Changer DVD Features
In terms of the production of Time Changer, the director, Rich Christiano, encouraged the cast and crew to do their best. The director of photography, apprehended the look and feel of the late 1800‰ۡóÁÌ_åÈs and of course, the late 21st century. Hal Linden delivers a great performance.
Time Changer, a drama/fantasy film, was released in the Fall of 2002 and runs for approximately 95 minutes. It is rated PG by the Motion Picture Association of America. The DVD includes a behind the scenes look at the making of this film. It has commentary features and deleted scenes.
The Time Changer film was written and directed by Rich Christiano. Starring D. David Morin (The Ultimate Gift), Gavin MacLeod (The Love Boat), Hal Linden (Barney Miller), Jennifer O‰ۡóÁÌ_åÈNeill (I‰ۡóÁÌ_åÈm Not Ashamed), and Paul Rodriguez (Ali).