---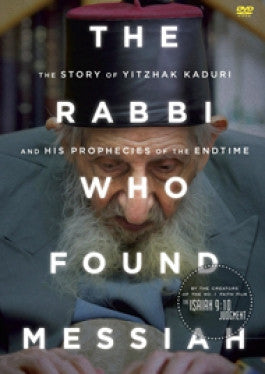 Sale
The Rabbi Who Found Messiah DVD
Watch Trailer
Additional Information
Cast: Jonathan Cahn, Carl Gallups
Director: George Escobar
Languages: English
Release Date: 11/4/09
Run Time: 60 MInutes
Region Code: 1

See More
Sale price $10.00 Regular price $19.99 You save 50%
Estimated arrival between and for USA.

---
You might also like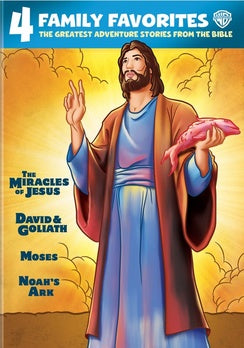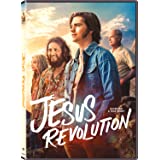 Sale price $15.99
Regular price
$29.95
Sale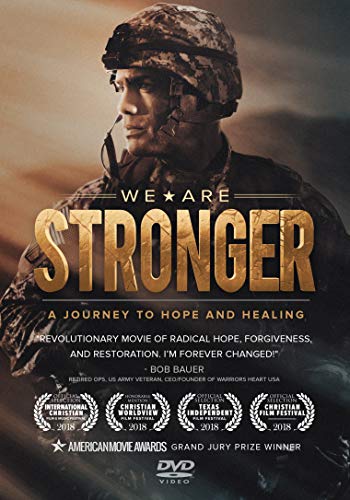 Sale price $9.99
Regular price
$14.99
Sale
The Rabbi Who Found Messiah
The Rabbi Who Found Messiah is a true and shocking story that is still unfolding to this very day. Mystical death curses, visions of a Messiah, a renowned political leader under the threat of death, shocked religious leaders, and a cryptic death note make this story intriguing and mystifying. This film is the sensational story of the Rabbi Yitzhak Kaduri. At 108 years old, Rabbi Kaduri declared the name of the "real Messiah" and went on to proclaim that the Messiah would not come until a certain renowned leader of Israel was dead. Based upon the book of the same name, this film gives a detailed look at the story and proclamations of Rabbi Kaduri. Renowned Messianic Rabbi Jonathan Cahn, bestselling author of "The Harbinger", appears in this film along with the author of the original book, Carl Gallups. Together, they give insight into the Messianic Jewish perspective, Hebrew Messianic expectations, and the profound nature of Rabbi Kaduri's pronouncement of the end times. Did this elderly rabbi actually have a vision from God, or is it all made up? The Rabbi Who Found Messiah is a thought-provoking and insightful film sure to leave viewers with many questions.
The Life of Rabbi Kaduri
Rabbi Yitzhak Kaduri was born in Baghdad, but the year of his birth is unknown. Some speculate that was 1902, but none can know for sure. As a child, Kaduri excelled in his studies of the Jewish culture and began studying the Kabbalah while in his teens. The study of the Kabbalah would last his entire life. He was a child student of the Ben Ish Chai and studied at the Zilka Yeshivah in Baghdad.
In 1923, Rabbi Kaduri moved to the British Mandate of Palestine, by recommendation of the elders in Baghdad. These elders hoped that Rabbi Kaduri's piety and scholarship would stop the incursion of Zionism.
His life was dedicated to the study of the Kabbalah and he went to a special place in Iraq for students of the Kabbalah. He was a dedicated learner and also immersed himself in Talmudic study and rabbinical law.
In 1934, Rabbi Kaduri and his family moved to the Old City, where he was assigned the job of binding the yeshivah's books and copying over rare manuscripts in the yeshivah's library. He got in the habit of studying each book intently before binding, therefore committing them all to memory. He was known for having an amazing photographic memory and had the Talmud memorized.
Leading up to the Arab and Israeli war of 1948, there was great friction where Rabbi Kaduri was. The Jewish quarter of the Old City was taken by the Jordanians. They then set fire to the yeshivah and all surrounding houses, destroying the books that Rabbi Kaduri was not able to smuggle out.
Over the course of his life, many people came to Rabbi Kaduri for advice. He was known as being a wise man, and he was very learned in the Kabbalah and other Jewish literature. People came to him for blessing and amulets, which he would create specifically for the individuals in need. Many people claimed that miracles had happened at his hands. After receiving blessings from him, people claimed that their illnesses were healed, children would be born to the barren, and that they received blessings of great monetary value.
He was renowned for his wisdom and the people flocked to him. He became a celebrity of sorts, as everyone wanted to be near him. They wanted to receive his wisdom and a blessing from him, hoping that it would change their life for the better. He seemed to have a very direct connection to God and often saw visions and heard voices that were believed to be from God.
Toward the end of his life, Rabbi Kaduri lived in poverty and simplicity. He ate little and spoke little, and was hospitalized with pneumonia. After his death, his funeral became the most widely attended funeral ever to take place in Israel. Before he died, Rabbi Kaduri prophesied that he expected the Messiah to come and that he had actually met him a year earlier.
He supposedly left a handwritten note for his followers to open one year after his death. After this time had elapsed, the note was opened and read by his people. It stated, "he will raise the people and confirm that his word and law are standing". By acronym, this suggested the name Yehoshua. There was much controversy over this note, as many believed that the acronym was merely a coincidence. Others believed that he was referring to Yeshua, and that he meant Jesus was going to come and raise the people very soon. Still others believed that it referred to Yehoshua Ben Nun, not Jesus.
Rabbi Kaduri's family claims to know nothing of the note, and have not been able to help translate the meaning. There is great controversy over his claims of the Messiah coming before his death and the fact that he met him in this lifetime. Many Jewish people follow the teachings and beliefs of Kaduri, believing that everything he prophesied will come true. Others believe that he is a shame to the Jewish people and should be discredited. They believe that his teaching was divisive and harmful to the people.
The Rabbi Who Found Messiah is an interesting film that dives deep into the life and words of Rabbi Yitzhak Kaduri. This DVD explores the credibility of his statements and the effect that his proclamations had on the Jewish people. Thought provoking and insightful, this is a film that you will not want to miss. The story is intriguing and mysterious and will leave viewers with many questions about the life and prophesies of Rabbi Kaduri.
The Rabbi Who Found Messiah is not rated by the Motion Picture Association of America, but is considered suitable for all audiences. It is always recommended that parents preview all content to determine what is suitable for their family.