---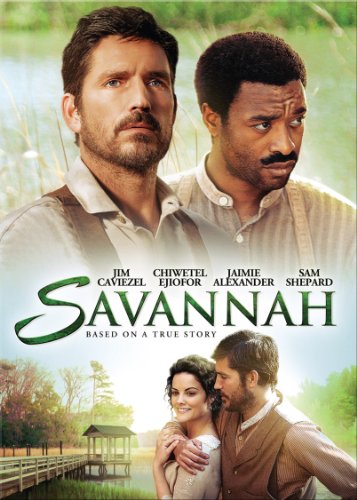 Sale
Savannah DVD
Additional Information
Cast: James Caviezel, Jaimie Alexander, Sam Shepard, Hal Holbrook, Bradley Whitford, Chiwetel Ejiofor
Director: Annette Haywood-Carter
Producer: John Cay
Languages: English
Run Time: 109 min
Screen Format: WS
Region Code: 1

See More
Sale price $11.99 Regular price $20.99 You save 43%
Estimated arrival between and for USA.

---
You might also like
Sale price $32.99
Regular price
$54.98
Sale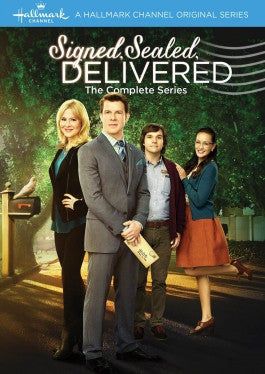 Sale price $24.95
Regular price
$29.99
Sale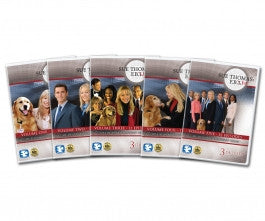 Sale price $95.99
Regular price
$119.99
Sale
—
Sold Out
Savannah
Ward Allen was rich, eloquent, educated, yet he rejected his plantation inheritance for a free life on the river, hunting ducks. Savannah tells the story of a man willing to fight for his rights, his love, and his friendship in the deep south. Starring Jim Caviezel, Chiwetel Ejiofor, Jaimie Alexander, Sam Shepherd, Bradley Whitford, and Hal Holbrook Savannah is full of excitement, romance, and adventure!
Film Synopsis
Savannah is told in a series of flashbacks, narrated by Ward Allen's long time friend Christmas Moultrie (Chiwetel Ejiofor), now an old man. Born into the wealth an privilege of plantation owners in the deep south, Ward Allen's (Jim Caviezel) childhood in the mid 1800s was one of fine, fancy comfort. The well mannered, well bred man of Savannah set off to study at Oxford-- a real education. He returned to his southern home with Shakespeare, Philosophy, and eloquent talk under his belt, but the life of a wealthy gentleman farmer-- comfortable even in the 20th century, years after the Civil War-- left him unhappy. So Ward Allen-- the man of Savannah decided to reject his plantation heritage for a free and happy life on the river. Soon, the polished southern gentleman becomes a happy, hardworking outdoors man with his gun, dog, and loyal friend Christmas Moultrie (a former slave) at his side. Life does not turn out to be perfect, however, as Ward soon learns. The law does not take to kindly to the large amounts of fowl Ward is taking down with his steady shot, and although his game fills the plates of Savannah, he soon finds himself in front of the court. Mouths watering for fresh fowl win out, however, and Ward finds himself released with little more than a slap on the wrist-- time and time again. He is determined to fight for his rights as a hunter, and the rights for his companion and friend Christmas-- and the court sees its fair share of the Master of Shakespeare turned hunter. Life is not all guns and dogs for the charming man from the film Savannah, however, and he soon wins the heart of charming society woman Lucy Stubbs, who defies her father to marry the eloquent man of the woods. Will justice and love win out forever for Ward Allen, or will his actions bring him down just like the ducks he hunts?
Hidden Lessons
Although difficult to see at first, the film Savannah is filled with hidden lessons of value to the viewer. Temperance is one of these lessons. Ward Allen finds himself struggling with alcohol and his temper at many points during the film Savannah, which get him into scrape after scrape. He learns, however, that temperance and self-control are the only ways to earn respect, trust, and love. Justice is another strong theme throughout the film Savannah that viewers can learn from. Ward Allen fights with great courage and perseverance to ensure his rights are not trampled on, and instead of simply complaining he fights to change what he sees as injustices and problems in his world. Action, is another lesson viewers can learn from Ward and the film Savannah. He never sits on his chair and wishes the world were different, but he steps out with the determination to see change for the better. Acceptance and brotherly love can be learned from the relationship between Ward and Christmas in the film Savannah. The former plantation boy and former slave watch each other's backs like friends and brothers. Raised in a society that mistreated and had great prejudice against black men and women, Ward shines as a great example of trusting, accepting, and loving someone for their character rather than their skin color. On multiple occasions he treats Christmas as equal, not inferior, in front of the other white men of his town. He stands up for Christmas, and his rights, despite persecution and rejection.
Opportunities To Think
The film Savannah offers many opportunities for viewers to consider their own life and actions, as well as the actions in this nation's past. Set in a time and place of great prejudice-- the south only just after the abolition of slavery, and ruled by unfair Jim Crow laws-- Savannah highlights the injustice of slavery and racism. It will ask viewers to consider their own values, their own prejudices ingrained from childhood, and the choices we make in our actions. It will also challenge viewers to consider their actions-- or lack thereof-- when they desire something to change. Do they step out to bring about change like Ward, or do they sit and wish instead. Although not a film for young children, Savannah offers an opportunity to discuss issues still pertinent in today's society with other viewers.
Conclusion
The film Savannah will warm your heart with the friendship between Christmas and Ward. Filled with moments of adventure, and courage and also a splash of romance, Savannah is a film a wide audience will enjoy. The story and characters are unique, the themes thought provoking, and the story simply enjoyable. Step back in time to the deep south and join a man with his trusty companions ready for adventure.
Savannah was rated PG-13 by the Motion Picture Association of Americafor brief sexuality. As always, it is recommend that parents preview all content to determine what is suitable for their children.
If you enjoyed Savannah, or are looking for a more family friendly option, you may enjoy some of the following films and series'. The When Calls The Heart series-- the story of the trials, lessons, and adventures of a young school teacher and a Mountie on the Canadian frontier. The Love Comes Softly series-- a beloved saga that follows the lives and faith of one pioneer family through several generations. The Little House On The Prairie series, the loved story of the Ingalls family. Or Civil Love, a story of a woman from the North and a man from the South divided by the Civil War.