---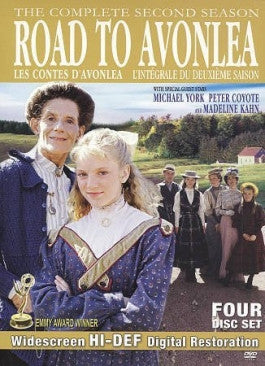 Sale
Road To Avonlea: The Complete Second Season Remastered DVD Set
Additional Information
Cast: Sarah Polley, Jackie Burroughs, Mag Ruffman, Zachary Bennett
Producer: Trudy Grant
Languages: English, French
Run Time: 600 mn
Closed Captioning: Yes
Sale price $41.65 Regular price $64.99 You save 36%
Estimated arrival between and for USA.

---
You might also like
Sale price $32.99
Regular price
$54.98
Sale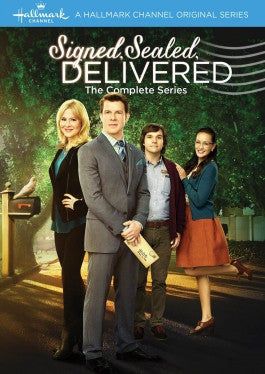 Sale price $24.95
Regular price
$29.99
Sale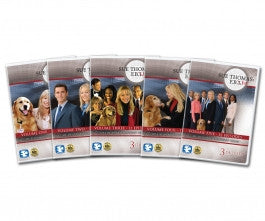 Sale price $95.99
Regular price
$119.99
Sale
—
Sold Out
Road To Avonlea: The Complete Second Season
The adventure of a lifetime continues in season 2 of Road to Avonlea. In season 2, we continue to follow the many misadventures of Sara Stanley and her cousin as they begin to wreak more havoc and trouble, causing all sorts of problems and predicaments in the family. Follow the drama, excitement and adventure as Sara and the King family experience life together and whether the various storms life throws at them. Some find themselves faced with heartbreak and incredible challenges, while others find themselves with newfound romance and relationships. It's a series of ups and downs for the family, as they go through heartbreaking tragedy, but also new romances and love.
In the Road to Avonlea: The Complete Second Season Remastered DVD Set, relive the classic moments of season 2, now in stunning wide-screen hi-definition quality. This collection is the best way to watch this series, as it features a crystal clear digital restoration of every episode of season 2. If you've been a longtime fan of the show, you will be blown away by the incredible quality of these DVDs. Relive every classic moment in a renewed light with these stellar remastered images. Spanning 4 discs and hours of content, this is the ultimate way to experience Road to Avonlea.
In season 2, Sara hopes to return home from Avonlea. Originally sent to live with her aunts after the death of her mother, Sara hopes to return home and be with her father again. However, tragedy strikes and she learns that her father has also died. This means of course that she will have to stay in Avonlea until she grows up. Sara must come to terms with the fact that Avonlea is now her home and she will never see her parents again. In the hopes of restoring her father and seeing him again, she visits a fortune teller. Rather than resurrecting or reuniting with her father, she finds herself in more trouble when she is kidnapped. Meanwhile, Hetty recruits Gus Pike to help her and the King family gets to know him better. As he becomes more of a part of the King family, they discover more about his very mysterious past.
As if all of this wasn't enough, Rachel and Marilla decide to adopt twins, and so they end up with Davey and Dora Keith. However, shortly after their adoption, Davey proves to be quite the troublemaker. Janet King surprises the family when she announces that she is pregnant with her fourth child. Olivia finds herself faced with a choice when an old friend arrives in town with the hopes of securing her hand in marriage. This prompts Jasper to propose to Olivia and she is faced with the choice between the two men. Finally, Alec finds himself with a challenge when he forms a hockey team and challenges the owner of the town's sawmill to a winner-take-all game. The owner, who is cutting trees roughly a mile outside of Avonlea takes on the challenge, leading to an exciting game of Winter hockey.
Road to Avonlea Continues for Another Season
Road to Avonlea is truly an incredible show, spanning 7 wonderful seasons. Like other television dramas that have lasted that long, it gives you time to develop a relationship with each of the characters and after you've spent hours and hours with them, watching them grow, mature, and learn, you tend to form a deeper bond with them. After one season of Road to Avonlea, it became abundantly clear that people were forming relationships with these characters and that there was a high demand for them to continue the show in another season. And so, receiving the greenlight, Sullivan Productions produced the second season for Road to Avonlea. With its continuing success, the show would go on to create seven whole seasons, running from 1990 to 1997.
Originally following the character of Sara Stanley, the show began to grow and expand to other characters as well, chiefly the King family. After a time, Sara would leave the show and the focus would transfer almost entirely to the King family and their various endeavors and encounters. The second season of Road to Avonlea features a lot of heartbreak, but also a lot of maturity in its characters. We see Sara grow up a lot in this season, mostly because she is forced to by the death of her father. This sad story development causes more strife in Sara's life as she has to come to terms with the fact that Avonlea is her home for the foreseeable future. She has no parents to return home to now, and so she must learn to adapt to her new life with her aunts in Avonlea.
The wonderful thing about Road to Avonlea is its always developing characters and storylines. There's never a dull moment in the quaint town of Avonlea, with new romances, relationships, and events happening all the time. With the introduction of new characters like Gus Pike, we have more characters to learn about and eventually fall in love with. Road to Avonlea Season 2 features a lot of new, but also maintains what made the first season such a special show in the hearts of everyone who watched it.
Conclusion
If you have been a fan of the show, or are looking for a new show that is appropriate for the whole family, Road to Avonlea is a super show to watch together. Featuring drama, heart, and romance this is a classic show with intriguing stories and characters. What's more, the Road to Avonlea: The Complete Second Season Remastered DVD Set is the definitive way to watch this show. You will see the episodes like never before with beautifully restored video quality. These episodes look better than ever spanning across four discs and providing countless hours of entertainment and enjoyment. Similar in style to shows like Anne of Green Gables, Little House on the Prairie, or When Calls the Heart, this classic television drama takes you into the heartwarming world of Avonlea.