---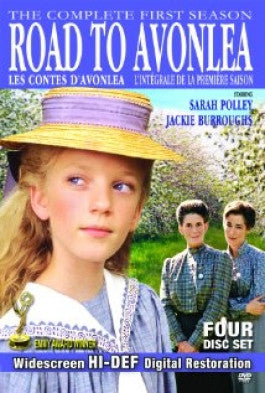 Sale
Road To Avonlea: The Complete First Season Remastered DVD Set
Additional Information
Cast: Sarah Polley, Jackie Burroughs, Mag Ruffman, Zachary Bennett
Producer: Trudy Grant
Languages: English, French
Run Time: 600 mn
Closed Captioning: Yes
Sale price $41.65 Regular price $64.99 You save 36%
Estimated arrival between and for USA.

---
You might also like
Sale price $32.99
Regular price
$54.98
Sale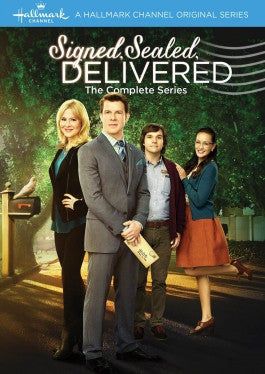 Sale price $24.95
Regular price
$29.99
Sale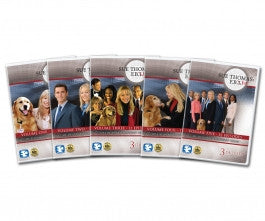 Sale price $95.99
Regular price
$119.99
Sale
—
Sold Out
Road To Avonlea: The Complete First Season
Enter the world of Road to Avonlea in this first season of the classic series. Featuring numerous characters from various works of L.M. Montgomery along with new characters and stories, this is a refreshing and timeless drama perfect for the whole family. Road to Avonlea: Complete First Season Remastered is the perfect way to begin your journey into this exciting world of characters. Similar in style to other popular television dramas like Little House on the Prairie, Dr. Quinn: Medicine Woman, and When Calls the Heart, Road to Avonlea introduces viewers to a slew of enjoyable characters and the situations that they find themselves in.
In season 1, follow Sara Stanley, a precocious young girl sent to the town of Avonlea to grow up and experience the world with her dead mothers family. Living now with the King Family in the small and charming town of Avonlea in Prince Edward Island, she learns more about the family she's living with and experiences tales of romance, fantasy, and tragedy. Similar to Anne of Green Gables, you will follow along with Sara as she first arrives in Avonlea and begins to experience an environment that was foreign to her before. You will also learn more about the King family and their story, with their many characters and events creating an incredible history.
In Road to Avonlea: Complete First Season Remastered, you will meet Sara for the first time and see her introduction to Avonlea. In addition, you will meet guest stars W.O Mitchell, playing the role of Alexander Abraham, an Zoe Caldwell guest starring as the old Lady Lloyd. This first season also includes the very first appearances of Jasper Dale, Peg Bowen, and Aunt Abigail Ward. This season also begins the relationship which will lead to future romance between Jasper and Olivia. This is a monumental season, and the one that truly launched the show into a great and terrific seven-season run. This show would continue to be a success through its run, not only in Canada, but in North American regions as well. Fall in love with these characters all over again and experience the magic of L.M. Montgomery that helped to make this show the truly incredible experience that it is.
If you have been a fan of the show, or enjoy similar shows like Little House on the Prairie or Anne of Green Gables, the Road to Avonlea: Complete First Season Remastered DVD collection is the best way to experience the show. Remastered in high definition with incredible quality. This is truly a monumental piece of television drama with scenarios and storylines that are perfect to show to the whole family. This clean and classic television drama is best experienced in this special remastered DVD collection.
Family Friendly Entertainment
One of the best things about Road to Avonlea is its heartfelt stories and characters. Rather than appealing to the violence or language that is popular on television nowadays, this is a family-friendly and clean drama with light-hearted characters and stories. Teaching important life lessons and focusing on romance and love, this series has a lot of heart and a lot to enjoy it. The fact that this show went on for 7 seasons also helps, in that it's a long story with years of storytelling and events that can be a wonderful show for families to experience together. If you're looking for a family-friendly show that you can safely view with your whole family without fear of what they might be exposed to, Road to Avonlea is an excellent choice.
Drawing a lot of inspiration from Anne of Green Gables and other L.M. Montgomery works, this drama has a very classic feel to it, with old-time characters and an old-time setting. Before the period of internet, phones, and all the other modern technology, life had a simpler and more laid-back feel to it. You can experience this world in Avonlea and see how the King family lives their life. This isn't to say their lives are uneventful -- on the contrary, their lives are filled to the brim with exciting events and happenings from romance and love, to mystery and adventure. There is so much to see and experience in this show, and it's a wonderful drama to watch with others and as a family.
Like Anne of Green Gables or Little House on the Prairie, this show takes you into a town, in this case Avonlea, and introduces you to each character in the town. You come to understand them better as the seasons progress, and as the show continues on, it helps you to have a deeper relationship with each character. By the time you're several seasons into the show, they feel like close family to you and you become incredibly invested in the characters in this drama. In Little House on the Prairie, for example, you were able to see the lives of the Ingalls family and see how they grew and matured over the course of several seasons. You can witness the same thing here with the King family, as they experience new things and encounter new situations. Road to Avonlea is truly a fantastic and adventurous show with a lot of heart and a lot to love about it.
Conclusion
If you are looking for a new show and a new world to fall in love with, look no further than Road to Avonlea. In this first season, you can meet all the characters, included Sarah Stanley and the King family, and begin to uncover the beautiful and quaint world of Avonlea. As you meet more characters and come to know old characters better, you will fall in love with this incredible world created by Sullivan and based off the works of L.M. Montgomery. This is a perfect show for the whole family featuring classic tales of romance, adventure, and love. If you are looking for the place to start in this new show, the Road to Avonlea: Complete First Season Remastered is the perfect place to begin, bringing you the highest quality version of the classic television drama.