---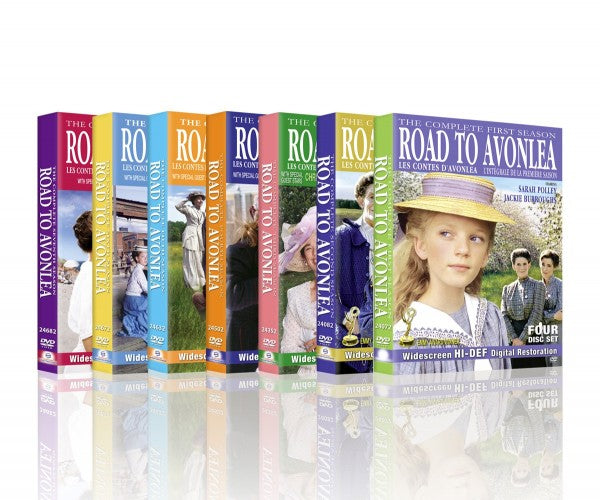 Sale
Road To Avonlea Complete 7 Season DVD Set Digitally Remastered Edition
Additional Information
Director: Kevin Sullivan
Producer: Kevin Sullivan
Languages: English
Dove Approved: Dove Family Approved
Run Time: 91 Hours
Screen Format: WS
Closed Captioning: Yes

See More
Sale price $286.67 Regular price $357.99 You save 20%
Estimated arrival between and for USA.

---
You might also like
Sale price $32.99
Regular price
$54.98
Sale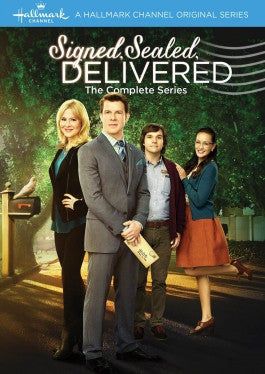 Sale price $24.95
Regular price
$29.99
Sale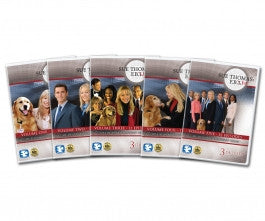 Sale price $95.99
Regular price
$119.99
Sale
—
Sold Out
Road To Avonlea Complete 7 Season DVD Set
From the masterfully creative mind of L.M. Montgomery comes a magnificent television drama series that will inspire and entertain you with its tales of love, drama, and incredible romance. Produced by Kevin Sullivan, The Road to Avonlea Complete 7 Season DVD Set Digitally Remastered Edition contains the complete story of Avonlea, from Sara Stanley's introduction to the world of Avonlea, all the way to Felicity and Gus' romantic wedding. Featuring now digitally remastered episodes, this collection is the definitive way to experience the entire story of Avonlea, from beginning to end. This set brings all 28 discs and over 91 hours together into one convenient collection, featuring the best possible viewing experience with a stunning widescreen digital restoration.
In the year 1903, we begin our adventure as a sheltered girl from the city by the name of Sara Stanley is forced to move to the rural, quaint little town of Avonlea. With her mother recently deceased, she has been sent by her father to live with her aunts where she can be raised by motherly figures. However, Sara is initially reluctant to move to Avonlea, wanting to stay back at her home with her father. But over time, and as more heartbreaking developments force her to say in Avonlea indefinitely, Sara begins to make this town her home.
Season 1
Road to Avonlea begins with an introduction to Sara Stanley, the young girl sent to Avonlea to stay with her aunts. Over time, she learns to fall in love with the King family and the little town of Avonlea, but despite all of this, she still manages to find all kinds of trouble with her cousins. With possible romance blooming in the town of Avonlea, especially between Jasper and Olivia, it's sure to be a wonderful adventure as we are interested to this colorful cast of characters.
Season 2
Much to the dismay of her aunts, Sara and her cousins continue to find themselves in all kinds of trouble all over the town of Avonlea. These lighthearted and fun-filled stories are also complemented with a tinge of drama, heart, and romance. The stories continue to take on deeper meanings as we come to know the characters better and quickly fall in love with them. This season features several classic Avonlea moments, including the bitter revelation that Sara is now to stay in Avonlea until she grows up, Janet King announces she is with child, and Hetty enlists Gus to go to school.
Season 3
Olivia gets married in season 3, but her simple little wedding turns into a monumental fiasco when Hetty decides to get involved. Sara once again lands herself in trouble when she and a look-a-like street waif trade places. Sara attempts to run away with Gus Pike, and lands herself in huge trouble when she is eventually caught. This season also features the classic episode starring Christopher Lloyd, who would go on to win an Emmy for his magnificent performance in an episode. The season ends on a difficult note, with the news that Marilla Cuthbert has passed away.
Season 4
Season 4 continues the adventures of Sara Stanley, her cousins from the King family, and all of the quaint townsfolk from Avonlea. This season features some remarkable moments, including the first appearance of the Pettibone family, along with Selena and the rest of Jasper's family. It also features some terrific guest stars, including Treat Williams as Zak Morgan, Meg Tilley as Evelyn Grier, Barbara Hamilton as Eulalie Bugle, and Keith Knight as Reverend Fitzsimmons. This season also contains the moment where Gus and Felicity officially begin courting.
Season 5
Now that Sara is grown up, she has finally blossomed into a beautiful young lady. However, this doesn't mean that she doesn't still have an acute penchant for getting into trouble. She has now completely accepted Avonlea as her home, however, she begins to realize that there is going to come to a point very soon where she will need to leave her home. Where will she go from here and what is in store for her following her childhood in Avonlea? This season also contains other big moments for Sara, including her very first kiss. Gus proposes to Felicity, but is turned down and he leaves Avonlea, possibly for good.
Season 6
As the characters begin to grow older, the show continues to blossom and mature. This season features the episode where Sara announces she is leaving Avonlea for Paris. Gus Pike returns and Felicity finally accepts his marriage proposal. However, very shortly afterward, he is lost at sea and may possibly never be seen again. This season features more first appearances of characters, including Eliza Pike and Molly Atkinson. The town of Avonlea begins to face some very difficult hardships that threaten to change the shape of the town for good. Will they be able to hold on and hold together through the trials?
Season 7
The epic television drama that captivated hearts everywhere with its seven thrilling seasons finally comes to a close in this enthralling and climactic conclusion. The final season sees the King family coping with some difficult challenges and heartaches that may forever change the shape of their lives, their family, and even their town. Gus Pike returns, after surviving a perilous experience being lost at sea. Felicity must make a decision with whether or not to go through with her marriage to him, or another man?
Conclusion
The Road to Avonlea Complete 7 Season DVD Set Digitally Remastered Edition is an incredible journey that you need to experience for yourself. Featuring clean, family television entertainment in a quaint and remarkable period of time, this is a captivating drama well worth watching over and over again. With over 91 hours of content and over 20 bonus feature documentaries across the discs, this is a show that will always keep you coming back for more with its incredible stories of Sara Stanley, the King family and the whole town of Avonlea. This is truly a set worth treasuring.