---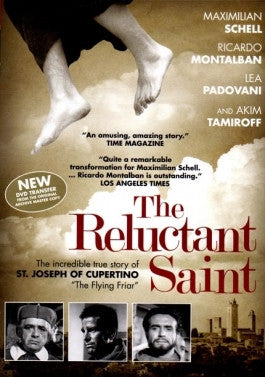 Sale
The Reluctant Saint DVD
Watch Trailer
Additional Information
Languages: English
Run Time: 104 minutes
Subtitles: Spanish
Region Code: 1

See More
Sale price $14.95 Regular price $19.99 You save 25%
Estimated arrival between and for USA.

---
You might also like
Sale price $32.99
Regular price
$54.98
Sale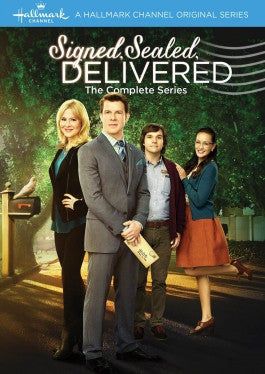 Sale price $24.95
Regular price
$29.99
Sale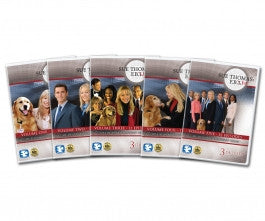 Sale price $95.99
Regular price
$119.99
Sale
—
Sold Out
The Reluctant Saint DVD
The Reluctant Saint is a touching and profound film that tells of the life of Joseph of Cupertino, a man who rose to sainthood within the Catholic Church. His story is unique and entertaining, filled with humor and touching moments. This film is a fictionalized version of the true story of Joseph, but contains many of the same elements. The basic story remains the same, but The Reluctant Saint does take some creative and humorous license. This film is an enjoyable and entertaining story for the entire family to watch together.
Synopsis
Joseph of Cupertino was an Italian Conventual Franciscan friar in the 1600s. Not only this, but he was also a mystic and was supposed to have unusual powers and the ability to perform stunning magic tricks.
The Reluctant Saint opens with Joseph as a young man, living in his mother's home. He is described as being slow-witted and somewhat daft. Because of his childish mind, his mother kept him home and in school, though he is a grown man and should have a job of some sort and independence. He is depicted as having a heart of gold, and this film shows his servant attitude toward others.
At school, Joseph is ridiculed by the children and even the teachers, because he is slow and much older than everyone else. However, he bears their criticism with a smile on his face, proving that he can rise above it all. His mother finally decides to let him try his hand as a laborer, but he fails many times, so he continues to leave him in school.
At long last, she makes a decision that changes his life forever. Insisting that this will be the best thing for him, she sends Joseph to a Franciscan friary. His uncle is in a position of authority within the friary, so he helps watch out for Joseph. Life at this friary is completely unlike what he is used to, and life does not go very smoothly while his is there. Unfortunately, he seems to cause trouble wherever he goes, causing a stir among the authorities within the religious organization.
However, a visiting bishop, sees Joseph and notices his kindness. Though he is slow and often causes trouble accidentally, his heart radiates with absolute love and gentleness. The bishop makes sure to report this to the authority figures in the friary and insists that Joseph be trained as a priest.
This seems impossible, as it requires aptitude for studies and other things. Joseph, however, does not back down and tries his hand at training to be a priest. He is very inept at most everything in the training process, but is still given a chance as a priest because of his pure heart. He does not have much interest in doing anything other than tending the sheep and the other animals, but he looks forward to being given a title for the first time in his life.
When he goes to take the necessary exams to become a priest, no one expects him to pass. He learned nothing from the friars that tried to teach him, and they doubt very much that he will pass. However, a series of seemingly miraculous events occurs and Joseph passes all of his exams.
One day, while Joseph is praying to the Virgin Mary, one priest sees him levitating while praying. This priest is shocked and immediately reports Joseph's levitation to the authorities within the friary. They suspect that there is demon involvement in his life and decide to host an exorcism. After being completely exorcised, however, the levitation still continues. This causes many of the priests and friars to believe that his unusual talents are from God, not the devil.
After becoming a priest, Joseph continues to do what he does best; be kind. Though he has been tormented and shown cruelty, he shows nothing but love and gentleness toward all he meets. This left a tremendous legacy of the unlikely man who became a priest. After his death, those in the Catholic Church began to recognize him as a Saint for the way that he overcame adversity and had faith and beliefs like a child.
The Reluctant Saint tells this amazing story of Joseph of Cupertino, an unlikely saint. Though he does not possess any of the usual things attributed to a priest, he contains something entirely different; purity of heart. His life story is fascinating and humorous, filled with twists and turns. This film dramatizes the real events that made up Joseph's life, but does contain many historically accurate facts and characters. Viewers will be delighted and entertained by this film, wanting to know more about the unlikely man who came to be known as a saint.
A Simple Heart
Throughout The Reluctant Saint, Joseph of Cupertino is faced with much adversity. He is often taunted, jeered at, and made fun of for the way that he is. He is not clever or intelligent, and is looked down upon by his peers. The children in school make fun of him because he is so much older than they are, and he is still not as smart as them.
Though he does not possess smarts, Joseph possesses something even more important; a kind and simple heart. He rises through the ranks in the friary because a visiting bishop takes notice of the way that he treats everyone with kindness and love. This purity of heart and simplicity of mind sets him apart from those around him, and he is recognized for being different.
When he becomes a priest, he is faced with even more controversy, as he is spotted levitating. He is forced to endure an entire exorcism, in which nothing seems to happen. After this takes place, he is still seen levitating, leading the people to believe that it is divine involvement, not demon possession. His life is unique and his simplicity sets him apart from all those around him. The Reluctant Saint beautifully dramatizes all the things that make Joseph different, and the things that make him who he is.