---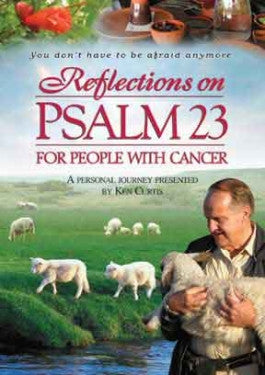 Sale
Reflections on Psalm 23 for People with Cancer - DVD
Watch Trailer
Additional Information
Languages: English
Release Date: 12/31/01
Run Time: 104 minutes (Thirteen 8-minute sessions)
Screen Format: FS
Region Code: A

See More
Sale price $9.98 Regular price $14.99 You save 33%
Estimated arrival between and for USA.

---
You might also like
Sale price $32.99
Regular price
$54.98
Sale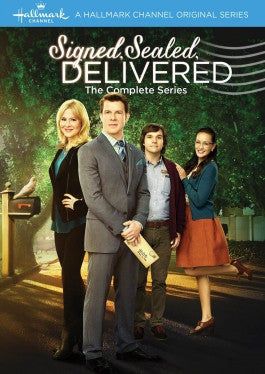 Sale price $24.95
Regular price
$29.99
Sale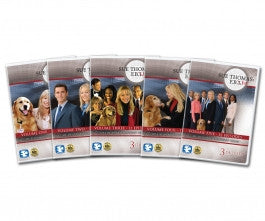 Sale price $95.99
Regular price
$119.99
Sale
—
Sold Out
Reflections on Psalm 23 for People with Cancer
"You don't have to be afraid anymore", says Ken Curtis, maker of Reflections on Psalm 23. The 23rd Psalm is one of the best known and well-loved passages in the Bible. It is a popular song that gives people hope in dark times. The reason it bestows hope upon people is that it combines comfort with courage. It is full of comforting words from the Lord and promises for your life, as well as inspiring messages that give you courage through times of hardship. Hope is a necessary resource when walking through an immense trial, such as cancer. Ken Curtis knows firsthand how important hope can be when you are struggling with something, so he created this film to help people walk through the battle of cancer. He himself was diagnosed with cancer and was told that he most likely would not survive. He decided to pursue a combination of traditional and alternative medicine to try and save his life. Not only did he try medicine, but he also had a strong spiritual undercurrent throughout his treatment. This gave him the hope that he desperately needed to survive. Behind him was a strong support team of people who were praying for him, which also filled his heart with hope. He knew that his life was in God's hands and ultimately his will would be done. Throughout his battle with cancer, Psalm 23 was a vital component that gave him peace in his heart and hope for the future. For this video, Curtis traveled to Israel, home of David. The place where David wrote this most precious Psalm allowed him to see exactly what David was talking about. There, Curtis spent time with shepherds and traveled through the "valley of the shadow of death". He explored and enjoyed the healing powers of lying down in green pastures and waiting by still waters. The resulting meditations captured on film provide a candid and beautiful combination of personal experience and the spiritual resources of the Psalm. Curtis' powerful journey and battle with cancer is inspiring and heart-achingly beautiful. Discover what it means to truly live the words of Psalm 23 and apply its meaning to your life. Whether you are walking through cancer or are experiencing another trial in your life, Reflections on Psalm 23 for People with Cancer is a powerful film that brings to life David's famous Psalm and helps comfort those faced with immense trials.
Other Reflections
Not only has Ken Curtis turned his battle with cancer around and made a full recovery, he also has used it to benefit others. His very first endeavor in filmmaking was Reflections on Psalm 23, and it was such a success that he decided to produce other films to help those dealing with cancer.
His next film was inspired by the Lord's Prayer. He wanted those watching his films to be comforted by the fact that we have an amazing God who will never leave us. Even though we sometimes feel alone, we can never truly be alone, for God is always watching over us.
His second film, Reflections on the Lord's Prayer for People with Cancer, is an inspiring journey through the Lord's Prayer. Curtis traveled to the places that were important to Jesus in order to bring this prayer to life. By visiting these locations, he saw things that Jesus saw and understood more about him. We can take comfort in the fact that Jesus went through a great trial too and was given the courage to face it by God himself. When he was crucified, he did not give up or get scared. Instead, he fully trusted that God's perfect will would be done and peace filled him.
Curtis uses this as an allegory of sorts to help those who are walking through a dark time in their life. He emphasizes the fact that we are never alone because God is walking with us through our deepest valleys in life. The Lord's Prayer is brought to life in a beautiful and vivid way never seen before.
Curtis has also made a video called Reflections on the Beatitudes for People with Cancer. This film goes through the Beatitudes presented in Matthew 5. He relates each of these points to having cancer and discusses what they mean for those dealing with this crisis. Join him as he visits fascinating sites in Israel and explores different areas mentioned in the Bible. He also visits the place where Jesus was supposed to have given the Beatitudes, which provides a whole new level of insight to Matthew chapter five.
These Beatitudes focus on blessedness and happiness that can be found through doing good for Christ. Curtis discusses how those in the midst of life's greatest trials can still find the same blessedness and the same joy mentioned in the Bible, though it seems difficult.
Each of these films is intended to help those who are dealing with cancer or with some other great crisis in life. They are designed to help viewers feel the peace and comfort of the God that is bigger than what they are facing. Though life seems overwhelming and unfair, God has promised to never leave us or forsake us, and Curtis seeks to help viewers understand this important concept. Hope is quite possibly the most important thing a cancer patient can have, as it inspires them to keep fighting and to find something to live for. These films are inspiring and full of the glorious hope that is found in our savior, Jesus Christ. Curtis uses his firsthand experience with cancer and his battle with finding hope to create poignant and moving reflections on concepts in the Bible.
Reflections on Psalm 23 for People with Cancer is not rated by the Motion Picture Association of America. However, it is considered suitable for all audiences. It is always recommended that parents preview all content to determine what is suitable for their family to watch.
---
DVD Features:
Subtitles: English
Bonus Material:
- A Prayer Based on Psalm 23
- Psalm 23 in Song - Welsh tenor soloist Huw Priday, British soprano soloist Lynette Langmead
- About the Music and Nazareth Village
- About Ken Curtis