---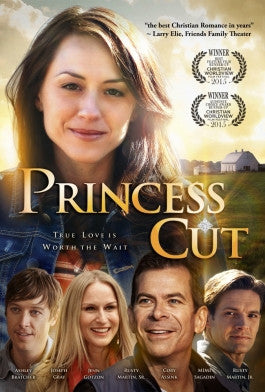 Sale
Princess Cut DVD
Additional Information
Cast: Ashley Bratcher, Joseph Gray, Jenn Gotzon
Director: Paul Munger
Producer: Paul Munger
Languages: English
Release Date: 11/2/11
Run Time: 97 minutes

See More
Sale price $8.95 Regular price $14.99 You save 40%
Estimated arrival between and for USA.

---
You might also like
Sale price $32.99
Regular price
$54.98
Sale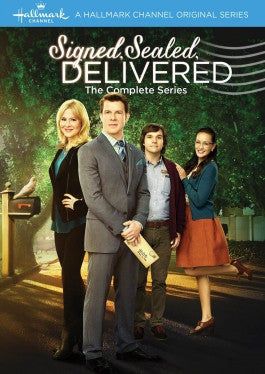 Sale price $24.95
Regular price
$29.99
Sale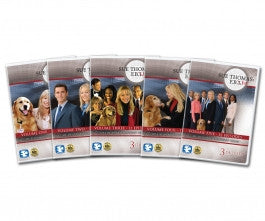 Sale price $95.99
Regular price
$119.99
Sale
—
Sold Out
Princess Cut DVD
Princess Cut, released in 2015, is a romantic Christian film that teaches viewers an important lesson about what it means to really love someone. Grace has lived on a farm in Carolina for her entire life, and is rooted deeply in the culture there. She loves her family and has many dreams in life. Her biggest dream is that of finding the perfect man, one who will get down on one knee and place the perfect ring on her finger. Grace is dating a man named Stewart, and their love seems strong. One night, as they celebrate fifteen months of being together, he informs Grace that he has a special date planned for them. Her heart starts to soar as she hopes that perhaps the time has finally arrived for all her dreams to come true. However, as they head out onto their date, things do not go as planned. Instead of her dreams of marrying Stewart clicking into place, they crumble around her, leaving her with emptiness inside.
How can she recover from the plans that she had? How can she move on and pick up the pieces? Led by her father, Grace goes on a spiritual journey to discover what it truly means to love someone. Can she learn how to love like God loves us and move on from the dream she has clutched so tightly? Princess Cut is an emotional and inspiring film that will spur viewers on their own journey to discover the true meaning of love.
Director Interview
Here at FishFlix.com we're really excited about the new Christian Romance film "Princess Cut." If you haven't yet, we encourage you to check out our podcast review of this important Christian film.
Paul Munger: Writer, Producer and Director of Princess Cut was kind enough to answer a few questions for FishFlix.com
FF:Paul, can you give us an off the cuff summary of Princess Cut? How would you describe the film in two sentences to an acquaintance in an elevator?
PM:At its heart, Princess Cut is the story of love sought, lost, and truly found. We journey with our spirited heroine, Grace Anderson, through the ups and downs of romantic relationships and along the way discover truths about love that we can apply to our own lives.
FF:Tell us a little about the journey to making Princess Cut. What led you to make a Christian romance film?
PM:One of the fundamental yearnings of the human heart is to love and be loved. But in our day and age, the meaning of love is widely misunderstood to simply be an emotion when in reality love is first of all a choice of the will to seek the highest good of another person. This in turn leads to action that finally results in feeling. And so we wanted to explore what that process of learning to truly love another person in a godly way would look like.
FF:Princess Cut has been called "The Best Christian Romance in years" by Larry Elie of Friends Family Theatre. That's great praise! How do you respond to that?
PM:We're certainly humbled and very appreciative of those kind remarks. I think one thing that sets this film apart from many other love stories is the way it presents the interaction between young singles and their parents. There are wonderful resources of wisdom and protection for the unmarried in the community where God has placed them.
FF:What other Christian Romances do you think Christian Movie fans would like?
PM:There are several great films that come to mind. Fireproof has to head the list for us in its depiction of a crumbling marriage that is saved by sacrificial love. For older audiences, Old Fashioned and The Song both had very unique and memorable perspectives on love, courtship and marriage. Our family has also enjoyed the Love Comes Softly and When Calls the Heart series.
FF:It must be satisfying to bring a project like this to completion. What would you say to encourage someone who is launching a new project or creating a film of their own?
PM:Making a film is a lot like love, actually! You birth an idea and nurture it to full maturity, then release it into the world so that it will bless others. Filmmaking, like love, requires hard work, humility, patience, good communication, and perseverance. Keep an eye on the object of your desire. If your goal is to honor God & bless others with your next project or film, this lamppost will guide you to excellence and give you strength to endure to the end.
FF:Thanks so much for your time Paul!
Learning to Love
The central theme throughout Princess Cut is the theme of learning how to love. Grace thinks that her love with Stewart is picture perfect and dreams of them getting married. However, she is forced to reevaluate their relationship when things fall apart. She has great expectations for a romantic proposal, but something else happens, causing their night to crumble.
This leaves her alone and heartbroken. She begins to think that marriage is not what God intends for her, though this is what she wants more than anything else in the world. Grace represents many of us who cannot let go of our dreams. We clutch them tightly and refuse to surrender them to God. When we do surrender them, we find that his will is infinitely better than what we could ever get for ourselves. Grace learns this the hard way when her dream relationship falls apart. However, she continues to do things her own way, looking for the dream man. It's only when she stops looking for herself that she is able to listen to God and find what he has in store for her.
Princess Cut teaches this important lesson, and is a wonderful film for young women especially. Romantic and inspiring, this film is entertaining and teaches a powerful lesson.