---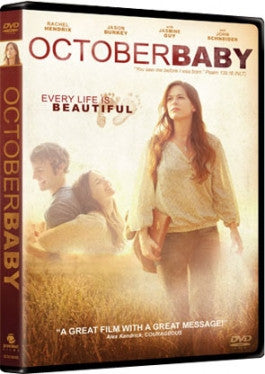 Sale
October Baby DVD
Watch Trailer
Additional Information
Director: Andrew & Jon Erwin
Languages: English
Run Time: 106 min
Subtitles: English, Spanish
Region Code: 1

See More
Sale price $9.99 Regular price $17.99 You save 44%
Estimated arrival between and for USA.

---
You might also like
Sale price $32.99
Regular price
$54.98
Sale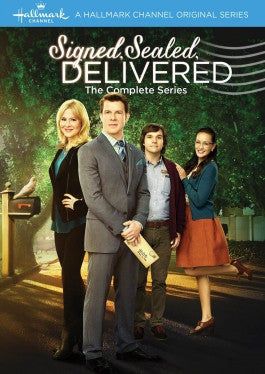 Sale price $24.95
Regular price
$29.99
Sale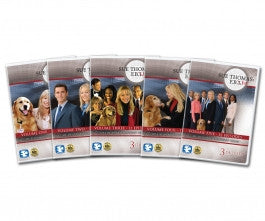 Sale price $95.99
Regular price
$119.99
Sale
—
Sold Out
October Baby
It's the incredible story that took the Christian movie world by storm -- October Baby, produced by John and Andy Erwin. This film tells the important message to the masses that every life is beautiful and every life matters, no matter how big or small. As Hannah steps up to make her big debut in the theatrical world in her new college environment, she suddenly collapses, much to the surprise of the audience; and Hannah herself! As she begins through the regular series of medical tests as the doctors try to understand what the problem is, she begins to see the signs that all point to one thing; she had a very difficult birth after a failed abortion. It's only then that she learns from her parents that she was adopted after her true birth mother tried to abort her and then eventually gave her up for adoption. This comes as an incredible shock to poor Hannah who's always thought that she was the true daughter of her adopted parents.
Angered, hurt, and confused, Hannah makes an impulsive decision to go off with her friends for a spring break road trip. While her friends are in it for the partying and fun, Hannah has an ulterior motive. She knows that they will be driving right by the place where she was born. And so she goes to the town, determined to find her true mother. Why, she doesn't really know. Is it to ask why she wanted to abort her? Or to forgive her? Hannah herself doesn't even know, but she knows that she does want to meet her birth mother. October Baby is a powerful film that tackles some very difficult questions and truly focuses on the importance and sanctity of life.
The Pro-Life Movement and the Importance of Life
One of the biggest issues in the Christian community, and something that is often talked about in Christian movies is the importance of choosing life. It's a struggle that has divided our country and become a big talking point on news, in elections, and in our government. Abortion is a difficult issue, and while it may seem like the easy way out of a lot of situations, it is a very serious issue and our views on it can literally be the difference between life and death. October Baby is one of the most influential pro-life films in the Christian movie genre and it makes important points about how every life matters and life is always the better choice. The Erwin Brothers and the many different organizations all involved in this film make the very important stand -- life matters!
The Story of October Baby
In October Baby, you will follow along with Hannah, a young girl who seems to have a good life. She's grown up with her family and lived happily with them. She has always had a flair for acting, and because of this, she has chosen to go into the theatrics department at her new college. And as she steps up to the stage, ready to make her big debut, she suddenly finds herself passed out on the floor because she can utter a singular word. Unsure of how this happened, she heads to the doctor where she undergoes a series of tests to hopefully determine what is wrong with her and what caused this whole situation. Hannah is worried that the fainting spell could be a sign of something worse, and she eventually discovers some horrifying news from the doctors -- She was born out of a failed abortion. Hannah goes home to mull over this new revelation and when she confronts her parents, it is revealed to her that they are not her real parents. She had a mother who tried to abort Hannah, but when Hannah was accidentally born, she was given up for adoption and taken to live with her parents who she has known her whole life.
In October Baby, this obviously comes as incredibly upsetting news. Hannah has lived her whole life believing that her adopted parents are her real parents, and she's never known that she tried to be aborted as an infant. Hannah finds herself angry, saddened, and confused. She doesn't know how to take this news or how she can even carry on with her life now.
With spring break rapidly approaching, she gets invited by her friends to go on a road trip over the week to travel the country, partying and having fun. While Hannah is not in the least in the mood to party, she realizes that she could use this road trip as an opportunity to go to her birthplace and discover more about her mother. She finds herself determined to meet her mother, unsure of why or what she would say. But, in October Baby, Hannah finds herself traveling with her friends in a big tour van, determined to find out the truth about her origins and where she came from.
Along the way, she begins to wonder about what she will actually say if she is able to meet up with her mother. Will she be angry with her? Will she break down and ask why her mother wanted to murder her? Or does she simply want to meet her mother so she can know what her life could have been like? Along the way, she seeks the advice from her closest friends. She is told that she should do the right thing and forgive her mother for trying to abort her. But can she do that? Can she forgive a person who essentially tried to kill her? Hannah finds herself only angered by the situation, with no forgiveness in her heart. But will she be able to discover faith and the truth in October Baby and be ready to forgive her mother for the horrible way she was treated at birth?
October Baby is a powerful film about the need to forgive while also exploring positive alternatives to abortion. This pro-life film took the Christian movie industry by storm when it first released and has since become known as one of the most powerful Christian movies to be released in recent years.