---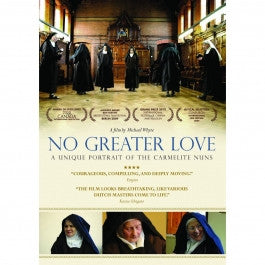 Sale
No Greater Love: A Unique Portrait of the Carmelite Nuns DVD
Additional Information
Languages: English
Run Time: 100 min
Subtitles: Spanish
Sale price $14.95 Regular price $19.95 You save 25%
Estimated arrival between and for USA.

---
You might also like
Sale price $32.99
Regular price
$54.98
Sale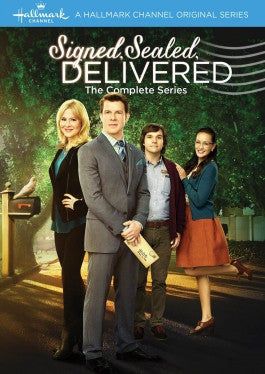 Sale price $24.95
Regular price
$29.99
Sale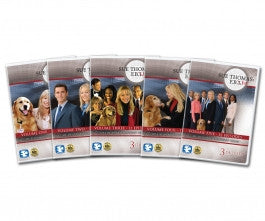 Sale price $95.99
Regular price
$119.99
Sale
—
Sold Out
No Greater Love: A Unique Portrait of the Carmelite Nuns
When it comes to dedication to film, people often think of the stories of great filmmakers and producers who dedicated years of their lives to their craft. Making a film is not an easy process and it takes multiple years of hard work to accomplish incredible things. This dedication to film can be seen in the making of the film No Greater Love: A Unique Portrait of the Carmelite Nuns. Filmed and created by Michael Whyte, this film was an incredible labor of love by this man. Michael Whyte was incredibly intrigued with the lives of the Carmelite nuns and he wanted to create a comprehensive film that would explore who they were and what they stood for. He wanted to get into the walls of the nunnery and see how it functioned and how the women worked together to create this unique community centered on God. And so Whyte wrote a letter, asking for permission to come in and film their location, showcasing their lives and the way that this community of women came together to love each other and work together to continue doing what they do. However, he was denied access, as it was an incredibly private place. A Less dedicated filmmaker would have been discouraged or backed off. But Whyte would not go down so easily. He knows that this was an important story and their lives needed to be shared with the world. And so he continued corresponding with the people there, and after ten years of communication, he was finally given access to visit the facility and learn about who the Carmelite nuns really were. This was an incredible and rare opportunity, and Michael Whyte was excited to finally have unrestricted and full access to the location, where he could learn about and film this unique congregation of people. Michael Whyte's journeys are documented on this thrilling video, No Greater Love: A Unique Portrait of the Carmelite Nuns.
The Carmelite Nuns
When Michael Whyte was given access to film No Greater Love: A Unique Portrait of the Carmelite Nuns, he had no idea what to truly expect from his experience. He didn't know how much he'd be able to see and he may not have been entirely sure how the film would play out or what would be learned through the experience. Much to his pleasant surprise, he was able to encounter God in this facility and there experience what a true community of like-minded people working together looked like. The Carmelite nuns live in the monastery of the Most Holy Trinity, located in Notting Hill in London. This location, known as a monastery was built in the year 1878 and has been used ever since as a place of worship for these people. Here in this unique monastery, you will find the Discalced Order of Carmelites, a very special group of nuns known for their vows of chastity, discipline, and silence. The nuns very rarely leave the monastery, going out only for regular doctor and dentist appointments.
But who are the Carmelite nuns? What do they believe and what sets them apart? Why was Michael Whyte so persistent about filming this place and learning more about the residents of this monastery? The truth is that the Carmelite nuns are well known for their many different disciplines and practices and something about the experience of being in this monastery fills you with joy and a greater sense of peace that God is alive and well. The characteristics of the Carmelite nuns include the discipline of silence, something very unusual and unique to our culture. In No Greater Love: A Unique Portrait of the Carmelite Nuns, you will learn about these nuns who choose to go about their day without the need to speak. Apart from two separate times in the day when they are allowed to speak in certain points of recreation, they remain silent, diligently performing their tasks, and working to please the Lord. No Greater Love: A Unique Portrait of the Carmelite Nuns is a fantastic look at their lives, as it shows the contrast between our materialistic ideals and the simple lives of these nuns. The film has one a variety of awards and follows the previous film from Michael Whyte, entitled Into Great Silence. The film takes a look at a year in the life of the monastery and how things work with the Divine office and the work needed to be done around the monastery to keep it working and running. The film is centered around Holy Week and tells of the year where an older nun dies and a new is professed into the monastery. The film is meant mostly for meditation, and its quiet and simple nature lends itself beautifully to an opportunity for contemplation. But, it also contains a number of interviews and dialogues with the nuns who live in the monastery. As the film progresses in No Greater Love: A Unique Portrait of the Carmelite Nuns, you will see the nuns give various insights and glimpses into their daily lives. They confess that they are still human beings, and they experience moments of pain, suffering, and even doubt. But through it all, they find triumph in their faith and are able to get through the difficult moments in their lives.
A Contrast from our World
No Greater Love: A Unique Portrait of the Carmelite Nuns offers up an interesting contrast from what we're used to in our world. We know the world as being full of things to do, and we can become simply overwhelmed by all of the things this world has to offer. We want to always be talking and always sharing what we're doing with anyone who has an ear to hear. In comparison, the Carmelite nuns live simple lives and try to stay quiet, complacent and contemplative. It's an interesting idea, and maybe one that we can benefit from. There is a time for solitude and silence, which is something this film can help convey.