---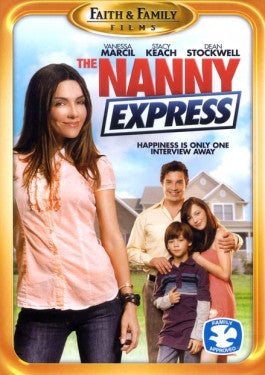 Sale
The Nanny Express DVD
Watch Trailer
Additional Information
Cast: Vanessa Marcil, Brennan Elliott, Stacy Keach, Natalie Dreyfuss, Dean Stockwell
Director: Bradford May
Producer: Erik Heiberg & James Wilberger
Languages: English
Dove Approved: Dove Family Approved
Release Date: 5/3/06
Run Time: 89 Minutes
Screen Format: WS
Region Code: 1

See More
Sale price $5.99 Regular price $14.99 You save 60%
Estimated arrival between and for USA.

---
You might also like
Sale price $32.99
Regular price
$54.98
Sale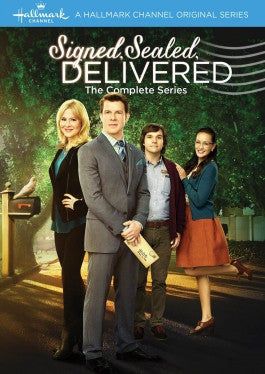 Sale price $24.95
Regular price
$29.99
Sale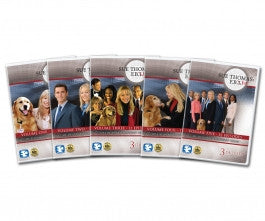 Sale price $95.99
Regular price
$119.99
Sale
—
Sold Out
The Nanny Express
David was a widowed Dad in need of some help. Kate was a nanny in need of some work. They seemed like a perfect match ...until the kids arrived. From Hallmark Channel comes a hilarious story of family and friendship that comes in the most unexpected of places, The Nanny Express. Starring Vanessa Marcil, Brennan Elliott, Natalie Dreyfuss, Uriah Shelton, and Stacy Keach in a family friendly comedy that will warm your heart.
The Film
When David Chandler (Brennan Elliott) lost his beloved wife he lost more than his soul mate, he lost control of his kids. Emily (Natalie Dreyfuss) and Ben (Uriah Shelton) did not used to be the terrors on the block, but the loss of their Mom has shattered them. Now, the busy businessman is at his wits end. Nannies come, and nannies go. In fact, they go more often than they come thanks to the work of his youngest child Ben. Everything you can think of, from spiders in the bed to plugged toilets and everything in between Ben has done (or at least tried to do). Life looks like it is on a slippery (literally. . .Ben wields a pretty skilled bar of soap) slope to the bottom for the Chandler family of The Nanny Express. Then, into this spider and bubble filled mayhem of the Chandler house walks Kate Hewitt(Vanessa Marcil). Now Kate is a pretty, smart, funny, busy student in need of a job. Luckily she also seems pretty good with kids, she is a nanny, and seems prepared for anything. Check, check, check on David's list. One thing the would be heroine of the The Nanny Express and the Chandler household is not prepared for, however, is the terror on the block named Ben. Yep, you got it, the kid she is supposed to watch. Luckily for Kate, a little bit of friendship, a listening ear, and a few bedtime stories are all that are needed to win over the heart of the unruly kid (though she does experience a few of the spiders and bubbles along the way). Her charm, laugh, and genuine love of his kids quickly win over David's heart as well. Though the two take it slow it quickly becomes apparent that they are falling in love. While the youngest Chandler of The Nanny Express is exceptionally excited about the prospect of his Dad falling in love with his new best friend/nanny, the elder Chandler daughter is not so hip on the idea. In fact, she is far from excited. As Kate tries to reach out to the young girl still recovering from the loss of her mother, she only finds herself farther away, while in the meantime she is growing more and more dear to David and Ben's hearts. Will Kate and Emily be able to understand one another and all become one big family, or is David about to loose his new found love?
The Importance of Family
The Nanny Express is filled with funny moments, plenty of bubbles, spiders, and a few bed time stories. The sweet, heart warming story is filled its fair share of positive themes as well. The film The Nanny Express revolves around the idea of family. When their wife and mother dies, the Chandler family is left crushed and isolated from each other. Without communication, and a willingness to love each other they grow apart, and without family they struggle to adjust to their new lives. When Kate arrives, however, the entire family (Emily included) realizes how important family is. Throughout the film family is portrayed as the people who will stick by you through the bad times, and can be your closest friends and allies. The Nanny Express is a film all about finding the true meaning of family once again.
Don't Judge
The saying goes "don't judge a book by its cover," but no one ever said, "don't judge a nanny by her appearance." Though Kate may not look like the ideal nanny, she soon shows, as viewers will see in The Nanny Express, that it does not matter what you look like it only takes a little bit of faith and a whole lot of heart...well, and maybe a few bedtime stories for good measure. Much of Emily and Kate's tumults relationship is based on Emily's preconceived notions of nannies and of Kate. Only later in the film, does Emily realize how much she and Kate have in common, and how much she could actually love Kate if she gave her a chance. The Nanny Express is filled with the message that you should never judge someone by their appearance alone. Sometimes exactly what you need is hidden in the most unexpected of places, and sometimes a person may have just the same struggles as you do.
Conclusion
Filled with plenty of tears, laughter, and a little bit of romance, The Nanny Express will entertain viewers of all ages. From spiders to snakes, to soap, bubbles, and bedtime stories the film The Nanny Express will have the entire family laughing along. Filled with positive themes and messages, The Nanny Express serves as an entertaining yet powerful reminder of the importance of family, not to judge a book (or nanny) by its cover, and to count your blessings every day. Soap may not solve all your problems, but bedtime stories are sure to be a way to win the heart of every child, and every viewer in The Nanny Express.
The Nanny Express has not been rated by the Motion Picture Association of America. This film received the "Family Approved" award for all ages from the Dove Foundation. As always, it is recommended that parents preview all content to determine what is suitable for their children, but the film The Nanny is generally considered appropriate for most audiences.