---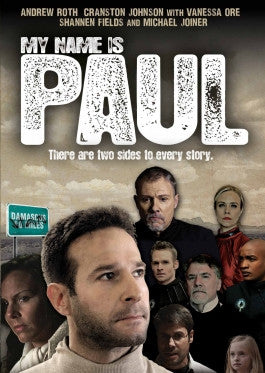 Sale
My Name Is Paul DVD
Additional Information
Cast: Andrew Roth
Director: Trey Ore
Languages: English
Release Date: 4/6/10
Run Time: 80 minutes
Closed Captioning: Yes
Region Code: 1

See More
Sale price $14.58 Regular price $22.99 You save 37%
Estimated arrival between and for USA.

---
You might also like
Sale price $32.99
Regular price
$54.98
Sale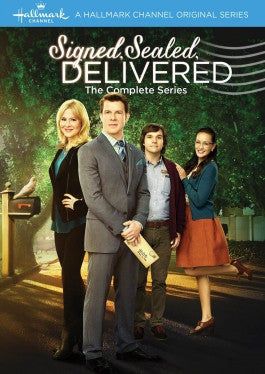 Sale price $24.95
Regular price
$29.99
Sale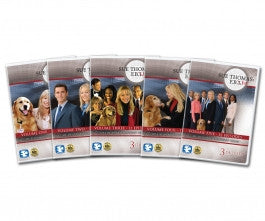 Sale price $95.99
Regular price
$119.99
Sale
—
Sold Out
My Name is Paul
My Name is Paul is the incredible and dramatic story of a man who feels he is too far gone to ever find hope or repentance again. After becoming blinded by faith, Paul becomes determined to meet Peter and kill him, bringing an end to an uprising of religious fanatics. These people of religion to not line up with the teachings of the Godless government and so Paul makes it his mission to find Peter and bring an end to his leadership and supposed corruption of these people. But in this compelling and dramatic movie, Paul encounters something that will change his life forever and leaves him completely stunned by his path and his future. Unsure of how to proceed, Paul once again searches for a way to find and meet the leader Peter, only this time he wishes to join them -- not persecute him!
This incredible film is modern post-apocalyptic retelling of the classic story of Paul on the road to Damascus and his journey from Saul to becoming Paul, a missionary determined to spread the word of Jesus to as many people as possible. My Name is Paul helps bring this story to live to a new generation and audience with an incredible story featuring actions and thrilling moments. This is no typical Bible story or allegory -- this is a thrilling and gripping film that will keep you on the edge of your seat from start to end. This film is a gripping adventure sure to inspire and be enjoyed by your entire family.
Parental Review
Since My Name is Paul is a thriller with scenes of action and violence, it is not recommended for children under 12 years old. The Dove Foundation has given this film a family-approved seal for ages 12 and up. While the film doesn't feature any language or sexual themes, there is a certain amount of violence and scenes involving drug use and alcohol. While it is approved for ages 12 and up, we always recommend that you watch the film first and decide if it's appropriate for your particular family. We know that every family is different and so we recommend that you watch it first and decide for yourselves.
My Name is Paul Story
In this incredible and thrilling story, you will meet Paul, a man determined to serve and help the government and rid the world of those who disagree with their views. There has risen a new group of religious people, led by Peter who are trying to teach beliefs that are against what is taught by the government. When Paul gets wind of this, he makes it his goal to find all of these people who disagree and stamp them out once and for all. And Paul is a dangerous man -- he doesn't merely want to bring them into custody or capture them. Paul is out for blood. The people fear him, but this doesn't make his job easy. He's still confronted with many trials and he struggles to find these religious fanatics and bring them into justice. My Name is Paul follows this dangerous man as he tries to bring down these religious fanatics and get to their leader, Peter, before anyone can stop him!
This is the story of My Name is Paul, but everything changes for our main character Paul when he is struck by a divine experience one day. The things he sees and experiences while he is here completely changes how he thinks and how he feels about Peter and his followers. After this encounter, he renews his desire to meet with Peter. Only this time, he doesn't want to kill Peter. He wants to hear Peter and find out for himself if Peter is preaching the truth!
The True Story of Paul
As you've probably discovered by now, this is a clear allegory to the true story of Paul as found in the Bible. We know from the Bible that Saul was a dangerous man and was determined to stamp out all of the Christians that were rising after Jesus' death and resurrection. Saul wanted to stamp out these Christians and stop the spread of the Gospel message before it could continue. This is what Saul was known for at this time and it is even documented that Saul was present at the stoning of Stephen. It appears he looked on as it happened but made no moves to stop it. This might have been part of what inspired him to start killing Christians and hunting them out and arresting them. My Name is Paul directly mirrors this story with Saul determined to hunt down and kill those who defied the government.
For Saul, everything changed one day on the road to Damascus. Saul was travelling, presumably on his way to persecute and stamp out more Christians when he was struck blind in the middle of the road. During this time, Jesus appeared to him and asked why he was persecuting his followers. When Paul experienced this, it was in that moment he realized that everything that the Christians had been teaching was absolutely true. He had been in the wrong -- these Christians were right and he needed to follow Jesus too! This led Saul into Damascus where he met Ananias. This man healed him of his blindness and it was from this point on that Saul changed his name to Paul and quickly became known as one of the most devoted and successful missionaries of all time. Paul devoted his entire life to spreading the Gospel message and was willing to sacrifice everything to see this accomplished. My Name is Paul is a parallel to this story and tells an incredible story all while giving an incredible message that we never have to give up on hope. God will always take us back, no matter how far we've run from him.
My Name is Paul has a strong message of forgiveness and serves as an important reminder that God will always take us back no matter what we've done or what we've been through.