---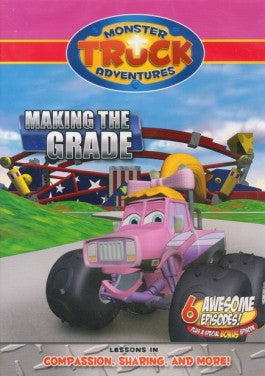 Sale
Monster Truck Adventures: Making The Grade DVD
Additional Information
Producer: Rising Star Studios
Languages: English
Dove Approved: Dove Family Approved
Run Time: 93 minutes
Region Code: 0
Sale price $3.99 Regular price $9.99 You save 60%
Estimated arrival between and for USA.

---
You might also like
Sale price $6.99
Regular price
$19.99
Sale
—
Sold Out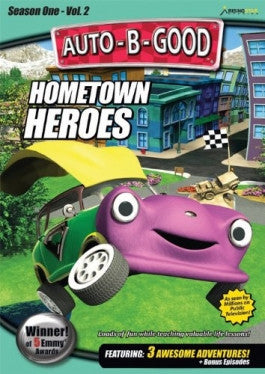 Sale price $6.99
Regular price
$19.99
Sale
—
Sold Out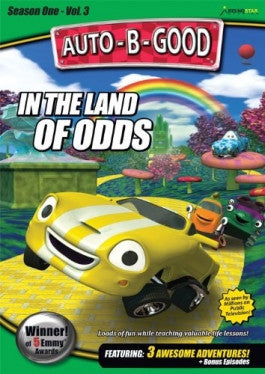 Sale price $3.99
Regular price
$19.99
Sale
—
Sold Out
Monster Truck Adventures: Making The Grade DVD
Monster Truck Adventures: Making the Grade is a collection of 7 fun and educational stories featuring the entertaining and lovable monster truck gang. In addition to being entertaining and exciting, each episode teaches an important lesson about sharing, compassion, worrying, and much more! Join all of your favorite characters from Crushington Park as they explore scripture and see how it applies to everyday life. Each adventure teaches a new lesson that is relevant and will appeal to your kids to help them learn all about faith and some of the basic moral principles of Christianity. Every episode is a new adventure for your kids to enjoy and learn from!
A spin-off of another popular animated children's show, Auto B Good, Monster Truck Adventures: Making the Grade is full of fun and exciting stories mixed with important lessons and exciting animation. The impressive 3D CGI animation is one part with other great classics like VeggieTales and helps to be a fun and appealing way for your children to learn more about the Bible. The stories are quick, 10-minute adventures that will keep your kids entertained from start to finish. This DVD features 6 episodes, along with a special bonus episode revolving around compassion. These are basic lessons and principles that you can help apply to your everyday life. This series spotlight family involvement and works as a great tool for you and you children to experience together.
Auto B GoodåÊ
Monster Truck Adventures: Making the Grade is the incredible spinoff series based on the original Emmy award-winning series, Auto B Good. Auto B Good was created in 2003 and since then has released over 60 episodes, each focusing on a different character trait or lesson for kids to learn. Based in Minnesota, Auto B Good has become a very successful Children's television show and features a colorful cast of car character for kids to enjoy and spend time with.
Featuring Johnny, the daredevil of the group, he loves to drive fast and get car washes often to keep up his shiny and squeaky clean appearance. Cali, one of Johnny's best friends, also is a regular character in the show. She likes to think of herself as the queen of the town, although this title is self-imposed and really only followed by her. EJ is a smaller car, but he always tries to keep up with all of the big cars. Trying to be just like the older guys in the group, he wants to be like them and follows them around everywhere. Other characters in the cast include Izzi, the Professor, Franklin, Miles, and Maria.
Monster Truck Adventures
This series is a spinoff of the Auto B Good franchise, featuring bigger monster truck cars. Monster Truck Adventures: Making the Grade features six main characters. Meteor, the main character and leader of the group, is the fearless hero of the group. He has lots of cool gadgets and is easily the coolest moon rover around! Little tow is the son of world champion monster truck Bigfoot, and hopes to someday be just like his dad. He enjoys towing his friends when they get stuck and spending time with them.
Ponytail is the girly girl of the group, but she is easily one of the most talented monster trucks around. The athletic jumper in the group, she always likes to reach out to others and make new friends. Junkboy is the odd duck in the group and despite his propensity to jump in the mud and his love of hauling trash and getting dirty, the whole group loves him. Jose is the big firetruck in the group, who loves to drive fast and shoot water with his built in fire hose. While he can be brave at times, he also tends to be rather headstrong. And finally, Sarge is the tough military truck of the group. Despite his smaller size, he can keep up with the rest of the group and his power definitely helps to compensate. Sarge is the type of guy who would rather destroy a wall than jump over it.
EpisodesåÊ
Monster Truck Adventures: Making the Grade contains seven episodes, totaling the DVD to 93 minutes of content! The DVD features six episodes with a special bonus episode featuring a charming tale about the importance of compassion.
In episode 1, entitled Special Delivery, the gang learns an important lesson about understanding one another. After a crazy series of events, Junkboy and Amby fall under the impression that aliens are planning to land on the planet and take over the world. Together they must learn the importance of getting their facts straight and not jumping to conclusions.åÊ
Episode 2, Charity Drive, teaches another important lesson about Charity and giving to others. It shows just how important it is we give to people who may not have as much as we do. Jose and Little Tow end up in a serious competition when they try to out-give each other.
In Episode 3, Meteor and Little Tow end up watching a set of very high-energy twins to do a favor for Little Tow's mom. This video teaches an important lesson about worrying and how we don't always have to worry because God is in control!
In Episode 4, which is called "April Fool's Day" teaches an important lesson in compassion. As the holiday is known here, April Fuel's Day, Little Tow learns what it's like to be on the receiving end of a prank and how it's not nearly as fun for the person getting pranked as he thought it was.åÊ
Episode 5, Monster Truck Club teaches the gang how to share as they start up a club and have to elect a president to lead the group. When this leads to Little Tow getting hurt, they learn that sharing is a critical part of everyday life.
And finally, the series wraps up with episode 6, simply called "Boomers", which teaches kids about the importance of the agreement. After a series of tire blowouts, the trucks begin to blame it on "boomers", the monster truck equivalent of cooties!
ConclusionåÊ
Monster Truck Adventures: Making the Grade features 7 fun and educational episodes spotlighting several basic life lessons. This is a fantastic show for kids of all ages!