---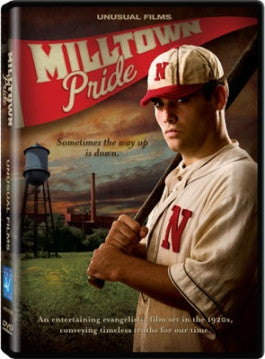 Sale
Milltown Pride DVD
Watch Trailer
Additional Information
Languages: English
Run Time: 135 Minutes
Closed Captioning: Yes
Region Code: 0
Sale price $8.33 Regular price $19.99 You save 58%
Estimated arrival between and for USA.

---
You might also like
Sale price $32.99
Regular price
$54.98
Sale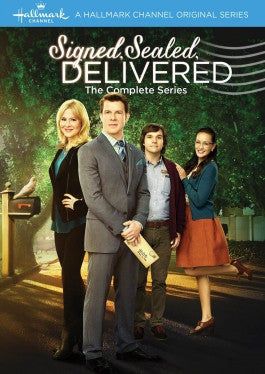 Sale price $24.95
Regular price
$29.99
Sale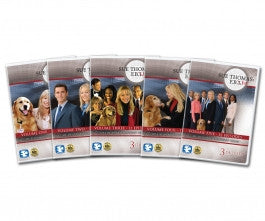 Sale price $95.99
Regular price
$119.99
Sale
—
Sold Out
Milltown Pride
Milltown Pride is a Christian movie for people who enjoy baseball and chronicles the journey of one young man who faces down opposition to pursue his dream. Taking place in carefully reproduced 1920s, Milltown Pride offers families who love the sport of baseball a story of coming of age, overcoming obstacles, rebellion, and salvation. For anyone who loves baseball or historical dramas, this DVD is a must.
Storyline
Every one of us faces opportunities to quit on our dreams, and for Will Wright, his dreams of playing baseball in the major leagues may cost him everything. Taking place in South Carolina in the 1920s, Milltown Pride follows Will as he is drawn toward his dreams and must fight to pursue them against opposition of many sorts. Though he doesn't always make the right choices, Will is persistent, even to the point of working at the local mill against the wishes of his father. Leaving behind the privileges of wealth, Will becomes a burgeoning star on the mill baseball team, despite difficult circumstances and even some enemies.
Will faces some difficult decisions, and he is confronted by the differences in the way he was brought up and how the local mill workers live a survival-based existence. He sees firsthand how appealing it is to drown sorrows in alcohol and is tempted. Is he really any different because of the way he was brought up than these hard-working men? Does he have the right to judge them for their behavior? And what happens when he becomes one of them?
During his adventure, Will meets both friends and antagonists, including Pike, a heavy hitter for the Newton Mill Sluggers. However, Will soon earns a measure of respect from his teammates by being an amazing baseball player, giving way to challenges of another sort: drinking. Taking place during prohibition, Milltown Pride shows how Will faces the alcohol available to the mill workers and the understanding that he will be accepted if he joins them. Lifelong friend Chick has no problem with drinking even though it's against the law, but Will is resistant at first.
Also, during this time, will meets young Ginnie Douglas, an outspoken mill girl who becomes interested in Will as his popularity grows, and he in turn becomes more interested in her! While Chick meets Jesus, Will is still focused on baseball, despite Ginnie's interest in him. Continuing enmity with Pike creates tension about which one will advance past the mill league and get a chance to play baseball for the major leagues.
Will has experienced a rise in popularity, but what goes up must come down, and he eventually has to find out what really matters. But will he do it in time? At first Will fails to recognize that he, too, is in need of salvation for his own until, after a fall from grace, famous evangelist, Billy Sunday, preaches a stirring message that convicts Will of how he has behaved and of his need for salvation, repentance, and forgiveness.
Awards
Milltown Pride won multiple awards, including the Golden Crown award for Best Youth Film in 2012 and Best Faith Based Film in 2012 from the Myrtle Beach international film Festival. It also received the Platinum Remi Award at the WorldFirst International Film Festival in 2012 and was selected or nominated for many other awards in the Christian movie industry.
Talk It Over As A Family
In Milltown Pride, Will Write faces opposition from his father as he pursues his dream of playing baseball. His rebellion against his father's authority doesn't necessarily set the best standard for behavior for young children. Discuss with your family how we can better behave when we face opposition and how to respond to authority. Did will make good choices or bad ones when it came to this? When has your family experienced frustration with authority figures?
The setting of this 1920s-era Christian baseball movie involves social and racial tensions, as well as behaviors such as drinking moonshine during prohibition. Take the opportunity to discuss with your family why a Christian movie might portray people making choices or doing things such as drinking that not all Christians can agree on. What does your family believe about sensitive matters such as the ones discussed in Milltown Pride?
In this movie, the preacher Billy Sunday speaks at a church Will visits. Having been confronted with his selfishness and single-minded focus on his dream of playing baseball, Will finds himself convicted by what the famous preacher says in his sermon. Try talking it over with your family about how we can make wrong choices and find our out that we all need to repent and receive forgiveness from Jesus Christ. Ask the members of your family what they have done that they need forgiveness for. Did Will's true conversion to Christianity mean the end of his dreams?
Milltown Pride portrays baseball hero Will rising in fame and then tumbling in shame as he makes poor choices. Discuss with your family what our choices say about us and our future. What was wrong with what Will did? Was how he handled it the right thing to do? What role did his friends play in his choices, and what does that say about our own friendship choices?
Production
Milltown Pride is the product of Bob Jones University, a conservative Christian school with a history of media. The movie was popular with critics from the Christian movie industry, won multiple words, and presented the whole family with a period baseball piece that is sure to entertain. This drama, 135 minutes long, was written by David Burke, produced by Unusual Films, and was directed by Tim Rogers. Darren Lawson served as the producer. Unusual Films is the resident film studio at Bob Jones University and has been making movies since the 1950s. Early productions included classics such as Macbeth, Calgary, You Can't Win, and others. Milltown Pride takes its place as the studio's most recent feature-length film and garnered awards for its representation of South Carolina in the 1920s. It offers families entertaining options that also uplift spiritually by presenting the gospel.