---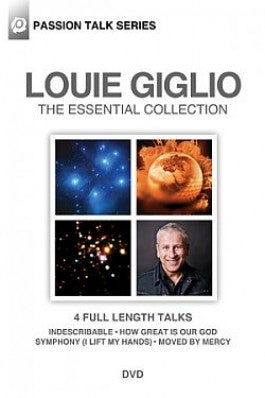 Sale
Louie Giglio: The Essential Collection 4 DVD Set
Watch Trailer
Additional Information
Director: Louie Giglio
Producer: Capitol
Languages: English
Run Time: 200 Min
Region Code: 1

See More
Sale price $22.07 Regular price $24.99 You save 12%
Estimated arrival between and for USA.

---
You might also like
Sale price $32.99
Regular price
$54.98
Sale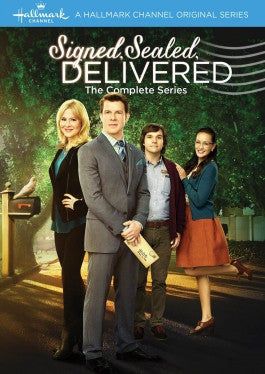 Sale price $24.95
Regular price
$29.99
Sale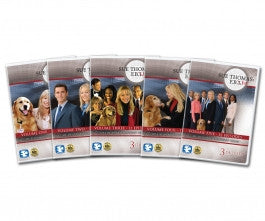 Sale price $95.99
Regular price
$119.99
Sale
—
Sold Out
Louie Giglio: The Essential Collection 4 DVD Set
If you're a fan of Louie Giglio and are looking to find out more about his talks and his different lessons on the different aspects of faith, life, and Christianity, Louie Giglio: The Essential Collection 4 DVD Set is the perfect way to dive into his talks and learn more about his incredible teaching. This all new DVD collection contains 4 of Louie Giglio's best talks, including Symphony (I Lift My Hands), Indescribable, How Great is our God, and Moved by Mercy. These four talks outline different aspects of life and our commitment to faith and you will be incredibly moved by this incredible stories and talks by Louie Giglio. As you learn more about Giglio and hear more of his words, you'll be inspired and moved in your faith and walk with Christ. With an approximate runtime of 200 minutes, you will be able to experience four of Louie Giglio's most timeless and powerful sermons. If you're ready to dive deeper into your faith and discover more, you can learn so much from this Passion Talk Series DVD - Louie Giglio: The Essential Collection 4 DVD Set.
About Louie Giglio
Louie Giglio is the pastor of an Atlanta, Georgia church called Passion City Church. This incredible movement is a worldwide effort of people around college-age who are looking to change the world by living for Jesus Christ. Giglio is an effective and engaging teacher and speaker who has helped inspire thousands to come to a relationship with Christ. You can learn more about him through his talks and by seeing how he uses lessons in life and his charismatic personality to help inspire people and encourage them to bring about change in their own lives. He always hold to the belief that we are never too far to come back to a relationship with Christ and that He wants each and every one of us to come to have a relationship with him. Giglio has a masters in divinity from Southwestern Baptist Theological Seminary and currently lives in Atlanta creating books and DVDs to help inspire people while running his Atlanta-based church.
Symphony (I Lift My Hands)
In this first talk by Louie Giglio on the Louie Giglio: The Essential Collection 4 DVD Set, you will begin to discover the incredible intricacies of creation and you'll begin singing the praises of the Creator who created this vast and expansive universe. God created this incredible world and put so much into it that we can only help but be in awe of everything he has done and created. But there is still a nagging question plagues many people's minds. Why did God pay such special attention to us? Why did he pay the ultimate price to give us a way out into eternal life? Why would a God who has such a massive world take the time to devote an incredible sacrifice just for us? Could it simply be that we are loved and prized beyond measure or fathomability? Does God truly love us that much? Are we truly and tangibly loved by the God of the universe? This incredible talk from Louie Giglio shows how God has given us an incredible and stunning amount of grace. And this grace and forgiveness that he has given us should lead us to only one place -- on our knees in absolute and total worship to him.
Indescribable
The next sermon on the Louie Giglio: The Essential Collection 4 DVD Set is "Indescribable" which again explores the beauty of God and shows his power and ability to work through our world. Our world is broken and we are sinful people. But that doesn't mean that our world isn't incredibly and overwhelmingly full of good and amazing things. Our world is massive, more large and amazing than anyone can even begin to fathom. But God still took the time to handcraft each one of us and make sure that we are all loved and cared for by Him. God never ignores or turns his back on any one of us -- we are looked after and loved by this incredible and supreme being who is always watching over us. He is full of incredible power and there is no way we as humans could ever fully understand the depth of his power or love for us. There's only one way to describe it -- and that's indescribable.
How Great is our God
In the third DVD in the set, we have another powerful Louie Giglio talk. This specific sermon focuses on the heart of worship and how people all around the world can focus on this and come together to worship God. It shows how God was the designer of our universe and how he was able to make this incredible world that we live in, complete with everything we can see all around us. And yet, despite the complexities and intricacies of our whole world, he still took the time to pay attention to us and sacrifice his son, a sacrifice he did not need to make, so that we could be saved and come to spend an eternity with him. Giglio has a very special preaching style that lets him "zoom out" on the universe, examine the whole universe together. You will see just how incredibly and beautifully God formed this world and how we can understand it and worship Him. The Louie Giglio: The Essential Collection 4 DVD Set continues with this fantastic entry.
Moved by Mercy
The Louie Giglio: The Essential Collection 4 DVD Set concludes with one last look at God and his nature. He asks the question you may have asked yourself before as well - is there anything we can do that will forever separate us from God? Can we ever be so sinful that we cannot return to experience God's love? And Giglio's message rings loud and clear: there is nowhere you can go that He cannot find you and bring you back. God's mercy is unfathomably great and he will always take us back, no matter the situation.
The Louie Giglio: The Essential Collection 4 DVD Set is an incredible look at God's power, love, and mercy for us and is an inspiring series of talks that will surely encourage you in your faith.