---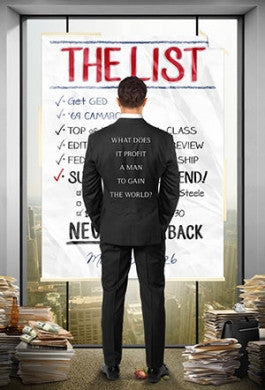 Sale
Sale price $6.99 Regular price $19.99 You save 65%
Estimated arrival between and for USA.

---
You might also like
Sale price $32.99
Regular price
$54.98
Sale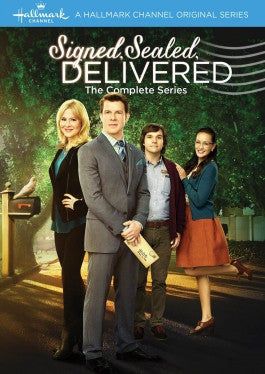 Sale price $24.95
Regular price
$29.99
Sale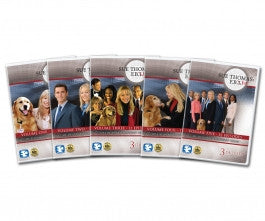 Sale price $95.99
Regular price
$119.99
Sale
—
Sold Out
The List
For Jack Stone (Scott Pryor) the list was his key to survival. At the age of twelve he lost his parents to drug dealing. A few years later he ran away from his foster home--and his brother Dylan (Lane Miller). Now years down the road he is a successful lawyer with a house and a beautiful wife named Molly (Kristen Sharp). He claims all his success in life is due to his list, and God is not on it. When tragedies begin to strike his life, however, will he learn to trust the God that never seemed to care? Or will a piece of paper be his only consolation. The List is a beautiful story of trust and forgiveness that will inspire young and old alike.
Forgiveness
The most powerful theme of this film is forgiveness. Forgiveness for others when they hurt us. Forgiveness for ourselves when we mess up. Forgiveness for God when we do not understand. Accepting forgiveness from others, and from God. In the film The List Jack Stone has to wrestle with all these types of forgiveness. He has to learn how to forgive his parents for the many ways they mistreated his brother and him as children. He has to learn to forgive himself for hurting and caring little for his wife's feelings. He also has to learn how to forgive himself for a tragic accident. He must learn how to forgive God for allowing his son to be killed, as well as allowing him to have a dis-functional childhood. He must learn to humble himself enough to accept forgiveness from his brother, who, after being abandoned by Jack, spends years tracking him down so he can forgive him. Most importantly, however, Jack has to learn how to accepts God's free gift of mercy, grace, and forgiveness for his own life. The message of forgiveness is extremely powerful in the film The List, with characters across the storyline learning how to forgive each other, and God. It causes the viewer to consider who in their own life they may need to extend forgiveness to, as well as reminding them of the freeing power forgiveness has on their lives.
Importance of Family
Another powerful theme of this movie is the importance of family. Jack Stone grew up with a dis-functional family, and then without a family altogether. To him, family is the last item he would dream of adding to his list. To his wife Molly, however, a family should be the very first item. Even when God blesses them with a family Jack cannot understand the gift he has been given. When God takes it away, however, he realizes how important it really was. Family is important. Family matters. Families should forgive. Those are three of the pinpoints of this theme. When Jack's brother Dylan, who has spent his life trying to find him, shows up telling Jack he forgives him Jack finally begins to understand what a real family looks like, and how a real family loves. Dylan has one important message to add to this value, however. He reminds Jack, and the viewers, that God should be at the center of our lives, our family, our lists, and our future.
God In Our Lists
At one point during the film Jack's friend Brian Mullenax (Montell Jordan) tells him that though his list may have a lot of great things on it, they will not mean anything or lead to anything until God is on the list as well. Though Jack checks item after item off of his list, they will never amount to anything except a few moments, hours, or years of satisfaction. They will soon lose their shiny newness and something will need to fill their place or Jack's life will become meaningless. With God out of the picture things crumble and fall apart. Families fall, happiness disintegrates, and peace becomes ever more elusive. Jack realizes this as his life begins to come apart piece by piece. Without God holding it together, the list becomes little more than a sheet of empty words. God is the glue that holds the pieces together. Throughout The List this important lesson is played out in front of the viewer. Reminding them about what really matters in life.
Valuable Reminders
Overall the film The List serves to remind the viewer of things they may have forgotten or come to appreciate less. It serves as a potent reminder of how important, how necessary, and how freeing forgiveness is. That we need to not only forgive others, but we need to forgive ourselves, and most importantly we need to accept God's freeing forgiveness in our lives. The List reminds the viewer of how valuable family is. That family serves as an encouragement, that families love, and that families forgive. Even if your family is not dis-functional, this film will serve as a reminder of why God places families in our lives, and why God intends for us to be a part of one. Most importantly, perhaps, of all the reminders, this film will reopen your eyes to the simple yet profoundly important fact that God is the glue in life. We can write our lists. We can check items off our list. We can feel satisfied over our lists for a while. Yet, without God holding together the pieces of our lists. Without God directing the steps of the list. Without these, our satisfaction, and the pieces of our lives (built out of these lists) will eventually become exactly what they are--pieces. Broken pieces. The List will encourage viewers of all ages to see their lives with greater clarity and appreciation. Reminding them that God should be item number one on any list they make.
The List has not been rated by the Motion Picture Association of America, and may include violence and issues not suitable for younger viewers. The List did receive the "faith friendly" award for ages twelve and up from Dove Foundation. As always, it is recommend that parents preview all content to determine what is considered suitable for their children, but this film is acceptable for most audiences.