---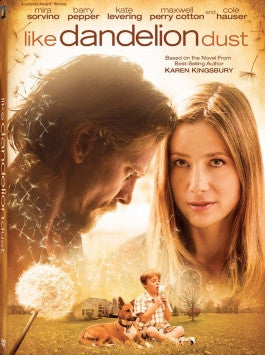 Sale
Like Dandelion Dust DVD
Watch Trailer
Additional Information
Director: Jon Gunn
Producer: Kevin Downes, Bobby Downes, Kerry David
Languages: English
Run Time: 104 minutes.
Screen Format: WS
Subtitles: English, Spanish
Closed Captioning: Yes
Region Code: 1

See More
Sale price $7.49 Regular price $19.99 You save 63%
Estimated arrival between and for USA.

---
You might also like
Sale price $32.99
Regular price
$54.98
Sale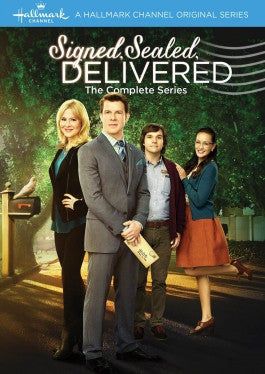 Sale price $24.95
Regular price
$29.99
Sale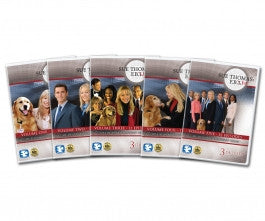 Sale price $95.99
Regular price
$119.99
Sale
—
Sold Out
Like Dandelion Dust DVD
Inspired by Karen Kingsbury novel of the same name, Like Dandelion Dust is a captivating drama that discusses the several definitions of being a parent through the tough, lifelike portrayal of the stumbling, working class Porter family and the affluent Campbell family. They always cross paths and clash all for the deep affection of a young boy.
When Rip Porter (Barry Pepper) from Like Dandelion Dust was sent to prison, Wendy (Mia Sorvino), his wife, could not imagine herself as a single mother and raising a child on her own. Desiring all the best things for her newborn baby, Joey (Maxwell Perry Cotton), she decides to put her son up for adoption. Adopting little Joey is Molly (Kate Levering) and Jack (Cole Hauser) Campbell who live an ideal life in a small community in West Palm Beach, Florida. Eventually one day the Campbells from Like Dandelion Dust movie get a call from their social worker who worked Joey‰ۡó»s adoption which worried them. The social worker notified them that Rip Porter had been let out of prison and that he wanted to begin a new life with his wife Wendy and his biological son. A judge has declared a ruling announcing that Jack and Molly Campbell have to give Joey back to his biological parents. The question around is, what if the Campbells disappear with little Joey and are all never seen again?
At the beginning of the film drama Like Dandelion Dust there is a contrast shown between two entirely dissimilar family units. First there‰ۡó»s Jack and Molly Campbell who along with their young son Joey lavish in a great life where they spend much time sailing or admiring the view from their Florida mansion. On the other hand we see Rip and Wendy Porter who are hardly getting by in a poor neighborhood in Ohio. Rip has just arrived home after spending 7 years at prison for alcohol-driven domestic abuse towards Wendy. Now they are both learning how to discover a new way of being together. Normally the Campbells and the Porters would never cross paths were if not for a big fact, The Porters are the biological parents of the Campbell‰ۡó»s adopted boy. Just as Rip knows that the little boy is biologically his, he wants the boy back. Since his signature was falsified when the original adoption papers were signed, so his request might be granted.
The story of Like Dandelion Dust is based on the inspirational fiction novel written by best-selling author Karen Kingsbury. It embodies all the emotions mentioned in the book and translated it to the camera lens. Barry Pepper gives Rip‰ۡó»s character life, rawness and the humanity that this specific character needs. Rip is competent to realize good but also severe violence. Academy Award winner Mia Sorvino is the movie‰ۡó»s spirit and heart. She portrays her character Wendy with a fragility but also her courageousness is captivating. Also Maxwell Perry Cotton‰ۡó»s character Joey even though he‰ۡó»s young, the actor portrays the character with the necessary naivetí©s.
A story like Like Dandelion Dust which is filled with much emotion is sometimes confused with a melodrama but the film accomplishes to never go in that extreme direction. Like Dandelion Dust maintains its understatement and even the musical score made by Nathan Larson fits the film really well. The film‰ۡó»s steady pace somewhat adds to add even more suspense and makes the story even more intense. It maintains viewers interested and engaged wanting to see what is to come. Like Dandelion Dust film boldly reveal the humaneness of each character and reminds viewers that they have the potential to choose to be the best or worst rendition of themselves always.
Karen Kingsbury from Like Dandelion Dust
Karen Kingsbury was born in Fairfax, Virginia and was the oldest of five siblings. Her first encounter with a book was with The Grinch Who Stole Christmas which was a story her father used to read to her and it quickly became her favorite. Her father worked as a computer programmer so Karen and her whole family would move around the country a lot. Karen would turn to reading and books who she considered her friends. When she was 10 years old, her family moved to California where they stayed for over 15 years. She loved being there and loved being near the ocean, there she would dream of being a writer. Since she wanted to write, she studied journalism at Pierce College but after her freshman year she decided she was tired of writing. Then she took a career turn as now she wanted to be a lawyer. That semester she took an English class and one day her professor, a journalist who ran the school paper, called her to the front of the class. He told her to never stop writing and in that moment hired her as a part of the paper. From there on out she graduated with a degree in journalism from Cal State University and quickly started working as a sports writer for the well-known newspaper the Los Angeles Times. Later on she met her husband Don and after attending bible study, both became baptized. Years later she stated writing stories from home and had children plus adopted three little boys from Haiti. Ever since she started writing novels she had always wanted to write books that would glorify God and change hearts and minds.
Like Dandelion Dust film has a duration of approximately one hour and forty minutes and was made possible by Downes Brothers Entertainment and Lucky Crow Films. The film was directed by Jon Gunn (Do You Believe?) and its screenplay was written by Stephen J. Rivele (Ali) and Michael Lachance (The Madagascar Penguins in a Christmas Caper). Starring in Like Dandelion Dust is Mia Sorvino (Guiding Light), Barry Pepper (Saving Private Ryan), Cole Hauser (Good Will Hunting), Kate Levering (Drop Dead Diva) and Maxwell Perry Cotton (Brothers & Sisters).