---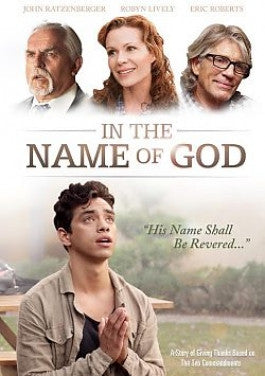 Sale
In The Name Of God DVD
Additional Information
Cast: Eric Roberts, Garrett Palmer, Susan Chambers
Director: Kevan Otto
Producer: Danny Roth, Damiano Tucci
Languages: English
Dove Approved: Dove Family Approved
Release Date: 7/14/10
Run Time: 86 min
Screen Format: WS
Subtitles: English
Closed Captioning: Yes
Region Code: 0

See More
Sale price $11.97 Regular price $19.99 You save 40%
Estimated arrival between and for USA.

---
You might also like
Sale price $32.99
Regular price
$54.98
Sale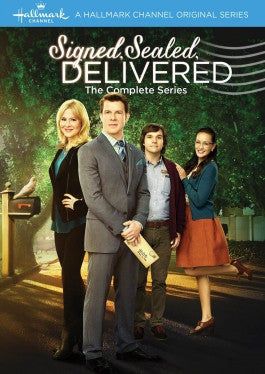 Sale price $24.95
Regular price
$29.99
Sale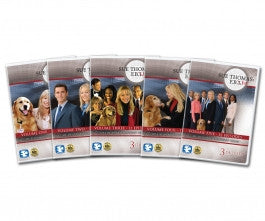 Sale price $95.99
Regular price
$119.99
Sale
—
Sold Out
In the Name of God DVD, by Kevan Otto
In the Name of God is a Christian movie produced by Bridgestone Multimedia Group that tells the story of 17 year-old boy named Mason Jones. Mason has struggled with being loved all of his life and has spent the majority of his time travelling from foster home to foster home. After time, Mason gave up trying to start his life over and he has fallen into crime and a general state of depression. He has struggled with being unloved all his life and each foster home he goes to he knows it won't last long. Once they begin to encounter trouble with Mason, he is shipped off and sent to yet another foster home.
But this time, the Lewis family hopes it will be different. Feeling called by God to take Mason under their wing, they reach out to the foster organization and work out the paperwork to bring Mason into their home... At least for a while. Mason enters this new agreement with his typical attitude of depression and dormancy. He knows that this will be just like every other foster home he's ever been in before. It won't last, he thinks. But even after Mason messes up and gets into trouble, the Lewis family is determined to stay with him and stick it out to the very end. Even as Mason descends into more trouble and he starts to become a bad influence on the kids in the Lewis family, the parents are determined to stick this out to the very end and show Mason a true example of unconditional love. In the Name of God is an inspiring story that reminds viewers to respect the name of God and the people around us. It is also an encouraging reminder that we are loved unconditionally by a big God who will never give up on us.
John Ratzenberger and Eric Roberts
In the Name of God features two very high profile actors in the Hollywood industry, John Ratzenberger and Eric Roberts. John Ratzenberger has recently appeared in several Christian movies, including WWJDII: The Woodcarver and What If... He is an accomplished actor who has worked in the industry for years, even appearing as a main character in a popular sitcom series. He may also be best known for his long-standing tradition of voicing a character in every single Pixar film. To date, his voice can be heard in every single Pixar movie, dating all the way back to the very first film Toy Story, in which he played the toy piggy bank Hamm.
Eric Roberts is another well-known actor who has appeared in dozens of films. He is best-known for his role as a crime boss in the Dark Knight superhero movie, and has also appeared in a variety of other well-known movies, like the Expendables. In the Name of God features Eric Roberts as the leader of their support group within the film.
The Story
In the Name of God features a compelling story of Mason Jones, a 17 year-old boy who has had it hard all his life. From a very young age, he was placed into foster care, and since that time, life has been an endless struggle of being passed from one place to the next. Every foster home he is placed in is just another temporary shelter for him. As soon as the family begins to discover what he's like and how rebellious his attitude is, he is taken away and placed into yet another home. The cycle continues, on and on, without any end in sight. And so Mason has had to live his life feeling unloved and unattached.
Things begin to change when another family decides to take in a foster child, they end up being paired with Mason. The Lewis family is a typical Christian family, but after a heartbreaking tragedy in their own lives, they feel called by God to foster a child and bring someone new into their family life. When they get paired with Mason, he figures this will be just the same thing again -- the family will welcome him with open arms and then get rid of him as soon as they find out what he's really like. But, In the Name of God tells the inspiring story of a family willing to welcome him back.
After Mason makes a mistake and begins to lose the family's trust, he is surprised to find that they don't give up on him. Even though Mason has vandalized a local gas station and has caused trouble with the other kids in the Lewis family, they refuse to give up on him and instead welcome him back with open arms time and time again. Will Mason be able to accept this new love and find a permanent home with the Lewis family? Or will he throw it all away to go back to his old life? Find out In the Name of God.
Parental Review
This movie has been approved by the Dove Foundation as appropriate for all ages. It received a 4/5 star rating, and has been championed for containing no language or any objectionable content. If you are looking for a family-oriented film that you can show to your entire family without having to worry about objectionable content, In the Name of God is an excellent choice
Conclusion
This is a terrific movie that is an important reminder for all ages. With a family-friendly content, and an inspiring message of redemption, In the Name of God is a must see for all Christian families. This movie features some quality actors and has a top notch story and production value. Watch as Mason spends time with his new foster family and begins to wonder if he's found a permanent home. You will witness an incredible transformation in his life as he begins to let his guard down and starts to accept the Lewis family as his new family and home. Through all the conflict and turmoil, one empowering message breaks through: that we can always turn to God and He will always love us, no matter what we've done in our lives. In the Name of God is an encouraging movie that is perfect for a family movie night.