---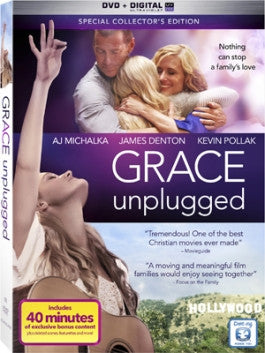 Sale
Grace Unplugged DVD
Watch Trailer
Additional Information
Cast: AJ Michalka, James Denton, & Kevin Pollack
Languages: English
Dove Approved: Dove Approved Ages 12+
Release Date: 2/10/10
Run Time: 101 minutes
Screen Format: WS
Closed Captioning: Yes
Region Code: 1

See More
Sale price $13.73 Regular price $19.99 You save 31%
Estimated arrival between and for USA.

---
You might also like
Sale price $32.99
Regular price
$54.98
Sale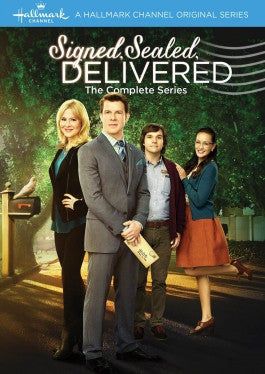 Sale price $24.95
Regular price
$29.99
Sale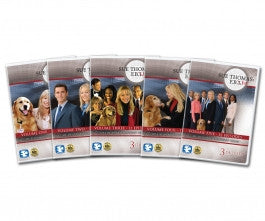 Sale price $95.99
Regular price
$119.99
Sale
—
Sold Out
Grace Unplugged DVD
Grace Unplugged is a spectacular film following a young girl's rise to stardom and her experiences with the pitfalls of fame. Grace Trey, a talented musician, has just turned eighteen and is beginning to test what it means to be an adult. She aspires to more than just singing in the church worship band with Johnny, her father. Johnny was a former pop star who was caught up in the dark world of fame until he came to have a relationship with Christ.
After a worship set at church doesn't go quite as planned, Grace and Johnny engage in a heated argument. Johnny had instructed his daughter to play the song as they had practiced, but, in the middle of worship, Grace thought it would be a good idea to jazz it up and switch instruments. Grace claims that she has her own style and doesn't want to be caught up in her father's shadow, causing them to argue even further.
Mossy, Johnny's former manager, comes to town with a proposal. He wants Johnny to record more music and get back on the road. Johnny shuts him down and informs him that what he has at home is all that he wants or needs and that he's simply not interested in getting back into the music industry. Grace overhears this conversation and is infuriated that her father has not taken this opportunity. In order to find the fame that she is desiring, she contacts Mossy and strikes up a deal.
Grace, with the help of Mossy, records a cover of her dad's old hit single. She greatly impresses those in the music industry, and is offered an opportunity in Los Angeles. Knowing that her parents would greatly disapprove, Grace decides to take Sapphire Music up on their offer and flies to Los Angeles. Her mother discovers her room empty and her things gone, with nothing but a note to inform them where she has gone.
After arriving in Los Angeles, Grace is immediately thrust into the spotlight. She is given a beautiful apartment and more than she could ever have dreamed. She performs her very first concert and impresses the entire crowd. The lights, the energy, and the people invigorate her, making her think that her greatest dreams have come true.
However, as soon as she leaves the concert she finds her father waiting outside. He is angry and desperate to bring Grace home. Begging her to return and informing her that this life is not what she wants, she lashes out at him and refuses to return home. Johnny leaves angrier than before, and extremely discouraged. He wants to fix everything and make it right, but it is not his job to do.
Grace starts dating a popular movie star, and is shocked that he would ever be interested in her. She is seduced by the spotlight and becomes extremely caught up in her own personal life. The influences of the world start taking a toll on her, and she begins to question the advice that she has been given by her stylist. She has been told that her body is her currency and in order to succeed, she needs to spend it.
The executives at Sapphire Music ask her to write her very own song, and she hesitantly accepts. The trouble is that she has never written an original song, and does not have the ability to do so at this stage in her life. Completely overwhelmed and frustrated, Grace starts drinking and spirals further down in her life. The world around her is beginning to crumble as she realizes that what stardom is made up of will not last.
Amidst all this, one man stands out to Grace and shows her that the only way to be content in life is to follow God. An intern at Sapphire Music, Quentin keeps showing up in the strangest of places, leaving Grace uneasy. However, the two begin to strike up a friendship and he invites her to eat dinner with his family one night. She recognizes the genuine kindness being shown to her, and accepts.
When she arrives at his house, she feels extremely uncomfortable and is unsure of how to interact with his family. They are Christians and had seen her before, leading worship at church with her dad. Their genuine faith stands out to her in the vast darkness of stardom, leaving her more at peace than she has ever been.
The time spent with Quentin's family greatly affects Grace, and she spends more time talking with him. After a long day spent at the beach discussing faith and priorities in her life, Grace makes a monumental decision. She leaves a note for her Sapphire producer informing him that she is leaving the music industry. She returns home and is reunited with her family in an emotional and heartwarming scene.
Her apology for causing them so much pain and following the wrong path is extremely sincere, and the love of God is demonstrated in the way her parents forgive her. Their relationship is restored and she begins to feel the fulfillment of singing worship for God and God alone.
The film flashes forward two years later, finding her singing with Johnny at a Christ Tomlin concert. She is happily engaged to Quentin, and the two have great plans for the future.
Grace Unplugged is a beautiful and heartwarming film. It is a story of being desirous of what the world has and finding contentment in faith in God. Grace is an extremely relatable character who just wants a taste of stardom, but discovers that there is much more hiding beneath the surface of fame. Though being famous appears to be wonderful, the lies and facades are exposed to reveal that it is made up of nothing meaningful. This family friendly movie is an inspiring Christian drama that is sure to have an impact on whoever watches it. The values of faith, family, and contentment present an important lesson to be had by all.
Grace Unplugged is rated PG by the Motion Picture Association of America for thematic elements and brief underage drinking. It is approved by the Dove Foundation for ages twelve and up. As always, parents are encouraged to preview all content to determine what is suitable for their family.