---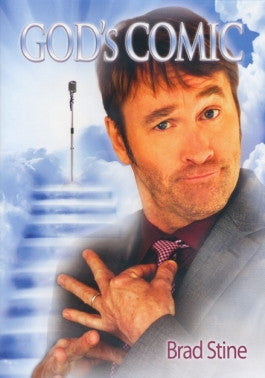 Sale
Gods Comic: Brad Stine DVD
Watch Trailer
Additional Information
Cast: Brad Stine
Director: Joseph Davis
Producer: Bruce & Melanie Adams
Languages: English
Run Time: 83 minutes
Screen Format: WS

See More
Sale price $6.99 Regular price $9.99 You save 30%
Estimated arrival between and for USA.

---
You might also like
Sale price $32.99
Regular price
$54.98
Sale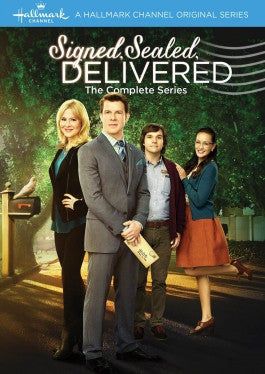 Sale price $24.95
Regular price
$29.99
Sale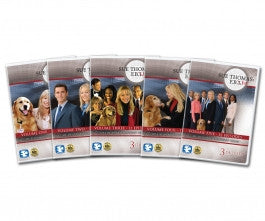 Sale price $95.99
Regular price
$119.99
Sale
—
Sold Out
Gods Comic: Brad Stine DVD
Join Christian comedian or "God's Comic" Brad Stine for 70 minutes of laughs as he studies the world and brings his own unique comedic insights straight to you. Stine has a unique blend of stand-up comedy with just a tinge of preaching and lecturing that will have you laughing out loud but also contemplating your own actions and life. Dedicated to more than just making you laugh, Brad Stine gets serious in moments to challenge you in your faith and your own personal beliefs. He is a man sold out to God and has chosen to use a unique platform to communicate his message: comedy!
Filmed before a small, intimate audience, Brad runs through his routine, showcasing some of his most hilarious routines to date including "Small Town", "G-O-D", "O Is for Our Fault", "Texting and Cell Phones" and "Holiday of Extortion". Similar in style to other Christian comedians like Tim Hawkins and Mark Gungor, Brad Stine is a hilarious comedian well-versed in the art of making your sides split. In a culture that generally downplays faith and God, Brad Stine helps to bring to light some of the undeniable truths of our Lord and Savior while also making you laugh at some of the oddities of our modern culture.
About the Comedian Brad Stine
Brad Stine has quickly become one of the most talked about Christian comedians, and has easily become the most media-covered Christian comedian in America. He rose to popularity after his first release, A Conservative Unleashed, became a huge hit and even landed him an 8-page profile in the New Yorker magazine. For a short time, he appeared as a live social commentator on Fox & Friends but eventually went on to pursue a career more up his alley: one where he could still speak his mind, but in a fun and more light-hearted manner. Rather than trying to land a spot as a political commentator, he chose a very different route where he could still speak to a public audience about his beliefs, but in a much friendlier environment.
He has been featured on a variety of news and media programs including the New York Times, Christian Science Monitor, Los Angeles Times, Wall Street Journal, and USA Today. He has appeared on a number of television programs including NBC Nightly News, HBO, Showtime, CNN, Glenn Beck, Hannity and Colmes, NPR'S Fresh Air, ABC Nightline, MTV, and Comedy Central. He has even made appearances in Christian films like Sarah's Choice and Christmas with a Capital C. He is still currently touring and has performed in numerous clubs, churches, fundraisers, and other ministries. He currently resides in Brentwood, Tennessee with his wife and two children. With over half a dozen videos released, Brad Stine has continued to perfect his comedic craft to create some of the most hilarious Christian comedy routines. With his unique style and conservative views, Brad Stine is finally the comedian your Christian family can watch together without fear of profanity or crass content. Stine is able to tell it like it is without needing to resort to dirty jokes or profanity.
Other Works
Brad Stine has several other projects in addition to God's Comic. One of his first works, A Conservative Unleashed is a fascinating recording that really began to present Stine as a comedian dramatically different from many of the modern day comedians. While many of today's comedians tend to be very liberal, rather crass, and Godless individuals, Brad Stine unashamedly proclaims his conservative and God-fearing nature. This is the recording that prompted the New Yorker magazine to label him as "God's Comic". Listen to this recording to learn all about Brad Stine and his sometimes unpopular beliefs about faith and his staunch view of pro-America and pro-conservatism.
Put a Helmet On is another satirical recording that talks more about Stine's beliefs and his utter distaste for what we now call political correctness. He says in a bold speech, "You know what offends me? Offended people." Being his first major release, this is one of the recordings that helped popular Brad Stine and bring his Christian beliefs to the masses. With his willingness to bash the inconsistencies and irregularities in our culture and his disdain for political correctness, Brad Stine is well known for telling it just like it is.
Brad Stine continues his look at political correctness in his next project, Wussification. This Christian DVD is a barrel of laughs that continues Stine's tradition of telling the truth boldly and unashamedly. Taped during a live performance in Lake Jackson, Texas, Stine shares his beliefs in a clean and Christian way. Stine takes a look at not saying Merry Christmas, blaming car companies for your poor driving skills, and just generally not taking responsibility for your own actions in this wonderfully humorous DVD.
One of his more recent releases, Tolerate This! Contains, even more, content in the style that Stine has slowly begun to craft over several DVDs and CD recordings. He continues preaching his right-wing ideals in this DVD in a fun and light-hearted way. Rather than coming down hard on the side he disagrees with or trying to pick a serious fight with them, he simply attempts to point out the truth in a matter of fact and humorous way. Brad Stine helps to be a representative for the half of America that believes in Conservatism and unashamed truth in God's word. Fighting back against the slew of leftist comedians, Stine is a comedian for the other half of America!
Conclusion
Brad Stine's God's Comic is an enjoyable Christian DVD with a lot of humor and a lot of heart. This is a wonderful comedy DVD with fun for the whole family. Featuring Stine's unique blend of humor and conservative teaching, God's Comic is an exciting and hilariously funny film. If you have always wanted to be able to watch a comedy film together as a family but have never been able to find one without language or dirty content, Brad Stine is the perfect answer, with his delightful and uplifting humor.