---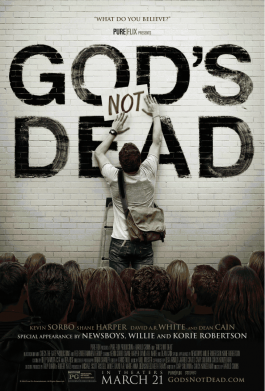 Sale
Sale price $9.99 Regular price $14.99 You save 33%
Estimated arrival between and for USA.

---
You might also like
Sale price $32.99
Regular price
$54.98
Sale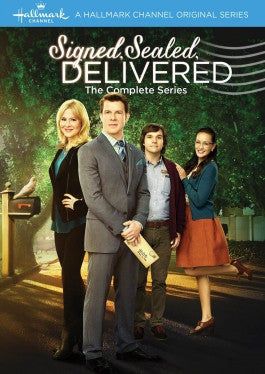 Sale price $24.95
Regular price
$29.99
Sale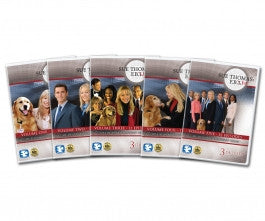 Sale price $95.99
Regular price
$119.99
Sale
—
Sold Out
God's Not Dead
What if you had to choose between your God and your grade? What if your future was at stake because of philosophy? What if three little words changed your life forever? From Pure Flix Entertainment comes a story of courage, faith, and the strength to stand for what you believe in. God's Not Dead tells the story of Josh Wheaton (played by Shane Harper), a college freshman with lofty dreams of one day attending law school. His dreams, and his faith, are tested, however, when he begins his humanities elective- Philosophy 150- with Professor Radisson.
Professor Radisson (Kevin Sorbo) is not just a grouchy, argumentative professor of philosophy. Instead he's a grouchy, argumentative professor of philosophy who also happens to be a devout antitheist. On the first day of classes he makes each and every student sign a piece of paper with three "simple" words, "God is dead." When Josh Wheaton refuses to write them down, Radisson says that if he cannot agree that God is dead he will have to defend the opposite view... that God is not dead. What follows is a modern day story of Daniel in the lion's den. As you watch Josh struggle to reconcile his faith with philosophy and defend it in front of his professor you will be convicted and encouraged to stand strong for your faith even when you risk losing everything. With special appearances from the Christian band Newsboys and "Duck Dynasty's" Willie and Korie Robertson, God's Not Dead is sure to inspire and equip believers of all ages to boldly proclaim the word of God.
God's Not Dead was a massive success at the box office, bringing hundreds of thousands to the movie theater. Because of its encouragement at the end of the film to text all your friends and tell them God's Not Dead, the news about this film began to snowball into a massive success.
An Answer for Our Hope
The Bible is filled with verses calling Christians to be ready to give an answer, to walk as salt and light, and to speak truth to others. 1 Peter 3:15a explains this, by saying that you must always be ready to tell people the reason why you have hope. Sadly, many believers are unsure of the reason for their beliefs, and are not prepared to answer the questions the world poses to them. It is hard to believe in something if you do not have a solid grasp on the reasons you believe it, and in the same way if you are not prepared with answers you will soon begin asking the same doubtful questions. As an answer to the growing doubt and silence of many young believers Pure Flix Entertainment wrote and produced God's Not Dead, hoping to encourage, challenge, and is equipping believers of all ages to have a reason for the hope that is in them, and to share that reason with boldness.
An Answer for Everyone
The desire of Pure Flix Entertainment was to reach a wide audience with God's Not Dead, drawing believers and unbelievers from various backgrounds, walks of life, and places in their faith. With this in mind the writers for Pure Flix Entertainment created a plot that draws characters from different and drastic places in their lives and weaves them together into an interesting, diverse story that keeps the viewer captivated. Ayisha is a young college student who is thrown out of her home for professing an interest in Christianity. Mina, Professor Radisson's wife, who is also a Christian, struggles to reach out to her angry, antitheist husband. Amy Ryan, a young news reporter, wrestles to understand how a God who allows her to contract cancer could be loving. Martin, a young Chinese exchange student, cannot understand how Josh would risk everything for his faith, yet he is intrigued at the same time. Almost every person that has seen this movie can empathize with someone in the film. Everyone has struggled with rejecting God, following God, believing in God, and understanding God, and so each individual leaves with a nugget of truth to hold on to- that God still loves us, that God still calls us, that God still exists, that God still knows what is good. No matter where you stand in your life and in your faith God's Not Dead will encourage and challenge you to reach out to the God that is reaching out to you.
An Answer Makes a Difference
As the viewer watches the characters of God's Not Dead struggle to give, receive, and understand the answer for their faith or the faith of others they will see the fruit of following through with what God has asked us to do. Because Josh bravely stood for what he believed in, putting down his pencil without writing the words, the circle of people he effects widens from the classroom he was seated in, to the entire city, and then further. Without one act of faith hundreds of lives could have turned out differently. God's Not Dead challenges believers to stand even when they know the consequences will be great because they can also know that the number of lives that will be changed will be greater.
God's Not Dead is a family-friendly Christian film that will encourage and challenge believers of all ages to stand for what they believe in. This 113-minute film was rated PG by the MPAA for some thematic elements, brief violence, and an accident scene. In addition, while the theological and philosophical classroom debates may encourage, equip, and inspire older children and adults, they may confuse younger children. While we suggest screening the film for younger children God's Not Dead was rated "Faith-friendly" for ages twelve and up by the Dove Foundation. With exciting guest stars, an interesting plot, and filled with Biblical truths, God's Not Dead will not only provide you with a quality Christian film to enjoy, but many Biblically based lessons to ponder and discuss with your family.