---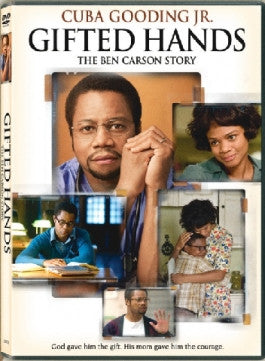 Sale
Gifted Hands: The Ben Carson Story DVD
Watch Trailer
Additional Information
Cast: Cuba Gooding Jr.
Languages: English
Run Time: 90 minutes
Subtitles: English and French
Closed Captioning: Yes
Region Code: 1

See More
Sale price $13.75 Regular price $14.99 You save 8%
Estimated arrival between and for USA.

---
You might also like
Sale price $32.99
Regular price
$54.98
Sale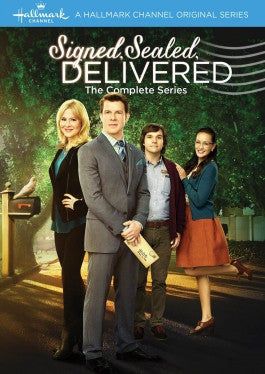 Sale price $24.95
Regular price
$29.99
Sale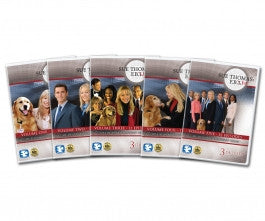 Sale price $95.99
Regular price
$119.99
Sale
—
Sold Out
Gifted Hands: The Ben Carson Story
From struggling boy to world renowned surgeon. Failing student to Yale graduate. Obscure child to a recipient of the Presidential Medal of Freedom. Ben Carson's life story, portrayed in Gifted Hands: The Ben Carson Story is one of faith and hope--one of a real life underdog. Starring Oscar award winner Cuba Gooding Jr. as Dr. Carson, award winning actress Kimberly Elise as his mother Sonya, and Aunjanue Ellis as his wife Gifted Hands: The Ben Carson Story portrays the life of an extraordinary man and his life journey.
Dr. Ben Carson
Ben Carson was born in Detroit, Michigan in 1951, and his inner city childhood was far from easy. After his parent's divorce, his single mother worked two to three jobs at a time--usually difficult and tiring positions such as a domestic servant--to support her family, but at times they even had to live off of food stamps. Carson's mother never received more than part of an elementary education, and so when she learned her sons--Ben and his older brother Curtis--were failing school she restricted their free time, and made them read and write book reports. Though her life was difficult she encouraged the boys that they could be and do anything in the world, and she pushed them to educate themselves, a strong theme in Gifted Hands: The Ben Carson Story. As a child Ben also had an extreme temper, but after one incident with a friend in which Ben almost killed him, he cried out to God for help and his heart was transformed. Through his mother's gentle, and not so gentle, methods Carson eventually fell in love with books, school, and especially science, and the boy rocketed from the bottom of his class to the top. When he received a scholarship, Carson attended Yale where he met his wife Candy. Carson later attended the University of Michigan Medical School where he received his M.D. After medical school Carson did his residency in neurosurgery at John Hopkins Hospital in Maryland, and his skill as a surgeon was obvious to all. Five short years later in 1982 Carson was the chief resident in neurosurgery at John Hopkins. For a year Carson would work in an Australian hospital desperately in need of neurosurgeons, but he returned to John Hopkins in 1984 where he quickly became director of pediatric neurosurgery--at the time he was the youngest doctor in America to hold that position. Carson's most famous procedure--the one Gifted Hands: The Ben Carson Story focuses on--was performed in 1987 in Germany. Twins were born conjoined at the back of the head, and their parents asked Carson if he could save the boys by separating them. After months of research and study Carson thought the surgery would be successful, and so in September of 1987 Carson and a huge team of doctors and nurses performed a twenty-two hour surgery--successfully. It was the first of its kind ever to be performed with success. Carson would perform another successful surgery like this in 1997, this time catching the media's attention. They came to love the soft spoken, tenderhearted doctor that viewers see in Gifted Hands: The Ben Carson Story, and soon his story was encouraging and inspiring hundreds of individuals--especially children from difficult backgrounds--to dream big. Carson continued to be an active doctor, contributing many developments to the world of medicine. He and his wife raised three children--Murray, Benjamin Jr. and Rhoeyce--in whom he imparted a vision to reach for the sky. He has received numerous awards--the highest of which was the Presidential Medal of Freedom, awarded to Carson in 2008 by President George W. Bush. He has written several books, and has continued to encourage children to pursue education and reading--just as his mother did with him. As viewers watch Gifted Hands: The Ben Carson Story they will be encouraged by Carson's perseverance and vision, inspired by his life from poverty to healing hundreds, and challenged by his encouragement to dream big.
Sonya Carson
While Dr. Ben Carson's life is encouraging and inspiring, the film Gifted Hands: The Ben Carson Story shares part of the life of another wonderful individual--Carson's mother, Sonya. Sonya was raised in a large, poor family and never achieved more than a third grade education. Her life was made even more difficult by her divorce when her boys were eight and ten--forcing her to find employment with little education. She, however, bravely faced the struggles in the years to come with great perseverance, courage, and self-sacrifice. Often working multiple jobs, Sonya sacrificed much of her life in order to give her boys one. She imparted her great faith to them, and pushed them to become great men. From his mother, Ben Carson learned his traits of gentleness, perseverance, courage, faith, and to dream big. As viewers watch Gifted Hands: The Ben Carson Story they will be challenged to live life as Sonya did--full of courage and hope. They will remember the profound influence a mother has, and that she can change lives for good and bad. Sonya Carson, as played by the talented Kimberly Elise, makes this film well rounded and full of touching moments.
Gifted Hands: The Ben Carson Story is more than just a film about a man. It is a story of a life of struggle and hope. It encourages viewers to dream big, pursue education, trust in God, and persevere with courage and hope even in life's darkest moments. Ben Carson's life, visualized in this film, is an inspiring life viewers will take heart from.
Gifted Hands: The Ben Carson Story has not been rated by the Motion Picture Association of America, and may include topics and issues not suitable for younger viewers. This film received the "Faith Based" award with a caution (some content may be objectionable) from the Dove Foundation. As always, it is recommended that parents preview all content to determine what is suitable for their children.
---
Release: 2009
Run Time: 90 Minutes
Rated: Not Rated
Format: Wide Screen
Languages: English
Closed Captioning: Yes
Subtitles: English, French
UPC: 043396314528
DVD: Region 1