---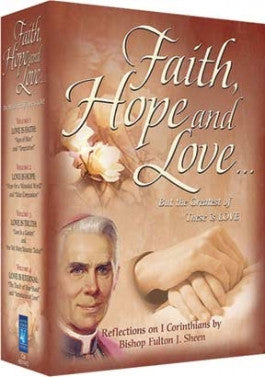 Sale
Bishop Fulton J. Sheens Faith Hope and Love DVD Boxed Set
Additional Information
Languages: English
Region Code: 0
Sale price $19.65 Regular price $49.99 You save 61%
Estimated arrival between and for USA.

---
You might also like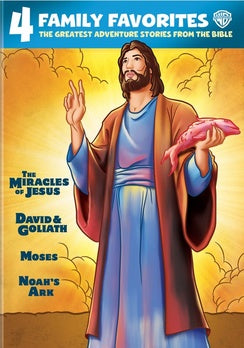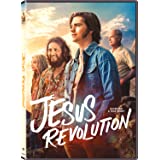 Sale price $15.99
Regular price
$29.95
Sale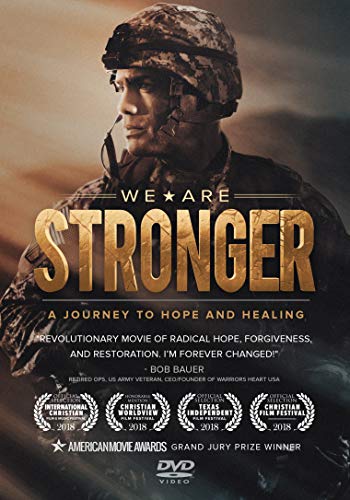 Sale price $9.99
Regular price
$14.99
Sale
Bishop Fulton J. Sheens Faith Hope and Love DVD Boxed Set
Bishop Fulton J. Sheen's Faith, Hope, and Love DVD Boxed Set is an extended collection of teachings from the world-renowned 20th century speaker Fulton Sheen. Hear 8 different messages spanning four discs on three of the most important topics talked about in 1 Corinthians 13: Faith, Hope, and Love. Long respected as one of the greatest and most communicative speakers of the 20th century, Fulton J. Sheen is truly eloquence at its finest. In this extended collection of messages and speeches, Bishop Sheen discusses life and how we each have our own personal journeys of faith, hope, and love. He discusses the importance of these three simple concepts and how mastery of them can lead to a blissful harmony with the Lord.
In this incredible series, Sheen reminds us that God is always watching over us and always caring for us. However, this doesn't mean we can ignore him our live Godless lives. Because He knows us so intimately, it's important that we never take for granted hand of judgment. God will know if we fall away from Him, and it's important that we always remain completely steadfast to Him. Fulton J. Sheen has been an example for decades on how to serve God and always be respectful of His people and world. With a successful TV show which was able to reach 30 million viewers every week, his words spoke to a generation. Between his weekly TV series and his over 100 published books, Bishop Sheen became a monumental movement in the 20th century, his word reaching millions upon millions. Bishop Fulton J. Sheen's Faith, Hope, and Love DVD Boxed Set is a magnificent collection for fans of his teachings or for those just looking to learn more about their own walk with God.
Including:
The Fulton J. Sheen's Faith, Hope, and Love DVD Boxed Set contains four 55-minute discs, each containing two messages in black and white and color.
-Disc 1 focuses on the topic "Love is Faith," and features two profound messages from Bishop Sheen: "Ages of Man" and "Temptation."
-Disc 2 changes topics, while still focusing on the overarching love narrative. Focusing on "Love is Hope", these two messages contain encouragement and hope for viewers. Featuring "Hope for a Wounded World" and "False Compassion".
-Disc 3 continues the love them, focusing on "Love is Truth". Too often we have spread the lie that love is unnecessary. Two messages on this disc help remove that idea with "Love is a Garden" and "Are We More Neurotic Today?"
-Disc 4 concludes with a positive and hopeful message for the future and for all time: "Love is Eternal". Featuring two messages: "The Touch of Your Hand" and "Intimacies of Love."
1 Corinthians 13
These 8 messages focus on one of the most well-known chapters in scripture, 1 Corinthians 13. Often known as the chapter about "love," this message describes all the qualities of love, and can be used as a helpful tool for distinguishing love from other emotions. It gives an account of true love, listing all of its attributes, including patient, kind, and even humble. Bishop Fulton J. Sheen recognized the importance of these messages and this collection was put together to help summarize love and all the different aspects therein, including faith, hope, truth, and finally, eternity.
Bishop Fulton J. Sheen's Faith, Hope and Love DVD Boxed Set contains 8 inspiring messages you will want to hear time and time again. With encouraging messages of hope but also a fair amount of conviction, Bishop Fulton Sheen will help you to examine your own life and see how you can grow closer to God. Most of all, he makes it know that you are loved by a Creator far bigger than you could possibly imagine.
Conclusion
No matter their faith, people associate Bishop Fulton J. Sheen with being one of the most influential and powerful communicators to preach in the 1900s. With his inspiring messages of hope, faith, and God, people flocked from all over the world to hear him deliver a message. Born in Illinois in El Paso on the 8th of May in the year 1895, Fulton Sheen became quickly known for his incredible communication skills and ability to inspire and motivate a large crowd. From a young age, Fulton Sheen knew he was being called to be a priest. After being educated at Saint Viator College, he learned how to communicate and he was able to deepen his faith in God. He learned valuable skills while attending this college, and they would be important lessons that would help him throughout the rest of his life.
Ordained in the year 1919 at the age of 26, he quickly went on to become one of the most well-known and well-respected priests in all of modern times. In his lifetime, his speeches and lessons were turned into over 100 books, and in addition, he wrote hundreds more columns and articles for newspapers and magazines. Sheen was able to wow a large crowd because of his message that was directed to everyone. He didn't try to narrow his audience down to a single group. He welcomed all that would give him the time and listen to him. People watched him from all over the world on television to hear his inspiring messages about faith and love. He became well-known for his trademark saying at the end of his sermons "God loves you". By the year 1979, after sixty years in ministry, he had become recognized as a loyal follower of Christ and a devout member of the church. Bishop Fulton J. Sheen died on December 9th of 1979, leaving an incredible legacy behind him. Still well-respected and well thought of in the church, his legacy lives on and will live on long after his death.
Bishop Fulton J. Sheen's Faith, Hope and Love DVD Boxed Set is a collection of 8 of Sheen's greatest sermons and speeches, all focusing on Faith, Hope, and Love. With his charismatic speech and powerful messages, this DVD collection is one to treasure.