---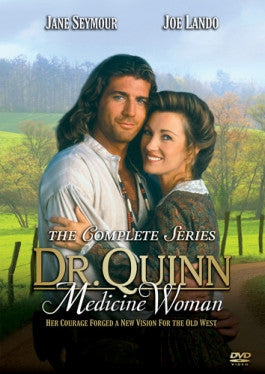 Sale
Sale price $89.99 Regular price $149.99 You save 40%
Estimated arrival between and for USA.

---
You might also like
Sale price $32.99
Regular price
$54.98
Sale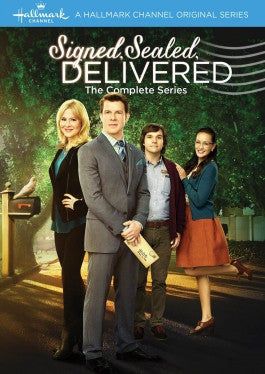 Sale price $24.95
Regular price
$29.99
Sale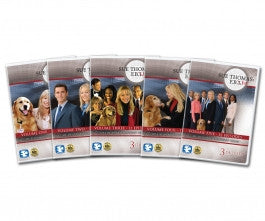 Sale price $95.99
Regular price
$119.99
Sale
—
Sold Out
Dr. Quinn Medicine Woman: Complete DVD Series
Back in a time when women were expected to stay quiet and unnoticed, Dr. Quinn, Medicine Woman was making waves with her forthright attitude and persistent nature. Set in Colorado Springs in the 1860's, Dr. Quinn (played by Jane Seymour) does her part to make an impact on the small western town in this family-friendly television series. After setting up her own practice in the heart of the town, she becomes well-known as being one of the best doctors and leaders in all of Colorado Springs. She soon becomes respected, and looked up to by almost everyone in the town, although she does have her fair share of run-ins with the local hecklers.
Frontier LIfe
Even with her busy medical practice, Dr. Quinn (often called Dr. Mike) also takes the time to lead her family of three children as a single mother. While life isn't always easy on the western frontier, the Quinn family always learns to adapt to any situation. Dr. Quinn, Medicine Woman is a unique blending of romance, frontier life, and medical drama, and there's sure to never be a dull moment in their town. In addition to all of this, Dr. Quinn also attempts to find time to pursue a relationship with Byron Sully, a mysterious "lone wolf" character.
The Dr. Quinn Collector's Pack
Relive all the excitement, all the drama, and all the mystery on this ultimate collector's pack the Dr. Quinn Medicine Woman Complete DVD Series. Spanning over 120 hours and across 42 discs, this collection contains all six critically-acclaimed seasons of the show, along with two made-for-TV feature length movies that were released after the show's end. This pack also includes several bonus features, including an episode of the A&E Award-Winning Biography series "Jane Seymour: Hollywood's English Rose", an interactive tour of 19th Century Colorado Springs, cast biographies and filmographies, cast commentaries, featurettes, and a trivia quiz in which you can put your knowledge of Dr. Quinn to the ultimate test.
Cast of Dr. Quinn Medicine Woman
Starring Jane Seymour as Michaela Quinn, Joe Lando as Sully, Chad Allen as Matthew Cooper, and Shawn Toovey as Brian Cooper, this show introduces its viewers to a cast of dozens of other colorful and multi-dimensional characters. Watch every season to discover how each character undergoes a remarkable amount of development and change as they endure many different experiences and situations.
The pilot episode for this TV series was shot early on in 1992, and was aired as a two-hour television special on New Year's Day of 1993. To continue to attract attention, CBS aired a second hour-long episode the next night. After these two episodes, the show became an instant hit and the first season was ordered. A few characters were changed out from the pilot episode, but Jane Seymour was definitively decided on as the lead for this show, a role she would continue to play for its entire run.
150 Episodes
Dr. Quinn, Medicine Woman would continue to air for five more seasons and would air its last new episode on May 16th, 1998. 150 episodes were produced in total, along with two feature-length movies. Every single episode and both films can be found on this complete DVD collection.
One thing that was very special about the way this show was shot was that the producers allowed fans to come on set and watch the show be filmed. Filming for most of this show took place at Paramount Ranch in Agoura Hills, California, and fans were always welcome to come see how the show was made. Between shooting sessions, actors would even go to the fans, signing autographs and answering interview questions.
An Instant Classic
Dr. Quinn, Medicine Woman, will always be considered a classic because of its terrific plot and most importantly, it's strong lead character. Dr. Quinn was always finding solutions to problems and always the brains behind what happened in the town. If there was an issue or aggression in the town, she would choose to face them head on, rather than ignoring them or letting someone else deal with them.
This show has continued to make an impression and is still being syndicated and re-aired on television channels today. When it was canceled in 1998, fans were deeply saddened and even petitioned to have the show come back for another season. Because of the large demand, it was decided that a TV movie would be produced. From that came Dr. Quinn: Revolutions, which was aired in May 1999. In this film, 4 year old Katie Sully is kidnapped and it is up to Dr. Mike and husband Sully to journey to Mexico to find their missing daughter.
After this movie, fans still wanted more, so another TV movie was released in May of 2001. Dr. Quinn: The Heart Within was then released, this time executive produced by Jane Seymour herself. In this movie, Dr. Quinn and her family return to Boston to see Colleen graduate from Harvard Medical School. Both Dr. Quinn and Colleen face trouble in Boston because of their gender, in similar fashion to how they were first treated in Colorado Springs.
Even though the characters and plot of this show are fictitious, many of the events and places mentioned in the show did actually exist in this time period. The creators of Dr. Quinn always tried to incorporate true historical events in the show, making it seem more realistic and historical. Events were mentioned such as The Sand Creek Massacre and the Battle of Washita River. Even historical characters were mentioned or shown on the show, like George Custer and Chief Black Kettle.
While the show may not be airing anymore, its influence still lives on today and it is still highly regarded as an incredible Wild West-period show. Most of the set for Dr. Quinn still stands and people are still able to tour it. If you are a fan of shows like When Calls the Heart or Little House on the Prairie, you are bound to enjoy Dr. Quinn, Medicine Woman. Dealing with many different themes and issues, this 42-disc Complete DVD collection is sure to both entertain and inspire.