---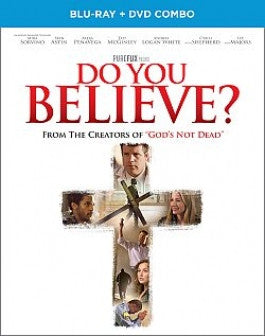 Sale
Do You Believe? DVD/Blu-ray Combo
Additional Information
Cast: Mira Sorvino, Sean Astin, Alexa Penavega, Ted McGinley, Andrea Logan White, Brian Bosworth Lee Majors and Cybill Shepherd
Director: Jonathan M. Gunn
Producer: From the Creators of God's Not Dead, PureFlix
Languages: English
Release Date: 8/3/11
Run Time: 119 minutes
Closed Captioning: No
Region Code: 1

See More
Sale price $18.32 Regular price $19.99 You save 8%
Estimated arrival between and for USA.

---
You might also like
Sale price $32.99
Regular price
$54.98
Sale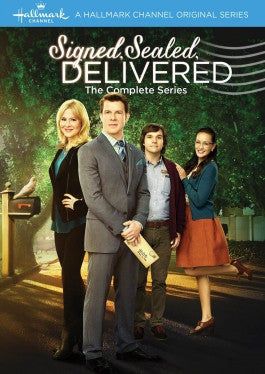 Sale price $24.95
Regular price
$29.99
Sale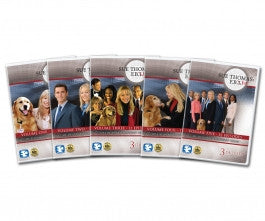 Sale price $95.99
Regular price
$119.99
Sale
—
Sold Out
Do You Believe? DVD/Blu-ray Combo
How powerful is the cross? What should our life look like once we encounter its transforming power? From Pure Flix Entertainment, the creators of God's Not Dead, comes a film that asks one simple question Do You Believe? As the lives of twelve very different individuals begin to intersect with each other and with the cross they must all confront the one most important question--Do You Believe?
Starring academy award winner Sean Astin (Lord of The Rings, Woodlawn, Mom's Night Out), Mira Sorvino, Ted McGinley, Alex Penavega, Andrea Logan White (Mom's Night Out, Sarah's Choice), Cybill Shepherd, and Lee Majors Do You Believe? is a wonderful film with a challenging and inspiring message.
Synopsis
The powerful message and story in Do You Believe? begins with an encounter Pastor Matt (Ted McGinley) has one dreary night. While waiting at a stop sign an old street preacher by the name of Malachi (Delroy Lindo) who has been dragging a life sized cross through the city's streets leans over to his window and asks him, "Do you believe in the cross of Christ?" Matthew responds by saying he's a pastor. The conversation is brought to an abrupt end, however, when the two hear the sound of shattering glass nearby. A gang has broken into a van, and when Malachi confronts them the leader--named Kriminal (Senyo Amoaku) pulls a gun to the preacher's head. Malachi responds to the threat by saying he's ready to die. This act of faith, witnessed by Pastor Matt, is the first in a web of stories that make up the film Do You Believe?.
Matt, now struggling to understand what faith in action looks like, offers to take in a young, pregnant girl by the name of Maggie (Madison Pettis). Maggie took to the streets, after refusing to get an abortion, against her step-mother's wishes. At first Matt's wife Grace (Tracy Melchior) struggles to except the girl, as the two have been struggling with infertility, but compassion soon warms her heart and a sweet story of acceptance, forgiveness, and compassion unfolds in Do You Believe?.
After Matt preaches a passionate sermon about the power of the cross and faith in action, a couple by the names of J.D. (Lee Majors) and Teri (Cybill Shepherd)--still grieving over the loss of their only daughter--take in a homeless woman named Samantha (Mira Sorvino) and her daughter Lily (Makenzie Moss). The result is an answered prayer for Samantha and Lily, and a time of healing for J.D. And Teri. Add in the church's kind hearted, but equally down on his luck, janitor by the name of Joe (Brian Bosworth) and Samantha and Lily's story will experience life changing love and empathy. This story line in Do You Believe? will resonate particularly with many viewers who have lost a loved one or have struggled through difficult times.
The story lines are not complete yet, however. Convicted by Malachi and Pastor Matt's example, a EMT named Bobby (Liam Matthews) shares the gospel with a dying man, after his attempts to save the man's life fail. He finds himself in legal jeopardy, however, when the man's Christian hating wife brings charges against him. When Bobby refuses to back down, standing for the gospel, his wife, a nurse named Elena (Valerie DomÌÎ_nguez), becomes angry he would risk his future over "religion." When Elena's brother Carlos--an ex-Marine suffering from PTSD--arrives, the couple's marriage is strained even further.
Other stories weave in and out of Do You Believe? The gang members begin to soften to the gospel after one of them hides from the police in the church during one of Matt's sermons. A skeptical doctor (played by Sean Austin) tries to make sense of a medical miracle without recognizing God, and a young suicidal woman encounters love one night on a bridge.
The stories of Do You Believe? weave in and out of the film, connecting in humorous, touching, and powerful ways. Each story line is different, and one will connect with almost every viewer--making this a powerful film for individual from any background, situation, or age.
Powerful Messages
Not only is Do You Believe? filled with moving stories, but it is also filled with powerful messages. Obviously, the most important question in the film is, "Do you believe?" and as each individual struggles to answer it, you will learn much about the love of God and the power of the cross. Do You Believe? is also filled with moments and messages of compassion, forgiveness, reconciliation, repentance, courage, love, and hope. This film also asks a powerful question of the viewers, "What does faith in action look like." It challenges viewers to consider their own lives, hearts, and actions and find areas where they can open themselves to others. This film will challenge viewers to not be content with their walk of faith, but to seek and follow God into areas and situations they may have never considered before. Do You Believe? will challenge you to step out of your comfort zone in faith. It will inspire you to look at every individual through the eyes of the cross. It will encourage you with the gospel, and the stories of real life people who trusted God in faith. Do You Believe? opens doors for conversations, conversions, and change.
Do You Believe? has been rated PG-13 by the Motion Picture Association of America for thematic elements, an scene containing a fairly violent traffic accident, and other minor violence. This film did, however, receive the "Family Friendly" award for ages twelve and up from the Dove Foundation, and a four and a half rating from Plugged In. As always, it is recommend that parents preview all content to determine what is suitable for their children.